Nowruz Persian New Year 2015: Why The Islamic Republic Celebrates A Pre-Islamic Holiday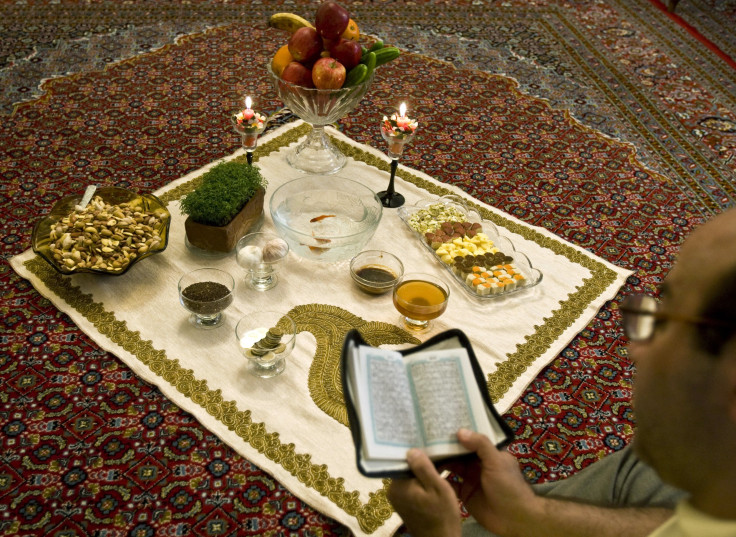 The Islamic Republic of Iran celebrated on Friday the start of the new year's festival of Nowruz, a holiday that has its roots in ancient, pre-Islamic traditions. Nowruz has historically been celebrated by people in the region regardless of their religious affiliations and continues to be promoted by Iran's present government, despite its hardline Islamic policies.
Nowruz (pronounced no-rooz) means "new day" in Farsi and celebrates the changing season and the renewal brought on by the start of spring. The festival, which has been marked for thousands of years in the region and continues to be observed by Persian and Central Asian communities around the world, has its roots in the Zoroastrian traditions that were dominant in ancient Persia (largely modern-day Iran).
Like other ancient celebrations of spring, Nowruz's traditions emphasize rebirth and revival. Typically, families begin preparing for the holiday weeks in advance with an annual spring cleaning of their homes known as "khoneh takooni" in Farsi, which translates to "shaking the house." This ritual means washing everything from rugs to windows and curtains, fixing anything that needs repair, and donating or disposing of old household items.
Another important Nowruz ritual is the setting of the "Haft Seen" (literally, "seven S's") table, a symbolically significant spread of seven items that begin with the letter "S." Sprouts, or "sabzeh" in Farsi, represent renewal, while "somag" and "seer" (sumac and garlic, respectively) represent sunrise and health.
Perhaps the tradition which makes Nowruz's Zoroastrian roots most apparent is the Chaharshanbe Suri, or Red Wednesday, bonfire ritual. On the last Wednesday before Nowruz, people gather and light bonfires in the street, jumping over the flames while singing "give me your beautiful red color and take back my sickly pallor!" No Zoroastrian ceremony is performed without the presence of fire, which is a symbolically important motif for the ancient religion.
Rituals like these, which make explicit Nowruz' links to the pre-Islamic Zoroastrian tradition, might explain why hardliners attempted to suppress the entire holiday following Iran's Islamic Revolution in 1979. The Taliban similarly went after Nowruz in Afghanistan, where the holiday was banned until 2001.
However, attempts to ban Nowruz in Iran were never successful as most Iranians still see their ancient Persian heritage as a source of pride, something the Islamic Republic's leaders have been careful not to challenge. "Iran's advancements after Islam are incomparable to its past. However, the pre-Islamic history of Iran is also part of our history," said Supreme Leader Ayatollah Ali Khamenei in 2008.
Despite this stated commitment to Iran's Persian heritage, there are still some clear frictions around Nowruz, particularly focused on the Chaharshanbe Suri tradition, which Khamenei issued a fatwa against in 2010, saying "in addition to having no religious ground, it causes a lot of losses and harms which are desirable to be avoided." Many hardline clerics have echoed the leader's language on the issue, emphasizing its "superstitious" nature and its threat to public order. The warnings may be rooted in a legitimate public safety concern, however; this year alone, three people died and 407 were injured while participating in the fire tradition.
FOR FREE to continue reading
✔️ Unlock the full content of International Business Times UK for free
offer available for a limited time only
✔️ Easily manage your Newsletters subscriptions and save your favourite articles
✔️ No payment method required
Already have an account? Log in
© Copyright IBTimes 2023. All rights reserved.