Nude Photo Leak 2018: Hayley Atwell's Images Hacked, Posted On X-Rated Website
"Captain America" actress Hayley Atwell's nude photos were allegedly hacked and those behind it threatened to release the images, according to reports. The latest incident is reminiscent of "the Fappening" leaks of 2014, and "the Fappening 2.0" in 2017.
The British actress is apparently shown in a nude "selfie" shot that was posted on notorious website Celeb Jihad that features leaked celebrity photos, Fox News reported. Hackers claimed they had more comprising photos of Atwell which they planned to leak.
"Busty British actress Hayley Atwell appears to have just had the nude photo above leaked to the Web as part of a preview for the upcoming leaking of her full set," the hackers captioned the leaked photo, which partially shows Atwell's face, according to the Sun.
Sources told the Daily Star the security breach had been a "nightmare" for Atwell.
"In recent years she has hit the big time in Hollywood, so this is the last thing she will have wanted to happen," the source said. It was believed Hayley would pursue legal actions against the website.
However, the 36-year-old actress was yet to confirm if the leaked image was authentic. Celeb Jihad is a website that contains hundreds of graphic images of celebrities, some of which are fake.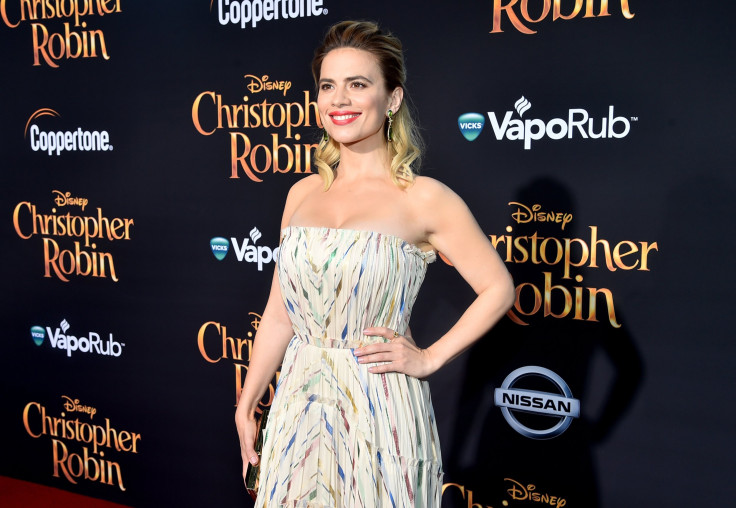 Several A-list stars have been victims of a nude photo leak which began in 2014 and returned again in 2017. Some of these photos were posted on the Celeb Jihad website. A subreddit by the name "Fappening" was created for leaked nude images first posted on the website 4chan. A-list stars such as Jennifer Lawrence, Kate Upton, Victoria Justice, Kim Kardashian and Ariana Grande were victims of the 2014 hack.
In April 2017, photos of actresses Amanda Seyfried, Rose McGowan, figure skater Analeigh Tipton, model Dylan Penn, "Arrow" star Katie Cassidy and many others were stolen and later leaked by notorious website Celeb Jihad as part of "Fappening 2.0." In August of that year, several other celebrities, including Miley Cyrus, Kristen Stewart and Tiger Woods, became victims as the hack continued.
In November 2017, actress Jennifer Lawrence said she was still reeling from the 2014 leak.
"There's not one person in the world that is not capable of seeing these intimate photos of me. You can just be at a barbecue, and somebody can just pull them up on their phone. That was a really impossible thing to process," she said in an interview with the Hollywood Reporter for its "Awards Chatter" podcast. "When I first found out it was happening, my security reached out to me. It was happening minute to minute — it was almost like a ransom situation where they were releasing new ones every hour or so."
In January, Fox Sports host Charissa Thompson became the first victim of the celebrity photo hack in 2018. An investigation was conducted by the Los Angeles County District Attorney's Office. Despite similarities with the "Fappening," it was unclear if the same people were responsible for Thompson's nude photo leak. In February, nude photos and videos of "Guardians of the Galaxy" actress Mikaela Hoover were also hacked from her iCloud storage account.
© Copyright IBTimes 2023. All rights reserved.