Nvidia Leads List Of America's Top 10 Semiconductor Companies - IBT Graphics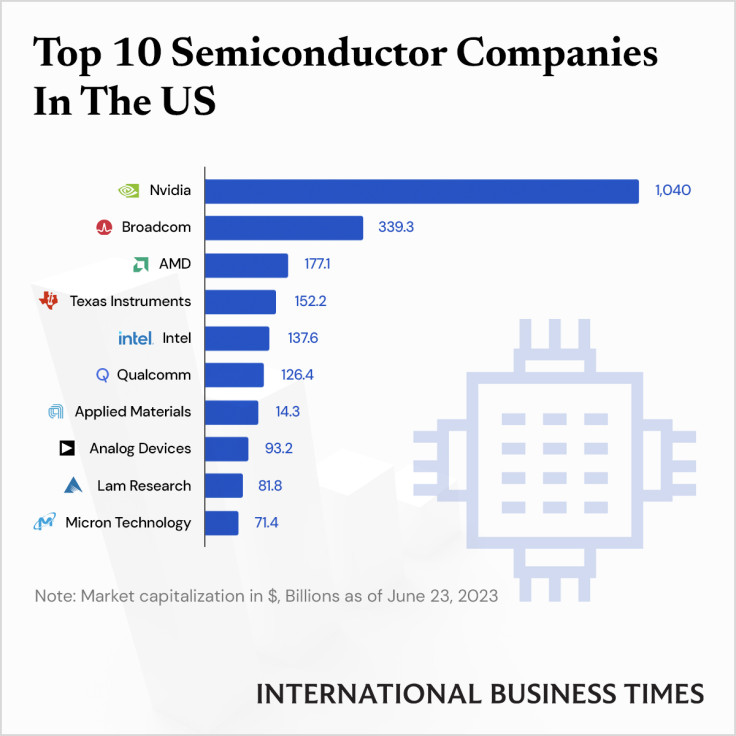 The economy today runs on semiconductors, considering the component is used in almost everything we use on a daily basis. After the Biden administration announced the CHIPS and Science Act in 2022 with the aim of strengthening America's position in key aspects like clean energy to artificial intelligence, the semiconductor industry has witnessed a boom in the country.
Global semiconductor sales reached $574 billion in 2022, with the U.S. semiconductor companies accounting for sales worth $275 billion (48% of the global market). As many as 18 states are home to leading semiconductor manufacturing facilities in the country. The U.S. semiconductor industry employs more than 277,000 workers in high-paying jobs, including R&D, design and manufacturing jobs across 49 states.
California-based tech giant Nvidia became America's largest semiconductor company after its market capitalization reached $1 trillion on May 30. Over the years, the company transformed from a gaming-focused graphics card producer to a world leader in AI and data center chips.
At $1.04 trillion, Nvidia leads the list of top 10 semiconductor companies in the U.S. by market capitalization as of June 23, followed by Broadcom (339.3 billion) and AMD (Advanced Micro Devices) (177.1 billion).
© Copyright IBTimes 2023. All rights reserved.