Obama On 2014 Midterm Election Results: Republicans 'Had A Good Night,' But He Wants To Have Bourbon With Sen. McConnell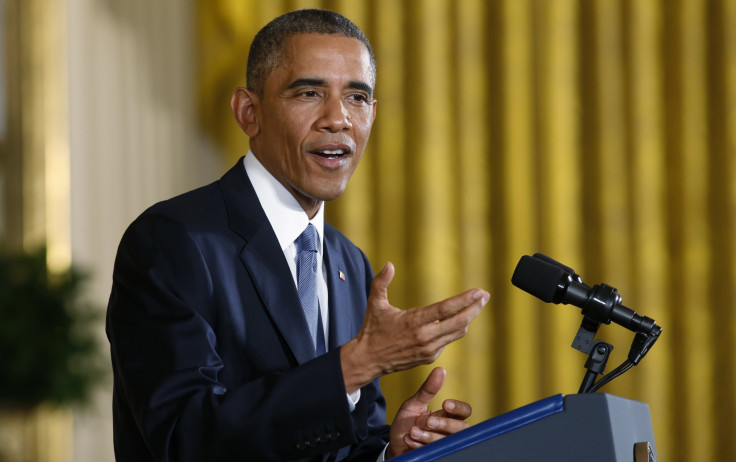 President Barack Obama conceded Wednesday that Republicans "had a good night" in taking majorities in both houses of Congress and said he was hopeful about working with Republican leaders Sen. Mitch McConnell of Kentucky and Rep. John Boehner of Ohio. "America sent a message: They expect the people they elect to work as hard as they do, to focus on their ambitions and not ours," he said during a lengthy afternoon news conference at the White House. "For those who voted: I hear you. For the two thirds that didn't vote: I hear you, too."
Republicans' gains in both the Senate and House likely means much of Obama's two final years as president will be spent wrestling with an uncooperative Congress. Obama hasn't yet dealt with a totally Republican-controlled Congress during his presidency.
Obama said he wouldn't dismiss proposals from Republican lawmakers and would meet with congressional leaders from both parties on Friday. He added that he would "love to have a glass of Kentucky bourbon" with McConnell, although he admitted he didn't know McConnell's preferred drink. Twitter quickly dubbed it "the Bourbon Summit."
Responding to criticism that his unpopularity was partly to blame for the Democrats' collapse in Tuesday's midterm elections, Obama said "as president, [the voters] rightly hold me accountable" to make sure Washington works and "push through some of these divisions" to break gridlock.
The president chose to highlight state-level ballots in Alaska, South Dakota, Illinois, Arkansas and Nebraska that raised the minimum wage to various degrees, calling them "new reasons to get it done for everybody with a national increase in the minimum wage." He also touted economic growth since the 2008 financial crisis as signs that his economic policies were working.
Obama also said that before the lame-duck Congress ends at the end of the year, he will seek funding to fight the deadly Ebola outbreak in West Africa, strike against Islamic State group militants in Syria and Iraq, and fund the federal government for the fiscal year 2015. He said "it's too early to say if we are winning" against the Islamic State group. The U.S. began airstrikes against the militants in August.
He pushed as well for Congress to propose an immigration reform bill, requesting that lawmakers "give me a bill I can sign," but said he wouldn't wait for Congress and would continue to take action on his own.
© Copyright IBTimes 2023. All rights reserved.