Obama Meets Central American Leaders, Urges Immediate Action On Illegal Immigrants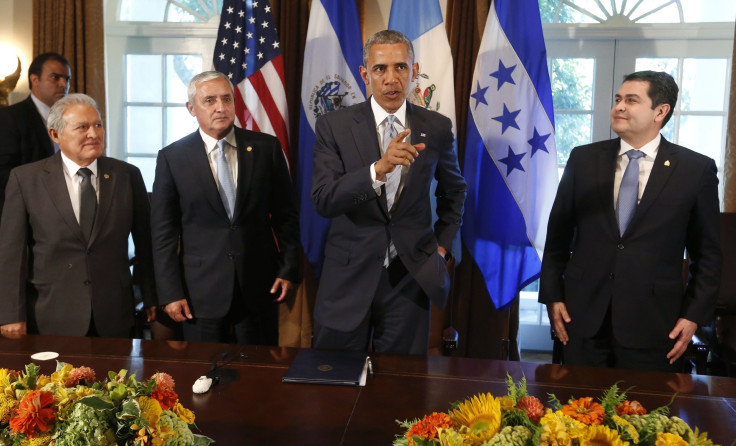 U.S. President Barack Obama said Friday unaccompanied child migrants caught crossing the country's border illegally "will be subject to repatriation to their home countries," BBC News reported. Obama made the comment at the conclusion of his meeting with the presidents of El Salvador, Guatemala and Honduras to discuss the sudden increase in the number of undocumented migrants from Central American countries to the U.S.
In a joint statement released after the meeting at the White House, the leaders pledged to "pursue the criminal networks that are exploiting this uniquely vulnerable population" and reiterated the "need to discourage the use of smuggling networks that place individuals at high risk of violent crime and sexual abuse along the journey."
More than 57,000 unaccompanied children -- mostly from countries such as El Salvador, Guatemala, Honduras and Mexico -- have been caught in southern Texas since last October following their attempts to cross the border illegally.
The influx of migrants to the U.S. has reportedly been fueled not only by extreme poverty but also by gang-related violence in their home countries. Rumors that migrant children would be allowed to stay in the U.S. should they be successful in making it across the border have further worsened what Obama has called an "urgent humanitarian situation."
In their joint statement Friday, the leaders said: "We expressed our shared belief in the need for a humanitarian response to the situation, with a focus on the safety and well-being of children and families. We reiterated our commitment to prevent families and children from undertaking this dangerous journey and to work together to promote safe, legal and orderly migration."
The presidents of the Central American nations added they were working on a "comprehensive plan" to address the underlying causes of migration. "At the heart of this are issues of extreme poverty and a lack of employment opportunities," Guatemala's President Otto Perez Molina told reporters.
The leaders also expressed their support for Obama's request for additional foreign assistance as part of his appeal for "supplemental funding."
This month, Obama appealed to Congress for $3.7 billion in supplemental funding to deal with the increase in the number of migrants. However, Republican lawmakers denied his appeal, calling it a "blank check," and demanded additional changes in U.S. immigration policy, including a speedup in the deportation of unaccompanied child migrants.
© Copyright IBTimes 2022. All rights reserved.
FOLLOW MORE IBT NEWS ON THE BELOW CHANNELS