Obama's Historic India Visit: US To Seek Cooperation On Climate Change, Trade, Terrorism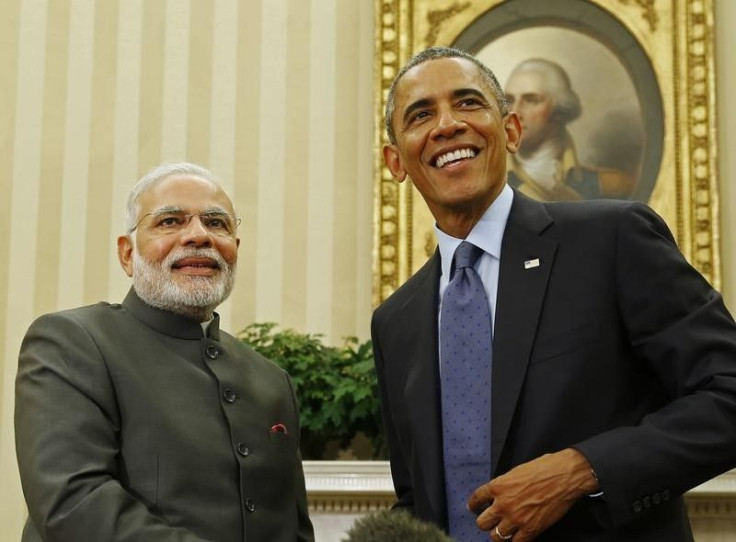 President Barack Obama will make history again this weekend as the first sitting U.S. president to visit India twice, as well as the first to attend the country's Republic Day. Although Obama made no mention of the South Asian country in his State of the Union address Tuesday night, White House officials said the president's historic trip is a critical opportunity to revive stale relations between the two largest democracies in the world.
"There's extraordinary potential in this relationship," deputy national security adviser Ben Rhodes said during a White House press call Wednesday afternoon. "The fundamentals are in place for a really close partnership and yet it's been a challenge translating that into outcomes."
U.S.-India relations took a nosedive a year ago following the arrest, strip-search and detention of Indian diplomat Devyani Khobragade in New York over a domestic labor dispute. "The cardinal principle of diplomatic relations is reciprocity, and India realized that it had been naive in extending courtesies to the U.S. that it was not receiving in return," India's minister of human resource development Shashi Tharoor said in January 2014, according to USA Today.
India Prime Minister Narendra Modi has expressed interest in expanding U.S.-India relations since his landslide election victory in May. Obama accompanied Modi in September on a visit to the Martin Luther King Jr. Memorial in Washington, D.C, according to the Washington Post. The African-American pastor who became a civil rights icon described India's Mahatma Gandhi in his autobiography as "the guiding light of our technique of nonviolent social change." Just as King shared Gandhi's commitment to nonviolence, Obama and Modi share humble beginnings and democratic values. It was Modi's first visit to the United States since he was denied a visa in 2005 for alleged human rights violations. "They struck up a good chemistry," Philip Reiner, senior director for India at the National Security Council, said Wednesday during the press call.
During his visit, Obama will meet with Indian officials to discuss increased cooperation between the two nations on climate change, clean energy, public health, commercial trade and counterterrorism. "Our goal is to leave this relationship in a fundamentally different place than it was when President Obama took office and when Prime Minister Modi took office," Rhodes said. "We literally cannot achieve our objectives without cooperation from India."
Obama and the First Lady will also join Modi and Indian President Pranab Mukherjee in celebrating Republic Day on Jan. 26, when India adopted a democratic government system in 1950. White House officials said Wednesday that Obama's attendance is more than just a photo-op. "It will be hugely symbolic standing next to India's leadership in recognition of this national holiday for India" Rhodes said during the press call.
It's unclear whether Obama's visit alone will yield any concrete outcomes and White House officials would not elaborate Wednesday on any specific policies. But the three-day trip is part of Obama's agenda to establish relations beyond traditional U.S. allies in the broader Asia Pacific region, which the president mentioned in his sixth State of the Union address Tuesday.
© Copyright IBTimes 2023. All rights reserved.