'Occupy Wall Street, All Day, All Night,' Protesters Shout On The One-Year Anniversary Of The OWS Movement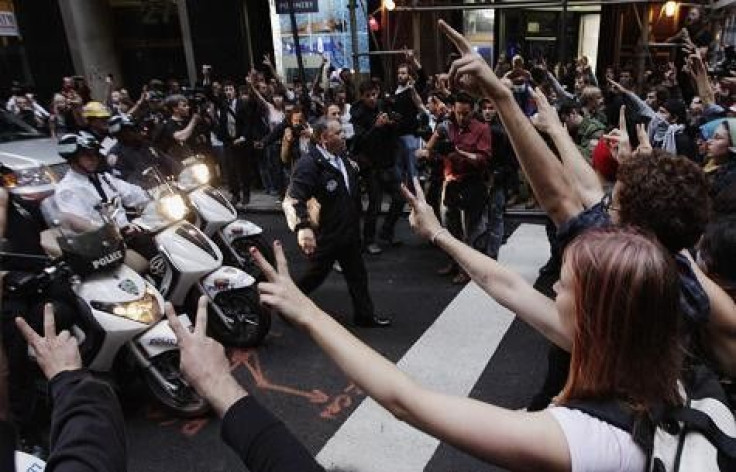 Today marks the one year anniversary of the Occupy Wall Street movement, and citizens have come together once again, to be heard and to protest against the so-called one percent.
Police are in full force on Wall Street today, as demonstrators in the Financial District carry signs reading, Imagine Fairness and shout in unison, Occupy Wall street all day all night.
This weekend we will mark the occasion of our anniversary by once again showing the powers that be that we see what they are doing, and that soon enough the whole world will again as well, said a message on the Occupy website.
Why are we going back to Wall Street? Because the one percent wants it all and they're not giving anything up without a struggle, Bill Dobbs of the Occupy Wall Street public relations team told NBC.
After the demonstrations first started last year, thousands of people around the world attacked the government for not fairly representing them and not providing enough well-paying jobs for the 99 percent.
On January 17th, protesters in Washington D.C. even went as far as to protest in front of the Capitol for the House of Representatives'' first day back in session after winter recess.Many protesters traveled all day to be a part of the demonstration.
Mike from Sarasota, Fla. who gave only his first name, took a train for 21 hours to be here.
I am freezing but I would not miss this for the world, he told the Christian Science Monitor, as he slept in a rain-soaked tent Monday night in McPherson Square, one of two Occupy encampments near the White House.
Many of the protesters said they just wanted to be heard. Christopher Horner traveled from Knoxville, Tenn., on an overnight bus with his wife and young daughter. We're American citizens, he said, and we're trying to stand up and voice our opinion that things are not going the way they're supposed to be going.
© Copyright IBTimes 2022. All rights reserved.
FOLLOW MORE IBT NEWS ON THE BELOW CHANNELS