Occupy Wall Street Protest: What the Movement and Labor Can Do for Each Other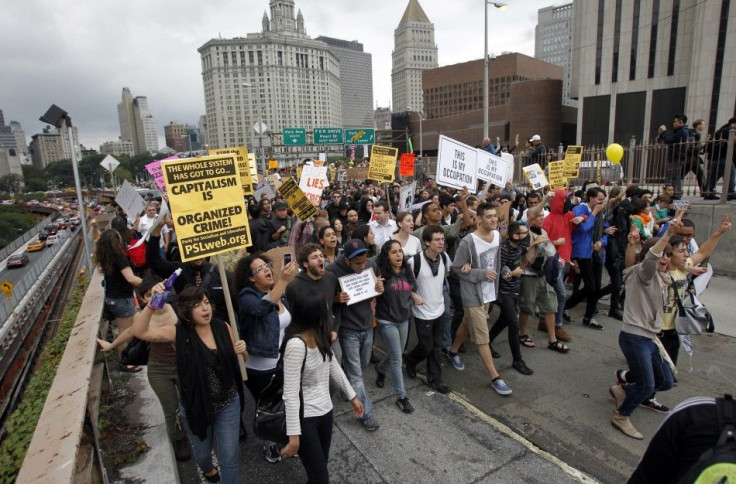 New York City labor's support of the Occupy Wall Street demonstrations has been seen as a boon for protesters, as politically-seasoned and highly-organized local unions represent thousands of members who can be mobilized for their cause.
But the relationship is mutually beneficial now that unions have an independent and aggressive vehicle receptive to their economic policies.
The two fit together and I could see why the unions would want to capitalize on a nascent and appealing-to-the-media movement to kind of reinforce their message, said a New York political consultant who has worked with labor in the past.
Labor last mixed it up with young, progressive demonstrators in Wisconsin, where massive protests were held this year in the state capitol building to protest newly-elected Republican Gov. Scott Walker's legislation killing collective bargaining for most public employees.
Union support for Occupy Wall Street will be on display Wednesday as a group of several labor groups and community organizations hold a solidarity march from City Hall to Zuccotti Park, the basecamp for protesters.
Working Families Party: Movement Is Inspiring
Dan Cantor, the executive director of the Working Families Party, a prominent labor-backed third party in New York, said the Occupy Wall Street demonstrations have inspired labor in New York.
Cantor said the protesters are one of the few, if only, people arguing for changes in economic policy, such as reinstating the Glass-Steagall Act, a law repealed in 1999 that separated investment and commercial banking.
Labor is getting a lot from this in terms of the atmospherics, Cantor said.
Unions and groups participating in the Wednesday march, he added, organized it in essence, to show their gratitude for these feisty young people down at Wall Street for shining a light on the role the finance sector has played and continued to play in weakening the economy and destroying the economy.
Whether Occupy Wall Street can translate into policy changes remains to be seen. But Barbara Bowen, president of a union representing City University of New York system's faculty and staff, said that Occupy Wall Street protesters can work toward their goal of reducing income inequality here in New York.
Sees Other Way to Address Budget Deficit
CUNY's 20,000 member-strong Professional Staff Congress, which is participating in Wednesday's march, had fought against a state budget that will let a surcharge on millionaires and high-income New Yorkers lapse this December. This tax hike on the state's wealthy has been a key legislative goal for labor in New York.
We're in the state where there's an immediate way to address some-not all but some-of the issues raised by the Occupy Wall Street protesters, Bowen said. There is room for a new voice and new tactics to add power to the message many unions have been delivering on that millionaire's tax. But we haven't won the issue yet.
Occupy Wall Street protesters also benefit from labor's support. Their demonstrations and message will get a larger profile and will show that their message can resonate beyond the young, college-aged students and postgraduates that typify an Occupy Wall Street protester.
But Jim Gannon, a spokesman for the Transportation Workers Union Local 100, said he could not think of much more his union can do for the protesters. They are already well organized and have committees to handle issues like food and media, he said.
We're not sure what we're going to do, Gannon said, aside from moral support.
© Copyright IBTimes 2022. All rights reserved.
FOLLOW MORE IBT NEWS ON THE BELOW CHANNELS