Oklahoma Weatherman Mike Morgan Flamed For Giving 'Irresponsible' Tornado Advice [VIDEO]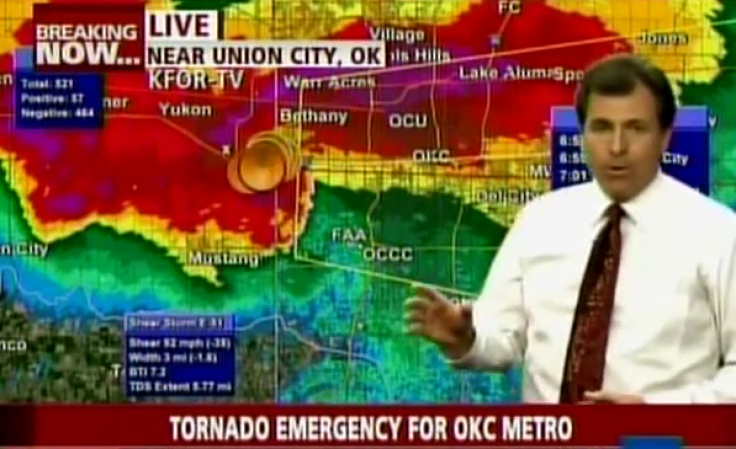 Award-winning meteorologist Mike Morgan is being flamed this week for what locals in Oklahoma are calling irresponsible reporting. KFOR-TV chief meteorologist is being accused of giving improper advice leading up to Friday's tornado in El Reno, Okla., that left 20 dead.
According to a report from Yahoo via Reuters, Morgan told News Channel 4 viewers to use their cars to flee from the approaching tornadoes, an action in direct opposition to the commonly reported advice to seek refuge in storm cellars and other underground facilities in the event of a twister.
Viewers are claiming this week that Morgan told viewers on several occasions Friday to leave the affected area, saying, "If you can leave South Oklahoma City and go south, do it now." The flamed meteorologist was reportedly not the only weather station to give similar advice, which is being blamed for causing traffic jams on the state's major highways as the storm approached.
"Irresponsible" was the word used to describe the advice, according to research professor at Texas Tech's National Wind Institute Ernst Kiesling. "Reporting of that kind is unconscionable in my mind. You have the responsibility to give more than your off-the-cuff opinions," he said. Greg Carbin, meteorologist for the National Weather Service's Storm Prediction Center in Norman, Okla., confirmed that a vehicle isn't a viable form of protection against a tornadic storm.
Oklahoma Governor Mary Fallin shared a similar notion, calling the traffic situation a "nightmare" after it was confirmed that some of the 20 deceased were found dead after being sucked out of cars by the storm.
One viewer stepped forward after the broadcast, stating that taking the Morgan's advice almost lead to her demise. Cassandra Donnelly of Oklahoma City said she headed south in an effort to avoid the storm, only to get stuck in traffic, resorting to have to take refuge in her vehicle. "I told my mom and my sister to keep praying," she said. "The rain was horizontal. We were pushed forward twice."
Morgan has not made an appearance on the station since Friday's controversial report. The station said the meteorologist is currently on vacation and will return to the program Thursday.
Some viewers have requested the broadcasters immediate return to the news organization on KFOR-TV's Facebook page this week despite the controversy. "I trust him, and he has saved many lives with his reporting of the weather," Oklahoma resdient Traci Prather Lambert said Thursday. "He is not the only meteorologist that has made mistakes in [his or her] career," another commenter, Felicia White, said. "I give thanks to Mike Morgan for saving my family and friends and people's lives in Oklahoma."
According to a News Channel 4 biography, Morgan has been working for the program for more than two decades. A member of the American Meteorological Society and the National Weather Association, Morgan is also a winner of multiple awards for his on-air reporting, including one honor from former state Governor Frank Keating for his work reporting previous tornado activity.
© Copyright IBTimes 2023. All rights reserved.