Operation Protective Edge Enters Fifth Day, Death Toll in Gaza Rises to 120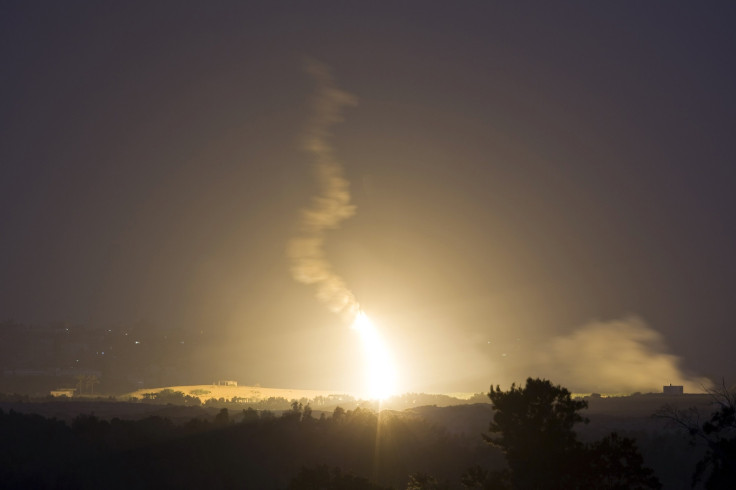 Update, July 12, 12:30 a.m. EDT: The death toll in Gaza has gone up to 120, according to the latest reports. Thirteen Palestinians, including a woman and a 7-year-old child, were killed in Israeli airstrikes on Friday, Al-Jazeera reported. Another nine people died in attacks on Jabalia and Beit Lahiya in northern Gaza early on Saturday.
Update, July 11, 6:05 a.m. EDT: Following overnight airstrikes in the city of Rafah, bordering Egypt, and the death of two people in Bureij, the death toll in Gaza has risen to 100, BBC reported Friday, citing Palestinian sources. Egyptian authorities have reportedly opened the Rafah border-crossing to allow the passage of injured civilians from Gaza.
-----
For the first time since Tuesday, missiles were fired from Gaza toward Haifa, one of Israel's largest cities, in the early hours of Friday but no casualties were reported in the attack that the military wing of Hamas later took credit for.
Israel said Thursday that it had struck more than 750 targets in Gaza in the last 72 hours as "Operation Protective Edge" entered its fourth day. Twenty-six Palestinians, including women and children, were reportedly killed in the airstrikes on Thursday, bringing the death toll to 88 and making it the deadliest attack since the start of the invasion. A Gaza Health Ministry Official told Haaretz that more than 600 people had been injured.
Even as Palestinian Authority President Mahmoud Abbas called for an unconditional ceasefire and expressed fears of a ground strike in the Gaza Strip, Lt. Col. Peter Lerner, an Israeli military spokesperson, signaling a possible escalation, confirmed that 20,000 reservists had been mobilized for a "possible ground operation in Gaza."
Benjamin Netanyahu, Israel's Prime Minister, also said in a statement released Thursday, that "more stages were expected" as the operation progressed.
U.S. President Barack Obama spoke to Netanyahu on Thursday and offered U.S. help in brokering a ceasefire between Israel and Hamas, the White House said, in a statement.
"The United States remains prepared to facilitate a cessation of hostilities, including a return to the November 2012 ceasefire agreement," the statement reportedly said.
Ron Prosor, Israel's U.N. envoy, addressing the Security Council on Thursday, said that the country's goal is to "dismantle Hamas' rocket infrastructure." He also declared that Israel isn't looking for a ceasefire. "Hamas dragged us into this operation," he added.
U.N. Secretary-General Ban Ki-moon had earlier condemned Israel's air strikes on Gaza and urged Netanyahu to exercise "maximum restraint."
© Copyright IBTimes 2023. All rights reserved.