Orange Juice Sales At Lowest Point In Ten Years: Health Concerns And Higher Price To Blame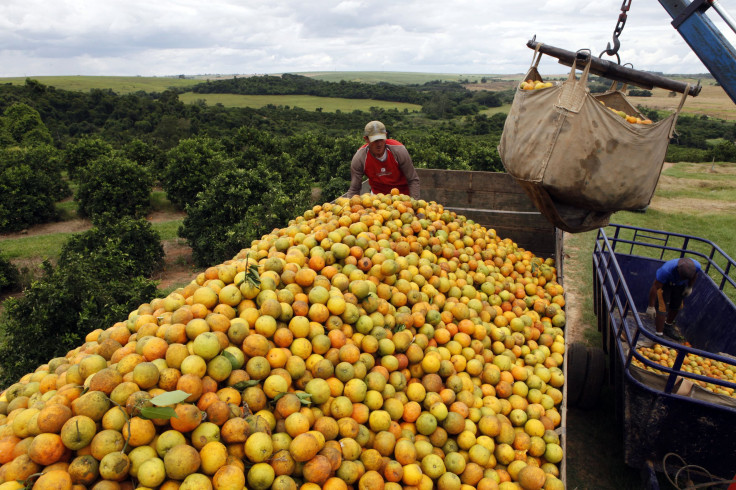 Orange juice may not be a breakfast staple anymore, as retail orange juice sales fell to a record low in the four weeks ended Aug. 2. Demand was down 39 percent from the same period a decade ago, according to Nielsen's most recent report published by the Florida Department of Citrus (FDOC).
"Health concerns and the market being flooded with more options … is part of the reason you're seeing the decline," registered dietitian Alissa Rumsey, a spokesperson for the Academy of Nutrition and Dietetics, told Fox Business.
In the four weeks ended Aug. 2, consumers bought 34.96 million gallons of orange juice, down 9.2 percent from the same period a year ago. It is also the lowest level for total sales since the four weeks ended Jan. 19, 2002, the oldest data available. Dollar sales are also down 5.4 percent.
The drop in sales could be due to a bacterial disease known as greening, says FDOC spokesperson David F. Steele III. Greening chokes off nutrients and causes the fruit to drop from trees prematurely, affecting production and supply.
Higher prices may also be to blame for the low orange juice consumption. Frozen concentrated orange juice for May delivery rose 1.15 cents, or 0.7 percent, to end at $1.65 a pound, the highest since March 29, 2012, on the ICE Futures U.S. exchange, reports the Wall Street Journal. Prices rose to the highest level in two years due to expectations of a limited crop from Florida, the source of most oranges used in U.S. juice. The forecast of a limited crop comes after the 2012-2013 citrus crop was the lowest in decades for a non-weather event season.
Additionally, the steady promotion of other drinks with reported health benefits may have shifted U.S. consumers' focus away from orange juice. Smoothies, green juice, flavored water, and low-calorie juices are competing with orange juice for consumers.
While orange juice can be a healthy addition to a breakfast meal, with one serving containing over 100 percent of the recommended vitamin C daily intake, it also contains about 21 grams of sugar, which may not appeal to consumers trying to maintain a healthy lifestyle.
"Over the past few years, with the growing movement to consume less sugar, there's been a lot more new products added to the market," explained Rumsey.
© Copyright IBTimes 2023. All rights reserved.