Owen Joyner, Daniella Perkins Talk Dream 'Knight Squad' Guest Star And Girl Power
Prepare to enter into a world full of knights and princesses with Nickelodeon's new series, "Knight Squad." The network aired a sneak peek of the live-action show after the premiere of its movie "Blurt!" on Monday, but the full debut of the series and its second episode comes Saturday night.
Stars Daniella Perkins (Ciara) and Owen Joyner (Arc) gave International Business Times insider details on the magical new realm fans will see in the series and what they can expect in the episodes to come.
"'Knight Squad' is about a group of kids who go to this school to become knights and there are two students, in particular, Arc and Ciara, and they have a really big secret that they have to keep, so they form an unlikely friendship that you would not expect them to have," Perkins told IBT.
The two bond together over this secret, which the trailer reveals is that Ciara's actually a princess, and they become closer because of it.
"They go on crazy adventures, there's a whole bunch of sword-fighting, there's fire, magical creatures, we just do crazy things," she said.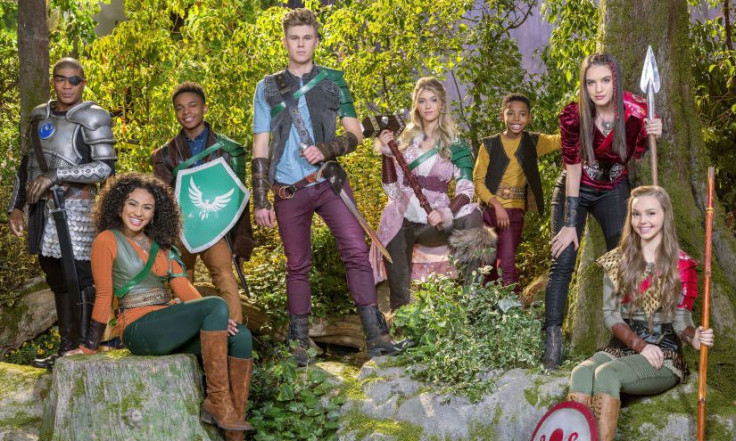 Aside from being a princess and in knight school, there's so much more to Ciara, which is what drew Perkins to the role. The actress describes the character as being determined, friendly and the "definition of girl power," which is why she's someone Perkins aspires to be like.
As for Joyner, he said his character Arc is a "very energetic, friendly, loving guy." With friendliness as a top quality for both of their characters, it's no wonder they're able to keep each other's secrets and learn to work together. Clearly it's important that they do because Joyner mentioned that they have a lot of missions to complete, all while trying to stay in knight school.
With all of these adventures happening, fans can expect to see a lot of stunts and "sword moves," said Joyner, though, unfortunately, he didn't get to do any of his own moves.
"Oh, I wish," he said of wanting to do stunts. "I'm not 18, so I can't. I'm like, 'No, I'm good, I'm chill to do it.' But then my stunt double does like four backflips and I'm like 'I can't do it.'"
Even though he doesn't get to do any of the fight scenes or tricks, Joyner has nothing but great things to say about the show and the cast. The only thing that could make this experience any better for him would be if the series got one very specific guest star.
"Honestly, Jerry Trainor," he said of who he'd most want to cameo on the show. "Yeah, Jerry Trainor. Spencer from 'iCarly.' I'd freak out. I want him to direct one of our episodes. Even though we have an amazing director now, that would be awesome."
The Nickelodeon star shared that he was a huge "iCarly" fan and that it was "my show when I grew up." He even remembers crying while watching the series finale in 2012.
Now, Joyner and Perkins are giving viewers the chance to be that emotionally invested in an all-new Nickelodeon show.
Catch "Knight Squad" on Nickelodeon on Saturdays at 8:30 p.m. EST.
© Copyright IBTimes 2023. All rights reserved.