Palestinians And Israeli Police Clash While Autopsy Shows Khdair Died Due To Heavy Burns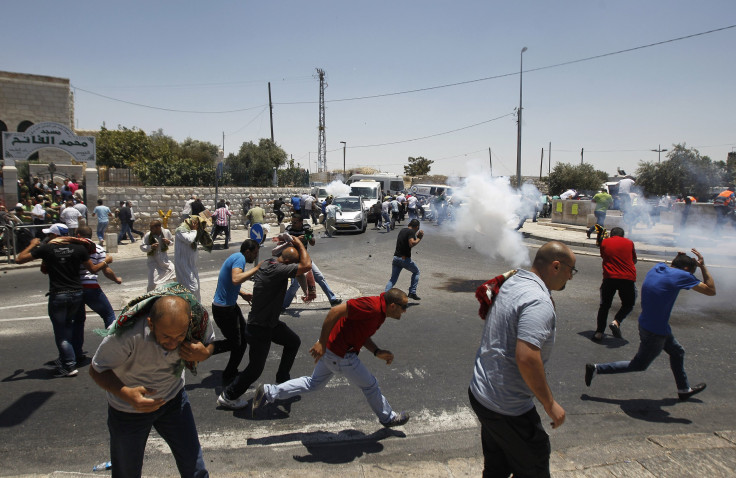 Israel's violence escalated on Saturday as rockets and mortar shells were fired from the Gaza Strip along the country's western coast, and clashes erupted between Israel's police and Palestinians over the murder of a Palestinian teenager, whose autopsy report shows extensive burns.
The clashes continued in the areas of Taibe and Tira near the western coast while the Israeli police reportedly used "riot control methods" to curb the ongoing violence. Initial autopsy reports of the 16-year-old Palestinian Mohammed Abu Khdair, who was kidnapped and murdered in Jerusalem, reportedly by far-right Jews on Wednesday, showed that 90 percent of his body was covered by burns, according to the Jerusalem Post. Khdair's death was reportedly to avenge the deaths of three Israeli teens, whose bodies were found on June 12. While the Israeli Prime Minister Benjamin Netanyahu blamed the killing on the Hamas, the militant Islamist organization that controls Gaza, the group denied the act and has been firing rockets at Israel.
"Right now tempers are high, but after a few funerals -- and there will be more funerals -- the mood will change," Amos Yadlin, a former air force general and the head of Israel Defense Forces, or IDF's, military intelligence directorate said, according to the Israeli newspaper Haaretz. He added: "To deny Hamas the ability to reach farther and farther into Israel [with its rockets], we need to enter Gaza with ground forces, and destroy the rocket-fabrication facilities."
The clashes gained steam on Friday during Khdair's funeral as angry Palestinians started pelting stones at Israeli forces. According to Al Jazeera, by Friday nearly 73 people had been injured since the clashes began. Despite Netanyahu ordering a swift investigation into the matter and Egypt trying to negotiate a truce between Israel and Hamas, the move did not bring much result.
"We don't know yet the motives or the identities of the perpetrators, but we will. We will bring to justice the criminals responsible for this despicable crime whoever they may be," Netanyahu reportedly said during a speech at the American Embassy in Tel Aviv, according to the Guardian, adding: "Murder, riots, incitement, vigilantism, they have no place in our democracy."
On Friday, the police reportedly arrested more than 20 people, amid a growing fear that the unrest might spread to neighboring countries, and the Hamas rockets reportedly kept the Palestinian areas in turmoil.
"Hamas is not interested in an escalation or war in Gaza, but at the same time it is not possible for it to remain silent on the continued aggression against Gaza and the West Bank," Bassem Naim, a senior Hamas official told Agence France-Presse on Friday.
© Copyright IBTimes 2023. All rights reserved.