Paris Attacks: Timeline Of Terror And Response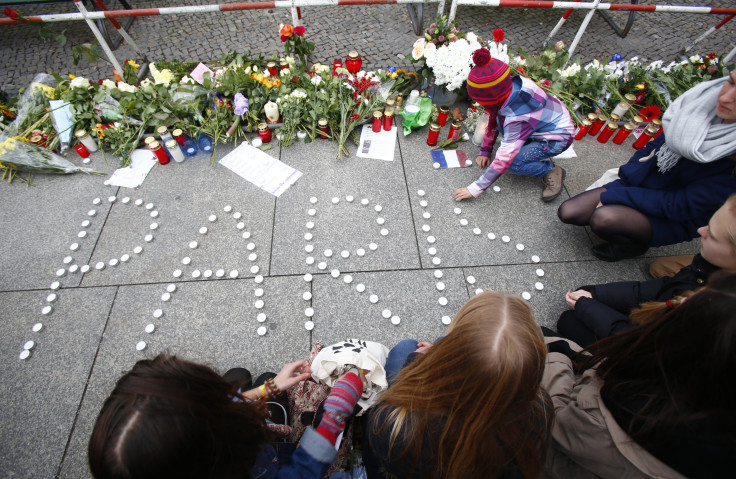 9-10 p.m. in Paris (3 p.m. EST)
A series of attacks took place after 9 p.m. in Paris, concentrated in city's 10th and 11th Arrondissements.
A lone gunman entered the Cambodian noodle shop Le Petit Cambodge in Paris's 10th Arrondissement and opened fire, leaving 14 dead. Soon after, in the 11th Arrodissement, a man got out of a car in front of the La Belle Equippe and shot at cafe, killing as many as a dozen people.
There was a series of explosions near Stade de France, the stadium where France and Germany are playing before a crowd of up to 80,000. French President Francois Hollande was evacuated while the game continued. Outside, at least four were killed by three blasts between 9:15 p.m. and 9:40 p.m. local time in a fast-food restaurant, a brasserie and a McDonald's. Police said at least one explosion was carried out by a suicide bomber.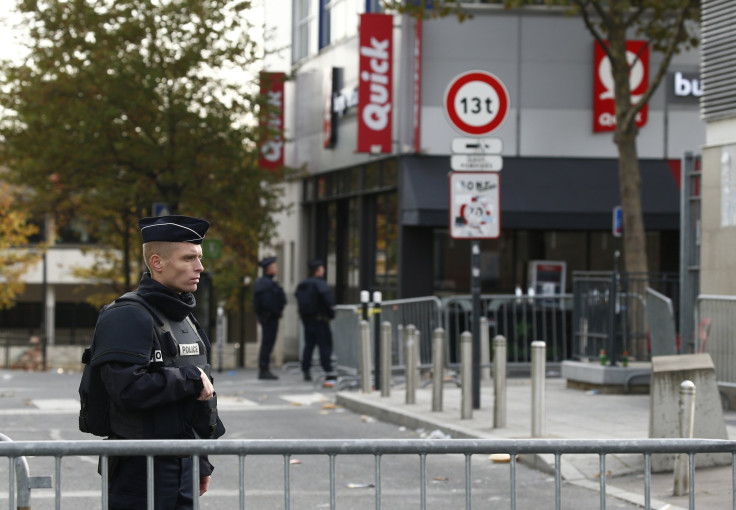 And there was a hostage-taking at the Bataclan Concert Hall, where the Eagles of Death Metal, a Los Angeles rock band on a European tour, were performing.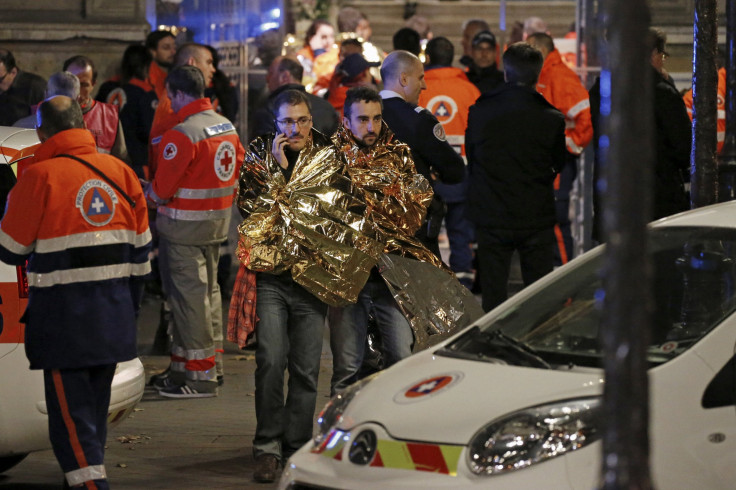 10:14 p.m. (4:14 p.m. EST)
Within an hour of the first attack, media reports cited police as saying there were as many as 100 hostages in the concert hall and up to 40 dead in the other attacks.
10:50 p.m. (4:50 p.m. EST)
U.K. Prime Minister David Cameron took to twitter to say he was shocked and the U.K. would help.
11:00 p.m. (5 p.m. EST)
French President François Hollande appeared on television to declare a state of emergency and to announce the closing of the borders.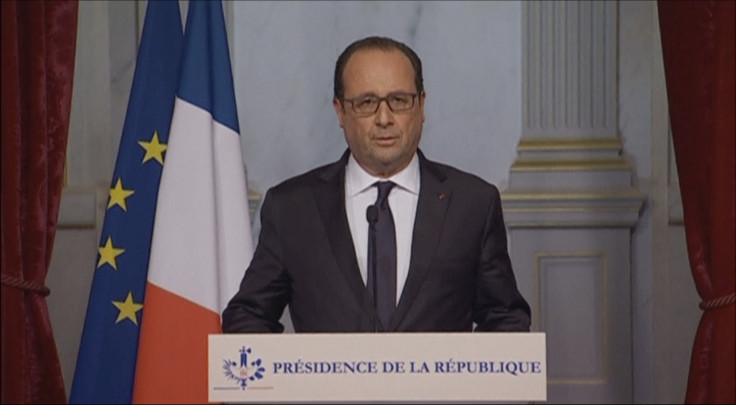 Though the airports remained open, there was tighter security, delays and some cancelations.
11:05 p.m. (5 p.m. ET)
U.S. President Barack Obama spoke calling the incidents "an attack on all of humanity" and said the U.S. will support France, "our oldest ally."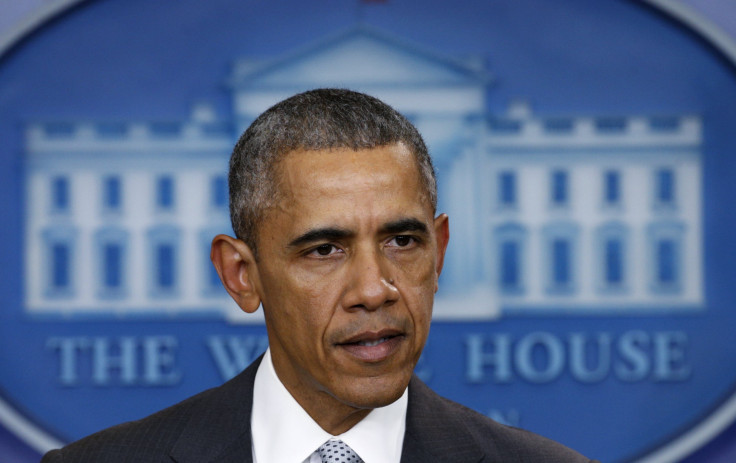 According to a White House statement, Obama also called Hollande. The two leaders vowed to work together to fight "the scourge of terrorism."
As events unfold, world leaders, including Germany's Angela Merkel, the U.N.'s Ban Ki-Moon and NATO's Jens Stoltenberg expressed their shock and support.
11:30 p.m. (5:30 p.m. EST)
Gunfire and blasts were heard from in and around the Bataclan, which police had surrounded. Five minutes later, police confirm they were assaulting the concert hall.
12 midnight (6 p.m. EST)
Police said their assault in Bataclan was over, and they expected a high death toll because the terrorists tossed grenades at them and the hostages.
12:10 a.m (6:10 p.m. EST)
A government official said the state of emergency had gone into effect and Hollande won't be going to the G-20 summit in Turkey Sunday. The summit was expected to tackle terrorism by Islamic extermists.
12:20 a.m. (6:20 p.m. EST)
A French police official said at least 100 were killed in the concert hall.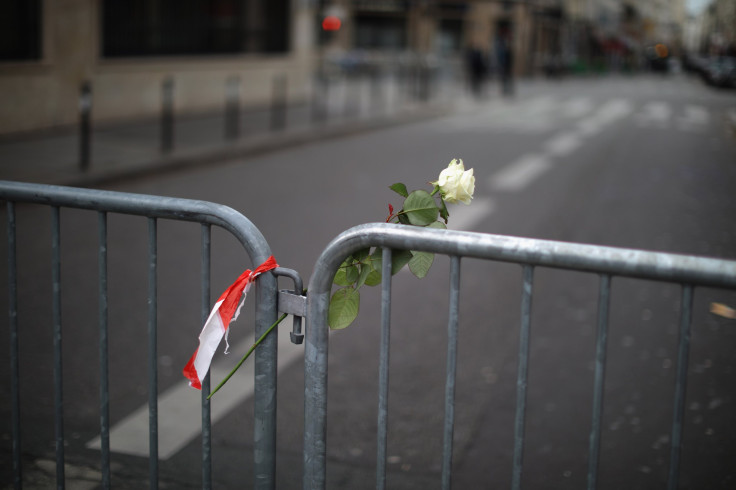 12:45 a.m. (6:45 p.m. EST)
On twitter, jihad supporters were celebrating, and speculating as to who could have carried out the attacks. Some are using hashtags like Paris on fire. Although the Islamic State group has not claimed responsibility, it had included Paris among the cities they are targeting to hit in the future.
6:40 p.m. in New York (12:40 a.m. in Paris)
New York deployed more police to busy areas, and also to areas associated with France.
2:16 a.m. (8:16 p.m. EST)
Paris police prefect Michel Cadot said the attackers at the Bataclan momentarily left the building to shoot at surrounding cafes then went back in, killing more hostages. He said they blew themselves up as the police closed in on them. According to at least one report, the attackers also threw grenades at the hostages and the police.
Cadot said all the attackers were believed to be dead, although authorities were hunting for any possible accomplices.
Meanwhile, at least one analyst said the police may have waited too long.
4:12 a.m. (10:12 p.m. EST)
Two hours later, President Hollande spoke outside Bataclan, saying the government would be "merciless" against the perpetrators of the attacks, which he said were an "abomination" and "barbarism."
10 a.m. in Paris (4 a.m. EST)
Following a meeting with his Cabinet, President Francois Hollande speaks to the nation again, now pinning the blame on ISIS and saying the attacks were an act of war. Shortly before that, ISIS had reportedly claimed responsibility, though some question the statement's origins.
© Copyright IBTimes 2023. All rights reserved.