Who Are The Paris Hostages? Terrorists Target Eagles Of Death Metal Band As 100 People Taken During Siege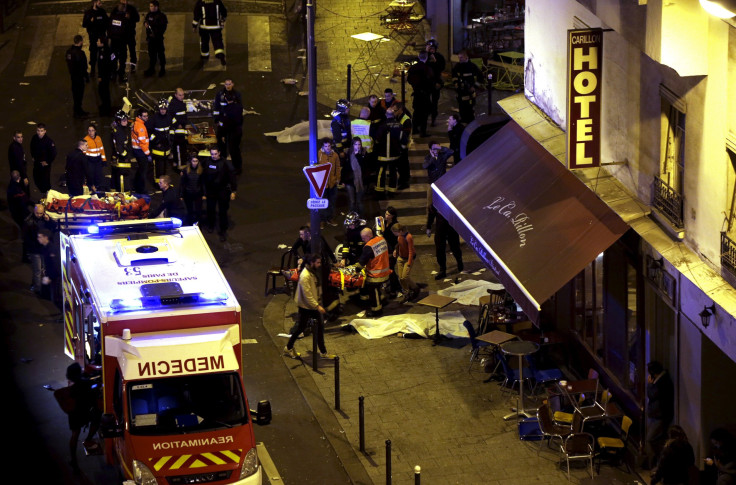 UPDATE 8:25 p.m. EST: Not all of the band members from Eagles of Death Metal have been tracked down following a hostage situation that occurred at a concert hall where the band was scheduled to perform, according to a statement from the band released Friday. Gunmen held hostage around 200 concert-goers as part of a series of terrorist attacks Friday evening that overtook the French capital.
"We are currently trying to determine the safety and wherabouts of all our band and crew," the band wrote on their Facebook page. "Our thoughts are with all of hte people involved in this tragic situation."
As part of their European tour, the band was scheduled to perform at the Bataclan concert hall until gunmen entered the venue, reportedly killed around 100 of the hostages. Police raided the concert hall where three of the attackers were killed, reported news station France 24.
Original story:
The city of Paris faced a series of deadly assaults Friday and among the targets was a Southern California band. Eagles of Death Metal were scheduled to perform a sold-out concert at the Bataclan concert hall when terrorists took more than 100 hostages inside the venue, according to French authorities.
Eagles of Death Metal were on a European tour. The band consists of Jesse Huges and Josh Homme, but Homme reportedly did not join for the tour, according to music blog Consequence of Sound. Homme is also a member of Queens of the Stone Age.
The band seemed to be in a secure area late Friday. French band Red Lemons wrote on Facebook: "We are safe. Mikel Ross, Eric McFadden we were with your mates [and EODM member] Jesse [Hughes], Tuesday [Cross, Hughes' partner], the other musicians outside, they're safe too, they took a cab."
The deadly attack saw at least 35 people killed amid shootings and explosions around the city. It was not immediately clear where the deaths occurred or how. Some reports indicated 11 people were killed in a Paris restaurant and about 15 killed in the Bataclan theater. It was unclear if the events were related.
The terror began after two explosions were heard outside the Stade de France stadium in northern Paris during a football match between France and Germany. French President Francois Hollande watched the game alongside German Foreign Minister Frank-Walter Steinmeier. The German football team had been evacuated from a hotel in Paris early Friday after a bomb threat, according to The Guardian.
The chaos came after a series of attacks in January carried out by Islamic extremists. During that attack, gunmen opened fire on satirical newspaper Charlie Hebdo and at a kosher grocery, leaving 20 dead, including the three attackers.
© Copyright IBTimes 2023. All rights reserved.