PayPal IPO 2015: PYPL Stock Price Soars 11% On Wall Street Return Following eBay Inc Spinoff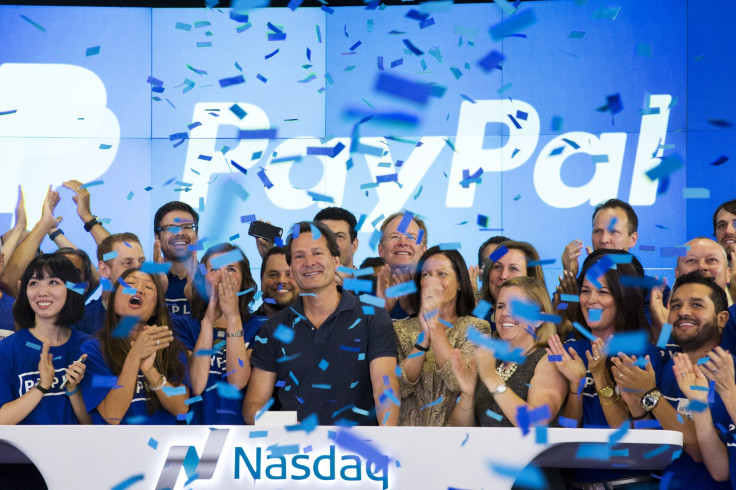 PayPal Holdings Inc. (NASDAQ:PYPL) made its stock market debut for the second time on Monday. The transaction follows the digital payments company's spinoff from eBay Inc. (NASDAQ:EBAY) and values it at around $47 billion -- some $13 billion higher than its former parent company. Founded in 1998, PayPal made its first initial public offering of stock in February 2002 on the Nasdaq under the same ticker symbol "PYPL" before it was acquired by eBay in October of the same year for $1.5 billion.
PayPal began trading with a market value of $46.6 billion Monday, a greater market capitalization than that of eBay, whose value will shrink to around $34 billion, according to data compiled by Bloomberg.
Shares of PayPal jumped 11 percent in morning trading to as high as $42.55, while shares of eBay dipped 2 percent to a 52-week low of $26.59.
EBay Inc. unveiled plans in September 2014 to separate itself and PayPal into independent, publicly traded companies in 2015, a move activist investor Carl Icahn demanded earlier that year. Icahn said spinning off PayPal would help shareholders while removing possible conflicts of interest.
"As the world's open, digital payments platform and most trusted and popular digital wallet, we are excited to celebrate our listing day and embark on our next chapter," Dan Schulman, president and chief executive officer of PayPal, said in statement Monday.
Ebay Inc. - Trailing Year | FindTheCompany
In the wake of the mega-IPO of Alibaba Holdings Ltd. last year, and with the introduction of new competition in mobile payments, both eBay and PayPal face significant threats from Apple Pay, Google Wallet and the various credit card issuers that have their own mobile payment initiatives.
Last fall, eBay was 30 percent of PayPal's volume and it is expected to quickly fall to just 15 percent, down from 50 percent a few years ago. PayPal services account for $1 out of every $6 spent online, and it will be able to better deal with major competitors such as Apple Pay as an independent company, experts say.
"While investor focus is on competitive uncertainties, near-term margin pressures from mix shift, and needed investment, we believe PayPal's value is best proven by other, primarily larger, companies' numerous failed attempts at replicating it," Heath Terry, an analyst at Goldman Sachs, said in a research note.
The firm gave PayPal a Buy rating with a 12-month price target of $48.
Gil Luria, analyst at Wedbush Securities, agrees. "We see PayPal as an enduring leader in the payments market, which should allow for several more years of 15 percent, plus revenue and earnings growth," he said in a research note. Wedbush gave PayPal a Neutral rating with a 12-month price target of $40.
In the payments space, PayPal serves more than 169 million active customer accounts in 203 markets around the world. Last year, it processed $235 billion in total payment volume and generated more than $8 billion in revenues. Also in 2014, PayPal processed $46 billion in mobile payment volume.
PayPal "continues to lead and innovate in mobile payments" with acquisitions such as Braintree and One Touch, the industry's first single-touch payments experience, eBay said.
"As an independent company, we see a tremendous opportunity for PayPal to expand our role as a champion for consumers and partner to merchants, and to help shape the industry as money becomes digital at an increasingly rapid pace," Schulman said.
© Copyright IBTimes 2023. All rights reserved.
FOLLOW MORE IBT NEWS ON THE BELOW CHANNELS