Periscope Videos Are Saved To Servers Unless You Delete Them: Here's How Meerkat, Snapchat And YouNow Compare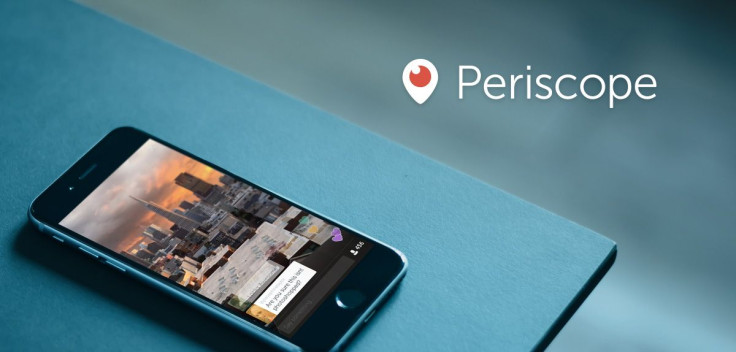 When you record a video on your phone, where does it go? How long is it saved?
Meerkat and Periscope have propelled people worldwide to create their own live streaming videos. And while some expect this content to be ephemeral, heed this warning: anything you record can be viewed, saved and shared by numerous third parties -- from employers, to exes and annoying marketers.
Suzanne Nguyen of Sydney, Australia often hosts live streams to explain features and other content on Meerkat. While Meerkat has the right to promote the content, the team had reached out to her to feature her stream in an education post on Medium. That wasn't the case for a third-party service. "I saw they had posted my photo without permission and made it look like I was endorsing a product. Meerkat reached out and I was like 'What the hell?' I do like that some third-party apps are working to improve Meerkat but this wasn't right," Nguyen said.
So if a social media pro like Nguyen can be taken advantage of, assume that you can, too.
Live streaming apps have been under scrutiny for the accessibility they have given users to illegally broadcast licensed content. For example, HBO has issued takedown requests from illegal streams of "Game Of Thrones" and a HBO representative said the developers should be powered with tools to prevent copyright infringement. Piracy also was a concern over the Floyd Mayweather vs. Manny Pacquiao fight, ESPN reports.
Now, attention has been given to the supposedly ephemeral nature of these streams. In an interview with the London Evening Standard, Periscope CEO Kayvon Beykpour said, "Right now we keep them. We haven't made any decisions around how long we keep them." That's the case if a Periscope user does not delete the video from the app.
Livestreams on Periscope can be made available to the public for 24 hours. Users can have videos saved to their own feed, and therefore Periscope's servers, for an unlimited time and are therefore saved on the company's servers. Periscope's Terms of Service grant the company "worldwide, non-exclusive, royalty-free license" to edit and redistribute the content. These terms are stated in Periscope's Terms of Service, but those can be full of legal jargon.
The news caused several media outlets to sensationalize the reaction. Disappearing messaging app Snapchat went through similar growing pains. The Venice, California company was charged by the Federal Trade Commission for misleading its users on how private their messages were in May 2014, which caused the company to update the language privacy policy. Shortly after the October 2014 leak of 200,000 messages (done by a third-party), Snapchat further updated the policy with "more consumer friendly language" including a section titled "Message Deletion," a Snapchat representative said.
"Maybe social media has conditioned consumers that what we're doing is all public, and we expect companies to be clear and always talking about transparency," Nguyen said.
While a broadcaster on each app owns the content (if it is original), each of the companies have the license to edit and redistribute it. That's because it is made public via the app, and the company needs that access to transmit the video. However, the video apps have different deletion policies that we have conveniently broken out for you.
Periscope
Periscope users can set their broadcast to be replayed for up to 24 hours. At any point, a user can go in and delete a replay. But regardless of that setting, videos are not visible to the public after 24 hours. However, a Periscope user can see and save all of their broadcasts ever taken either by selecting 'Autosave Broadcasts' under Settings or choosing to save the video after each broadcast.
The videos and comments made by Periscope users during the broadcast are saved on the company's servers until a user deletes the video (swipe left on your broadcast list or don't choose to save), or if the video violates Periscope's community guidelines. That includes if the content is illegal, such as a recording of licensed content ,or could be defamatory or offensive.
Periscope can use the video, edit it and redistribute it. The royalty-free term means a company does not need to pay users. A Periscope representative said the company has yet to redistribute content.
Meerkat
Competitor Meerkat does not allow live video streams to be replayed on its app. Videos are automatically deleted from the company's servers after they are over, a Meerkat representative said. To save the video, a Meerkat user can select to download it to their phone's camera roll or type #katch to upload the photo to YouTube.
But if snapshots are taken by the Meerkat team during the broadcast, they could edit and redistribute the content under the licensing.
"We may modify or adapt your Content in order to transmit, display or distribute it over computer networks and in various media and/or make changes to your Content as are necessary to conform and adapt that Content to any requirements or limitations of any networks, devices, services or media," Meerkat's policy reads.
A Meerkat representative said the company has yet to edit a user's content. The company has circulated screenshots of feeds, such as with a Medium.com post, on users posting streams to raise money for Nepal. However, the company did reach out to each of the users for permission, even though that action is not required by the policy.
YouNow
YouNow is another live streaming app that launched back in 2012 and has changed its deletion policies as it has grown. Previously, the app archived all users' videos unless the broadcaster deleted it. In June 2014, the company updated its policy to save broadcasts for a week.
Now, YouNow will only save a broadcaster's most recent stream unless he or she chooses to delete it or it is illegal. As soon as a user records a new video, the old broadcast will automatically delete from YouNow's servers.
"By saving the last one, fans can still be a part of the experience, but our focus is on live. That's where the magic is. It's not about the archives," said Adi Sideman, CEO of YouNow.
Sideman said the company has shared links of broadcasts to reporters but has not edited content itself. Video deletion and privacy concerns have also been a "non-issue" for the app so far, he said.
YouNow recently launched a program to share revenues from streams with content creators similar to YouTube. But while YouTube creators can make money through revenue sharing from advertising, YouNow streams have a virtual tip jar.
Snapchat
Snapchat, the disappearing photo and video messaging app, does not store private messages on its servers, as explained in the Privacy Policy on its website.
Any photo, video or text message sent to an individual user is automatically deleted from Snapchat's servers once the recipient checks the message. Unopened messages are typically deleted from Snapchat's servers after 30 days, a Snapchat Support message reads.
Photos and videos submitted to Snapchat "Our Stories," which are crowdsourced public feeds, can be saved. Snapchat "may archive them and allow them to be viewed again through Snapchat or other sources," the policy reads.
© Copyright IBTimes 2022. All rights reserved.
FOLLOW MORE IBT NEWS ON THE BELOW CHANNELS