Petco Removes All China-Made Treats From Stores And Website Amid Pet Sickness Fears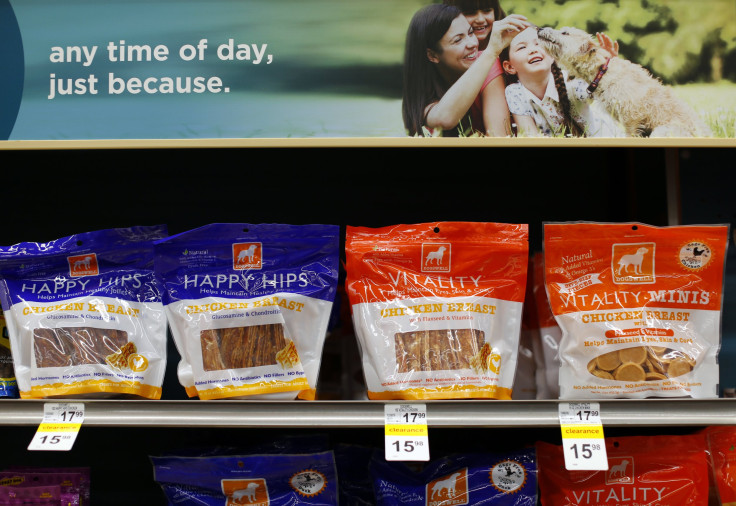 Petco, a California-based company that sells pet supplies and pet food, said on Monday it has removed all dog and cat treats made in China from its website and stores. The move comes after concerns arose that the food may have sickened thousands of pets and killed about 1,000 dogs in the U.S. since 2007.
Although the U.S. Food and Drug Administration (FDA) said that initial tests did not prove any connection between the illness and the Chinese treats, according to The Associated Press (AP), Petco and its rival company PetSmart had decided in May that they will ban the snacks. Petco becomes the first national pet food retailer to take the treats off the shelves of its 1,300 stores in the U.S. Its competitor, PetSmart, said Monday that it will get the treats removed from its stores by March.
"As a trusted partner for pet parents, we believe this is the right thing to do, and we're proud to take this step in the best interest of pets," Jim Myers, Petco's CEO said, in a statement, adding: "What we feed our pets matters, and this milestone supports the company's steadfast commitment to putting our customers, partners, animals and the communities we serve first."
The move comes after the FDA received over 4,800 complaints of illnesses, including deaths, after pets ate chicken, duck or sweet potato jerky treats made in China, AP reported. While the tests have not yet suggested any correlation between the deaths and the origin of the food, the agency is investigating the case.
John Sturm, Petco's vice president, said that the company spent millions of dollars by changing its vendors, and all treats were now made in the U.S. or in other countries, including the Netherlands, New Zealand, Australia and South America, AP reported.
© Copyright IBTimes 2023. All rights reserved.