Pharma CEO Martin Shkreli Accused Of A 'Securities And Wire Fraud Trifecta Of Lies, Deceit And Greed'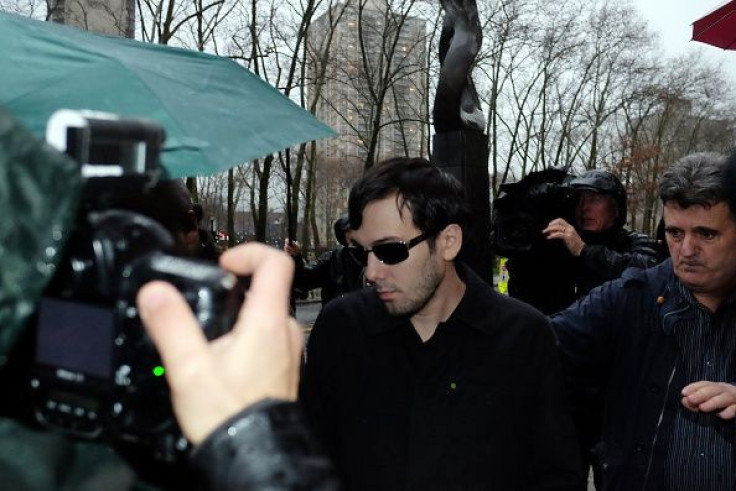 UPDATE: 8:15 p.m. EST -- A representative for Martin Shkreli released a statement saying that the pharmaceutical entrepreneur "is confident that he will be cleared of all charges." The statement can be read here.
UPDATE: 3:50 p.m. EST -- Martin Shkreli was released on a $5 million bond Thursday afternoon after pleading not guilty, the Associated Press reports. He surrendered his passport, and the court ordered him not to travel beyond New York City and immediate environs.
Original story: Federal prosecutors Thursday arrested pharmaceutical entrepreneur and "Pharma Bro" Martin Shkreli, charging him with what the FBI called a "securities and wire fraud trifecta of lies, deceit and greed."
Shkreli rose to infamy as the hip-hop-quoting CEO behind Turing Pharmaceuticals, which in August sent the price of a drug used by HIV patients soaring more than 5,000 percent. The move brought national attention to his bizarre antics -- such as his recent purchase of the sole copy of a coveted Wu-Tang Clan album -- and inspired Congress to open two inquiries into Turing's drug pricing.
The FBI wasn't interested in pharmaceutical price-gouging this time, however, but a series of financial gambits over the past six years that the feds say defrauded investors in Shkreli's previous ventures. The investigation into these allegations, conducted with the Securities and Exchange Commission, dates back to at least January, before Shkreli became widely known and reviled.
The results of that investigation were announced in press conference in New York Thursday. Shkreli "essentially ran his companies like a Ponzi scheme," said Brooklyn U.S. Attorney Robert Gables, explaining that the 32-year-old businessman "used each subsequent company to pay off his investors from his former company."
The criminal complaint filed against Shkreli outlined three broad schemes. In 2009 he formed the hedge fund MSMB Capital and subsequently blew more than $3 million in investors' cash on soured bets. According to the indictment, however, Shkreli lied to investors, telling them profits had grown when in fact the fund had become insolvent.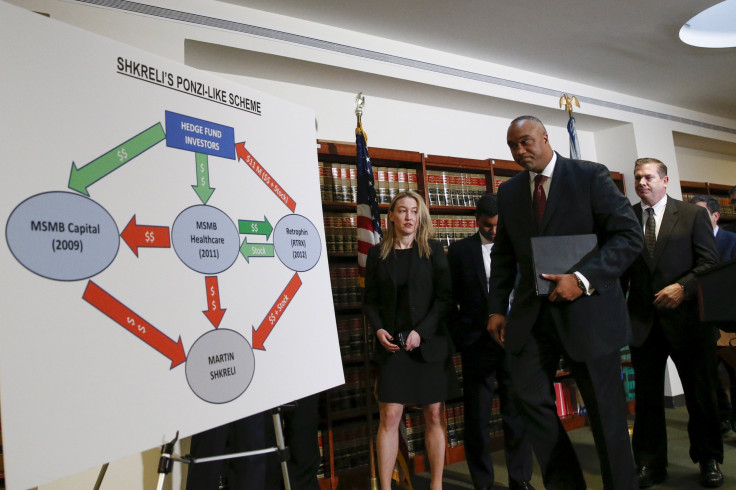 In 2011, Shkreli formed another hedge fund, MSMB Healthcare, which nosedived in similar fashion. All the while, the indictment said, Shkreli was withdrawing large sums in investors' money and telling them their investments were growing.
As MSMB Healthcare folded, Shkreli founded Retrophin, a pharmaceutical company that eventually went public and acquired patents to drugs for rare diseases. But as the company grew, the criminal indictment said, Shkreli and attorney Evan Greebel used back-door methods to siphon money out of Retrophin to repay former investors in the failed hedge funds.
Gables said that in all, Shkreli and Greebel funneled assets worth $11 million out of Retrophin and into the hands of former investors. In some cases, Shkreli signed sham consulting contracts with the investors to paper over the payments, prosecutors said.
Shkreli, who has denied the longstanding accusations from former Retrophin colleagues of misappropriation of funds, could be seen Thursday in his trademark hoodie being escorted by law enforcement. He faces charges of securities fraud, securities fraud conspiracy and wire fraud conspiracy. Greebel is charged with conspiracy to commit wire fraud.
Turing, the company Shkreli formed after a bitter exit from Retrophin, most recently acquired KaloBios, a small pharmaceutical company that holds a patent on a treatment for a common tropical parasitic disease called Chagas.
KaloBios soon announced plans to raise the price on the drug from roughly $100 per treatment to a level "similar to Hepatitis C antivirals"-- whose costs can approach $100,000 per course of treatment. Turing has not been accused of wrongdoing for this or similar price hikes, though the company's distribution channel for Daraprim, the AIDS drug, has come under investigation over antitrust concerns.
© Copyright IBTimes 2023. All rights reserved.