Philadelphia Mayor Michael Nutter Amtrak Speech: Crash Reaction Raises National Profile Ahead Of Papal Visit, 2016 DNC Convention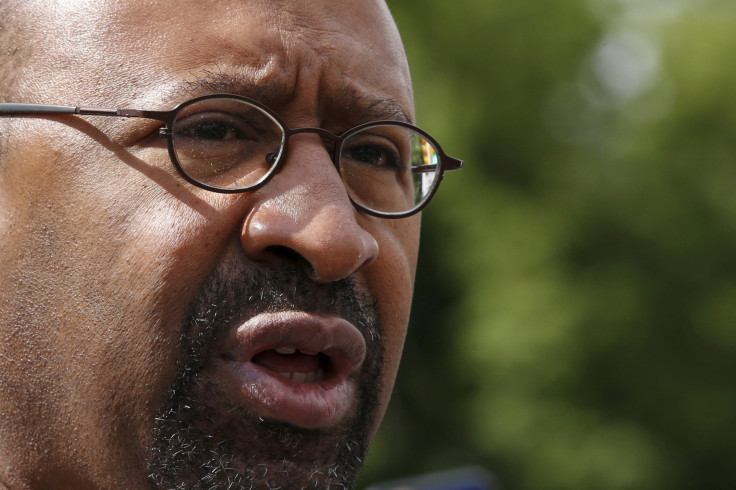 Philadelphia Mayor Michael Nutter has become an outspoken critic during the Amtrak train derailment investigation, a stance that has seen him transform from a calm and measured chief executive to consoler-in-chief. But with a big year ahead for Philadelphia – the city is to host Pope Francis this fall and the Democratic National Convention next summer – Nutter's outspokenness this week could be helping to build an already established national profile.
Nutter, a 57-year-old Democrat who is leaving city hall at the end of this year, has not indicated any aspirations to higher office. But if he pulls off the pope's visit and the DNC preparations without a hitch, that could increase the career politician's appeal for future elections.
Within hours of the Amtrak crash Tuesday night, Nutter had given multiple press conferences to update the nation about the investigation and take transit executives and officials to task for not doing more to prevent deadly train derailments. The Amtrak Northeast Regional train bound for New York City derailed in the Port Richmond neighborhood of Philadelphia, killing eight people and injuring more than 200. Nutter has been lauded for his emotional expressions of grief and anger and support for the families of the victims.
"On behalf of the entire city of Philadelphia and other individuals that I talked to or have communicated with ... we also express our deepest sorrow," Nutter said in a Wednesday morning press conference. "We will do everything we can to assist families who have loved ones on that particular train. We are heartbroken at what has happened here."
This is not the first local tragedy Nutter has had to deal with during his tenure. In 2010, a boat loaded with tourists in the Delaware River was struck by a passing barge, resulting in the death of two Hungarian students. In 2013, a building under construction collapsed onto a Salvation Army store, resulting in six deaths. And earlier this year, Philadelphia Police Officer Robert Wilson III was gunned down while trying to stop a robbery at a video game store.
David Thornburgh, president and CEO of a local watchdog group called the Committee of 70, told NJ.com that Nutter possesses the three traits that mayors should master in times of tragedy. The first, Thornburgh said, is being quick on the scene to reassure the public. The second and third traits are being an effective and judicious communicator and setting clear management plans before an emergency. "I think by and large he's been pretty effective," Thornburgh said.
But Philly.com (Philadelphia Inquirer) transportation columnist John Featherman on Thursday wrote that Nutter seemed "out of his field of expertise" in criticizing the Amtrak train engineer in Wednesday's crash. "Meet Michael Nutter, Transportation Engineer Extraordinaire," Featherman wrote. "This new Michael Nutter is anything but calm and measured. Instead, he's accusatory, in-your-face and belligerent… Perhaps he's been out of his field of expertise the past 7-1/2 years."
Nutter might have a chance to win over Featherman and other critics with how he handles the papal visit. Approximately 1.5 million people are expected to pack into Philadelphia for Pope Francis' first visit to the United States in September. The pope will attend a summit on families organized by the Roman Catholic Church at the Pennsylvania Convention Center from Sept. 22 through 25.
Philadelphia's economy is expected to get a $417.9 million boost, with much of the spending going to hotels and restaurants, Reuters reported this week. "This is a singular and spectacular moment for the City of Philadelphia," Nutter said in a press conference about the visit last month. "I vividly remember our leadership delegation's meeting with Pope Francis in St. Peter's Square and our invitation to the City of Brotherly Love and Sisterly Affection on behalf of millions. His response was so humbling in that he asked us to pray from him, and ever since, I have. But I have also prayed for his willingness to visit Philadelphia and to share in the goodness of this special place and its people."
Philadelphia was announced as the DNC's selected host city in February. The selection followed an exhaustive campaign by a team Nutter established to woo the Democrats' conclave to the city. But Nutter will not be mayor when the convention is held next July. "The City of Philadelphia is excited and honored to be selected as the host city for the 2016 Democratic National Convention," he said after the announcement in February, according to a Politics PA report. "We believe that it was our proven track record of hosting big events safely and efficiently with a dynamic team of top-tier professionals to organize and manage a conference of this magnitude, paired with our city's tremendous amenities, its accessible location and historical significance," he said. "We're all delighted to make history again, here in the City of Brotherly Love and Sisterly Affection."
Nutter, the city's third African-American mayor out of 124 before him, has served two terms and is not running for re-election in November. Nutter has also served as the president of the United States Conference of Mayors from 2012 to 2013. Earlier this month, Nutter was tapped by President Barack Obama to join My Brother's Keeper Alliance, a nonprofit organization that hopes to expand opportunity and achievement among boys and young men of color.
Nutter took office in January 2008 after serving almost 15 years on the Philadelphia City Council. A Philadelphia native, the mayor was educated at the Wharton School at the University of Pennsylvania. He committed to public service as a young man, according to his official biography. He is married to his wife Lisa, with whom he has a son, Christian, and daughter, Olivia.
© Copyright IBTimes 2023. All rights reserved.