Photos Of Germanwings Flight 9525 Crash Victims' Grieving Friends, Family Raise Journalism Ethics Questions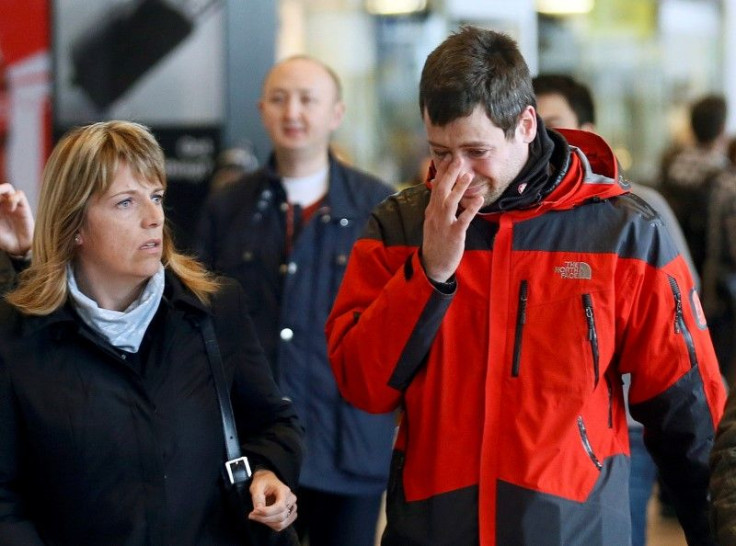 Powerful images of grieving friends and family flooded the Internet Tuesday after Germanwings Flight 4U 9525 crashed into a remote region of the French Alps, apparently killing all 150 of its passengers and crew. The photos evoked forceful responses from social media users who questioned the ethics of the media publishing material of victims' relatives and friends at such a vulnerable moment.
The response illustrates the difficult dilemma journalists face as tragedies like the Flight 4U 9525 crash unfold and the race to break the latest updates begins. Should the media post polarizing images and comments in the interest of advancing the story, or give grieving individuals space to process the event without the presence of camera flashes or microphones?
Several factors come into play, including the extent to which the material actually informs the public and the location where quotes or photos are taken, experts on ethics in journalism said. "A journalist has to think carefully about the long-term impact on that individual. For many reporters, this is a one- or two-day story, and then they move on to the next thing, but this is obviously something that's going to affect these individuals' lives forever," said Jane Kirtley, a professor of media ethics and law at the University of Minnesota.
French aviation officials lost contact with Flight 9525 as it traveled from Barcelona, Spain, to Düsseldorf, Germany. Initial reports said the Airbus A320's pilots issued a distress signal about an hour after takeoff, but France's aviation authority later disputed that account and said the plane simply fell out of radio contact, according to the Associated Press.
Lufthansa, which wholly owns Germanwings, said the plane experienced no problems before or during takeoff. While the plane has been in service since 1991, officials said its age was within acceptable maintenance standards, according to Reuters. The cause of the crash was not immediately known, but Flight 9525 began a rapid descent from a cruising altitude of 38,000 feet to about 5,000 before it crashed into a mountainside. All 144 passengers, most of whom were German, Spanish or Turkish, and six crew were presumed dead in the crash.
As the news broke, several media outlets made the decision to post photos of presumed relatives or acquaintances of crash victims as they reacted to the tragedy. Spanish newspaper El Pais, British newspaper the Independent and BBC Mundo, the Spanish brand of the British news service, were among the outlets to post such photos.
The reaction among social media users to the publication of these images was almost entirely negative. Users reserved particular vitriol for El Pais' English edition, which posted a photo of a hysterical family member who had just arrived at Barcelona's El Prat airport to its Twitter account.
"Why this pic? Pure voyeurism, no respect for their privacy and suffering. Totally unnecessary," one user wrote. Another user added she "didn't need to see this picture."
Reporters are trained to pursue quotes or images that pertain to a breaking news story so long as they aren't obtained in violation of the subject's privacy, said Roy Gutterman, director of the Tully Center for Free Speech at Syracuse University's Newhouse School of Journalism in New York. He said it was not ethically or legally wrong for reporters to snap pictures of grieving family members in a public airport. Rather, it was the responsibility of airport officials to take these individuals to a private room, where the media would not have access.
"The general ethical standard is the reasonable expectation of privacy. That's not only an ethical issue, that's sort of the legal standard, as well. Anything that's captured in a public place or even a quasi-public place is fair game for recording and publication," he said.
Best journalism practices suggest a photo or interview with someone directly affected by an unfortunate event can shed new light on a breaking news story. Reporters routinely question relatives of victims in murder cases or approach witnesses at fatal car accidents and fires. The stakes are higher after a tragedy, as friends and family of victims are often just minutes or hours removed from the loss of someone they loved.
It's up to the reporter or news outlet to determine if the scoop is responsible and respectful toward the victims. Countless outlets chose to run photos of grieving family members after the fatal crash of TransAsia Airways Flight 235 in Taiwan last month, as well as after the Boston Marathon bombings in April 2013.
"It's a perennial task that edit journalists or photojournalists have to go through – what's the benefit to the public versus the harm that's being caused to the subject – especially in situations like this, when you're talking about people through no fault of their own that have suddenly become the object of public interest," said Kirtley.
If a reporter does choose to approach an emotionally devastated individual, questions should focus on obtaining information that will help the public understand the personality and circumstances of the lives of those affected by the tragedy.
"We always want to have a full picture of who these people were," said Gutterman. "Telling their story is important, too."
FOR FREE to continue reading
✔️ Unlock the full content of International Business Times UK for free
offer available for a limited time only
✔️ Easily manage your Newsletters subscriptions and save your favourite articles
✔️ No payment method required
Already have an account?
Log in
© Copyright IBTimes 2023. All rights reserved.