[PHOTOS] Is The RT1 Close To Production? Two Rivian Electric Pickup Trucks Spotted Testing
Rivian's R1T all-electric pickup truck may be getting closer to its release date as two trucks were reportedly spotted winter testing in Tierra del Fuego, Argentina. According to photos obtained by Rivian Forums, the truck had some major changes since it was first unveiled at the Los Angeles Auto Show.
The testing that the trucks were doing in Argentina seems to point to some endurance testing as the area is particularly rugged and used for off-road riding. The region is also undergoing winter and experiencing low-temperatures, just above freezing with snow also reportedly expected in the area.
Two R1T trucks were spotted, and they each showed the same front-end design that was featured with the concept vehicle. New to the trucks were a move of the charge port to the driver side of the vehicle as well as different tailgate design and flat paint livery in white and gray. According to the Electrek, the diffuser and bumper also looked to be different, which may be due to a need for improved ground clearance.
Rivian told the news outlet that the trucks that were seen being tested have a lot of "non-production representative content," specifying that the R1T will look closer to the concept truck seen in Los Angeles than the test vehicles caught in photos.
The truck spotters also got shots of the interior of the trucks that now have a mountain black color and included some testing equipment that most likely won't be a part of the final rendition of the truck. Rivian told Electrek that the final truck model will look closer to the concept vehicle in the interior than what was spotted.
The R1T truck is expected to be released in 2020.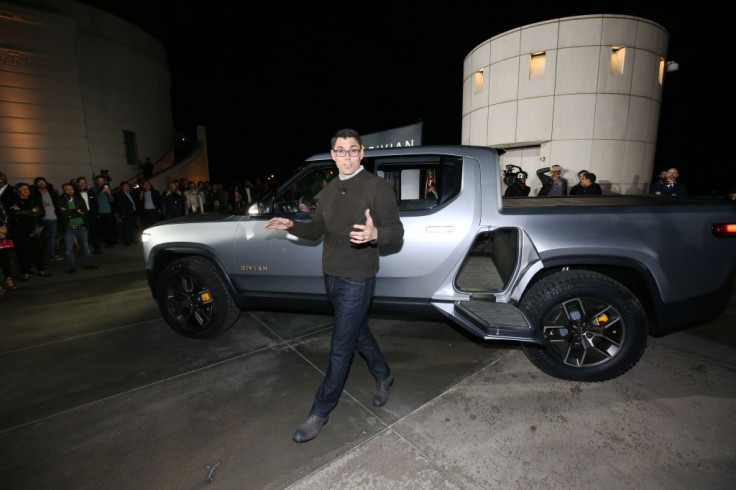 © Copyright IBTimes 2023. All rights reserved.