Plaquemines Parish Levee Succumbs To Hurricane Isaac, Storm Stalls Over Louisiana From New Orleans To Baton Rouge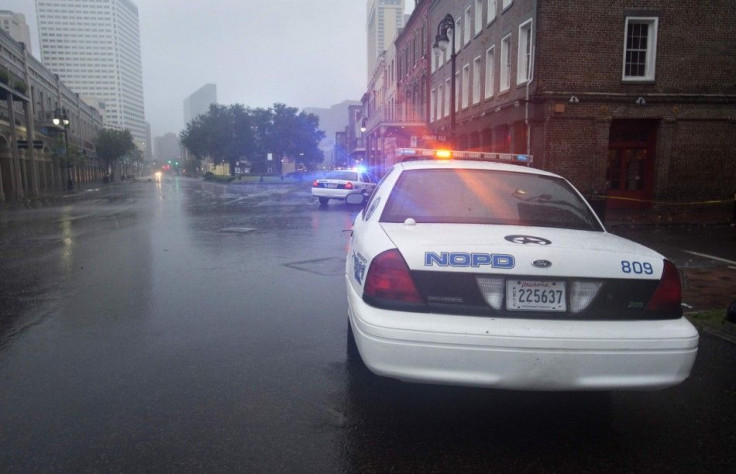 Levees overtopped in Plaquemines Parish, Louisiana on Wednesday morning as Hurricane Isaac dumped inches of water onto many of the Gulf Coast cities. At approximately 3:53 a.m., Plaquemines Parish Emergency Management and local law enforcement officials reported significant flooding from overtopping of levees in the East Bank portion of Plaquemines from Braithwaite to white Ditch.
According to multiple reports, the 13-foot surge of water was due to a section of the levee that has carved up by boat channels and eroded by saltwater incursions for decades, weakening the natural wetland storm-surge barrier. Emergency responders began examining the damages at sunrise on Wednesday morning.
The National Weather Service has issued a flash flood warning for several Louisiana cities, including Timberlane, Metairie, Marrero, Kenner, Harvey, Avondale, New Orleans, New Orleans East, Chalmette and Hahnville. The warnings, which affect St. Bernard, St. Charles, Orleans and Jefferson parishes, are in effect until 9:45 a.m. CT.
In further Isaac developments, authorities out of the National Hurricane Center say that the storm has stalled over the Louisiana area and could take up to 12 hours to go from New Orleans 70 miles north to Baton Rouge. In addition, a reported 486,000 remain without power in Louisiana.
A tornado watch remains in effect for southeast Louisiana and southern Mississippi until 4 p.m. CT Wednesday, the National Weather Service says.
FEMA administrator Craig Fugate suggested that residents who didn't evacuate and aren't in danger should stay put until the winds and rain pass.
"We have resources ready to go, but until the winds come down, we're really asking people, if you're not somewhere that's dangerous, stay where you're at unless you're told to evacuate," he told CNN.
The news outlet is also reporting that heavy damage, including a broken-down boardwalk near a condominium development in Destin, Florida, more than 200 miles east of New Orleans, has taken place.
CNN affiliate WEAR reported that waters from the Gulf overtook the beach before flooding the streets in the resort town. More than 11,000 people live in the city, which is located on an isthmus separated from the Florida mainland by the Choctawhatchee Bay.
© Copyright IBTimes 2023. All rights reserved.