Platinum Strike: What You Need To Know, As South African Miners Drop Tools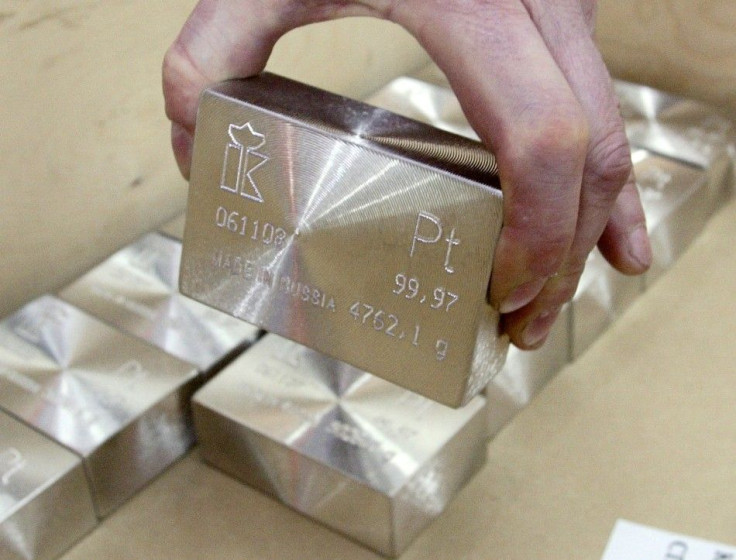 South African platinum miners for the world's top three platinum producers started an indefinite strike on Thursday, threatening production at companies that mine half of the world's platinum.

South African mining companies Anglo American Platinum (Amplats) (SJ:AMS), Impala Platinum Holdings Ltd. (Implats) (SJ:IMP) and Lonmin PLC (LON:LMI) face a strike by the Association of Mineworkers and Construction Union (AMCU), which is demanding an entry-level monthly wage of 12,500 rand ($1,140).

The AMCU represents about 70 percent of the workforce at these three companies, having displaced the formerly dominant union the National Union of Mineworkers. The companies have said they cannot afford the AMCU's wage demands.

Here are key points to remember as the strike proceeds.

Price Impact May Be Minimal

A strike, which represents a disruption to supply, typically boosts prices for the metal, if demand stays similar.

But this time, much of the danger surrounding strikes may already be priced-in by markets, according to a Wednesday note from UBS AG (VTX:UBSN) analyst Joni Teves.

The metal has already gained $100 per ounce from a recent low in December, incorporating the potential for strikes, and is the top precious metals performer for the year to date, gaining 5 percent.

"Any further upside from here will depend on whether or not production disruptions due to the strikes are protracted. This is currently not our base case," she wrote on Wednesday. "We think that much of the SA risks appear priced-in by now."

The platinum sector may already hold enough existing inventory to satisfy global demand for about six weeks, more than the typical four weeks inventory, according to Teves.

"Operations would likely need to be offline for several weeks before deliveries start to get affected and the impact is felt on the global supply/demand balance," she said.

Gold, which influences platinum prices, fell in trading earlier this week and dragged platinum prices lower, too, wrote HSBC Holdings pc (LON:HSBA) analyst James Steel.

"Muted reaction more recently to the announcement for a possible strike may be due to investor awareness of producer stockpiling," wrote Steel in a Tuesday note.

Robust continued demand for platinum globally is also reflected in Chinese imports of the metal, which hit a near four-year high in December 2013. Stronger automobile sales have also boosted platinum, which is used in catalytic converters.

Production Impact May Be Modest

Immediate impacts to global platinum supply may be modest, to judge by historical examples.

An 11-day strike at Amplats in the fall of 2013 cost 44,000 ounces in platinum output, relative to the company's 2012 production of 2.2 million ounces. That's also relative to a global platinum supply of 5.64 million ounces, according to industry tracker Johnson Matthey (LON:JMAT).

Implats, the world's second-largest platinum producer, told IBTimes that it lost 120,000 ounces in a bloody 2012 strike, and a further 30,000 ounces as it restarted operations poststrike.

How long the strike and wage negotiations last will be the key point to watch. AMCU Treasurer Jimmy Gama told IBTimes it's unclear how long the strikes will last for.

"It will depend on how quick the negotiations on the wage process take place," Gama said. "If agreement is reached very late, it might be much longer."

Both platinum and its sister metal palladium are likely to see supply deficits this year, however, so any cutbacks in production could exacerbate that. Still, industry analysts have known about these supply deficits for a while.

Not The First Labor Unrest, Not The Last: Little May Change

Mining strikes are nothing new for South African industry executives, especially in the gold and platinum sectors. Aside from the Amplats strike in September 2013, widely followed strikes in the summer of 2012 were prompted by lethal shootings at Lonmin's Marikana platinum mine. Labor unrest over six weeks left 45 people dead in that episode.

This strike is unlikely to be the last in either the gold or platinum sectors in South Africa, which has also witnessed a rivalry between the formerly dominant NUM and the more active and reportedly militant AMCU. Separate planned strikes by the AMCU gold miners, who are only 19 percent of unionized gold miners, could start by early February, according to Bloomberg.

At stake is a struggle for better wages, which mining companies bat back by citing depressed platinum prices and soaring production costs. Mining companies have offered 7.5 percent to 8.5 percent annual wage increases over the next two to three years, along with better benefits, and say that compares favorably to both other industries and South Africa's current inflation of 5.3 percent.

Implats told IBTimes that its current wage bill is "in the region" of 7 billion rand for the year. They added that basic wages are 4937 rand ($449) for surface workers and 5,500 rand ($500) for underground workers, though many employees receive perks like housing allowances.

Implats made profits of 5 billion rand in 2013, according to its latest annual report, on revenues of 30 billion rand. It employed 57,000 people in 2013.

"Demand for our metals has declined in recent years on the back of depressed global markets and declining vehicle demand," Implats spokeswoman Alice Lourens told IBTimes in an email. "Consequently, prices have declined and together with escalating costs have put pressure on the profitability of the platinum industry."

Costs at Implats per tonne milled have almost doubled from 2009 to 2013, according to company data. Like gold producers, platinum companies have faced profit margin pressure as platinum prices fell 19 percent over the past three years, though production expenses have escalated.

Nonetheless, many analysts have been bullish on platinum and palladium for 2014 and beyond, expecting them to fare better than gold. That's because stronger automobile markets in China and the U.S., alongside a recovering market in Europe, lift demand, just as supply remains in a deficit.

"The strikes are going well. The strikes are peaceful, with no incidents of intimidation, and nothing violent is taking place," Gama told IBTimes on Thursday. Analysts and mining companies were wary of violence from tensions between the AMCU and NUM beforehand, and called for a peaceful strike.

Platinum opened at $1454 per ounce in New York on Thursday.
© Copyright IBTimes 2023. All rights reserved.