Polish President Komorowski The Front-Runner In Election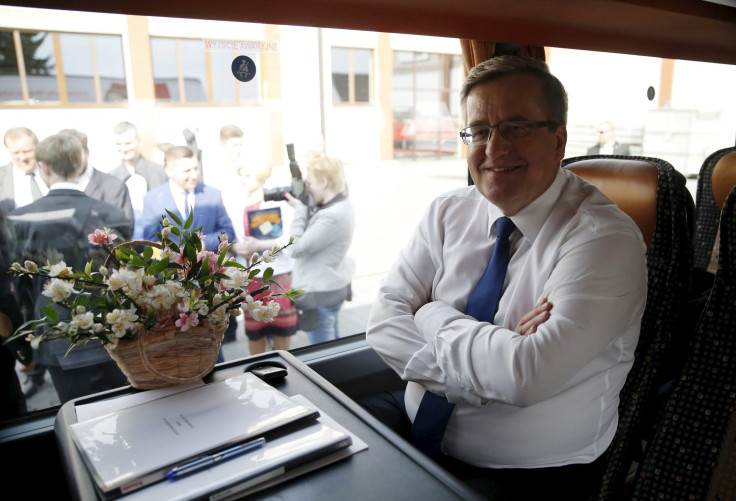 WARSAW (Reuters) - Poland votes in the first round of a presidential election on Sunday that opinion polls show will send front-runner and incumbent Bronislaw Komorowski into a runoff against a conservative opposition challenger.
A comfortable re-election for Komorowski would give a confidence boost to his allies in the centre-right Polish government, who face what will be a tightly fought race for another term later this year.
Komorowski, 62, has campaigned on a platform that he is a safe pair of hands on national security. That message has played well with voters nervous that after Russia's intervention in Ukraine, Poland could become the next target.
"Poles have a need for normality, for peace, for security and for order," Komorowski said at his final rally in Warsaw on Friday. "I hope that accord and security will win."
In Poland, Eastern Europe's biggest economy, the prime minister has the most powers, but the president wields clout as head of the armed forces, has a say in foreign policy and the power to veto legislation.
Polls give Komorowski around 40 percent support. His closest rival, Andrzej Duda, who is backed by the conservative opposition Law and Justice party, has about 30 percent, after closing the gap on Komorowski in the past few weeks.
Duda, 42, has campaigned on a promise to lower the retirement age and has warned that if Poland adopts the euro currency - something Komorowski has said he wants eventually to happen - the prices of goods in shops will go up.
The third-placed candidate, on about 15 percent, is Pawel Kukiz, a former rock musician who has picked up support from Poles who are disenchanted with mainstream politics.
Polling stations are to open at 7 a.m. (0500 GMT) and voting is scheduled to end at 9 p.m. If no candidate wins more than 50 percent, the two with the biggest share of the vote will compete in a second round on May 24.
© Copyright Thomson Reuters 2023. All rights reserved.