Donald Trump's Charity Didn't Give To Conservative Groups Until 2010; Citizens United Supporters And Anti-Vaxxers Got Donations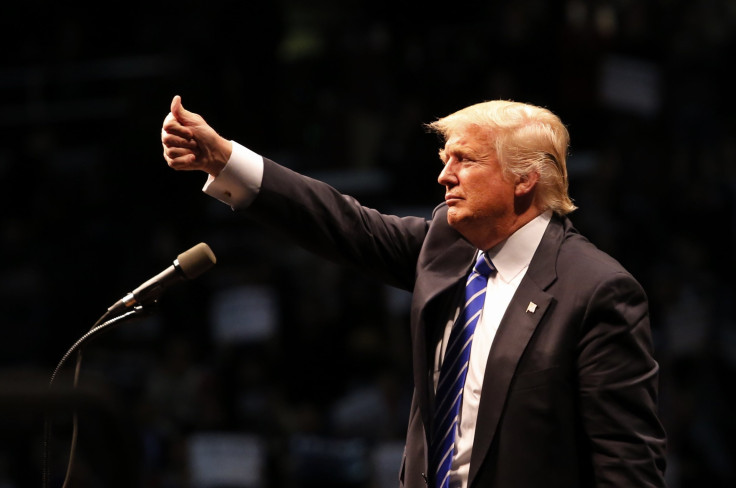 For most of the last 15 years, Donald Trump's charity has focused on providing gifts to nonpartisan, nonpolitical organizations. That changed in 2010, three years before the real estate tycoon reportedly told a small group of Republican officials that he was contemplating a run for the White House.
An International Business Times review of tax returns from the Donald J. Trump Foundation uncovered no evidence of donations to explicitly conservative groups between 2001 and 2009. But in 2010, the Foundation reported giving $10,000 to Liberty Central Inc., an advocacy group founded by Virginia Thomas, wife of Supreme Court Justice Clarence Thomas.
That same year, the foundation reported another $10,000 contribution to Citizens Against Government Waste, a group that promotes fiscal conservatism.
Perhaps the most eye-catching donation to a right-leaning group came four years later, when the Trump Foundation says it gave $100,000 to the Citizens United Foundation. That group is an arm of Citizens United, the petitioner in the 2010 Supreme Court case Citizens United v. FEC. When the court ruled in favor of Citizens United, it launched the super PAC era and loosed a torrent of new outside spending on the American election system.
While on the campaign trail, Trump has repeatedly criticized super PAC spending and the Citizens United decision without noting that his charity donated $100,000 to the group that won that ruling. A campaign representative did not reply to a request for comment regarding the donation.
Since Trump began running for president, many skeptical Republicans have challenged his conservative bona fides. Former presidential candidate Jeb Bush and the Club for Growth, a powerful advocacy group, both alluded to Trump's alleged fair-weather conservatism last month in statements endorsing his main rival, Sen. Ted Cruz of Texas.
Trump's philanthropic endeavors since 2010 belie those accusations, but IBT found no evidence of a conservative slant in the foundation's giving before that year.
In fact, the Trump Foundation donated $100,000 to the William J. Clinton Foundation in 2009. The following year, Trump's charity gave an additional $10,000.
The only pre-2010 sign of any contribution to an explicitly right-wing group is probably a false positive. The Trump Foundation's 2007 tax filings report a $1,000 gift to the AFP Foundation. The AFP acronym could refer to the right-leaning Americans for Prosperity Foundation, but it could also refer to either the Association of Fundraising Professionals Foundation or the Agence France-Presse Foundation. There is nothing on the form itself to indicate which AFP received the gift.
Other conservative groups that received contributions from the Trump Foundation after 2010 include the Iowa-based Family Leader Foundation and the American Conservative Union, which is responsible for organizing the annual Conservative Political Action Conference. The Family Leader Foundation received $20,000 over the course of 2013 and 2014, while the American Conservative Union received $50,000 in 2013, according to tax filings. Trump spoke at CPAC that same year.
The Billy Graham Evangelistic Association, founded by America's most influential Protestant pastor in 1950, received $50,000 from the Trump Foundation in 2012.
At the same time, the charity continued making some contributions that fly in the face of conservative orthodoxy. Protect Our Winters, a group that seeks to combat human-caused climate change — and accepts the scientific consensus about it, unlike most Republicans — received $5,000 in 2014. Trump Foundation tax forms also show the charity made an oddly meager $325 donation to the ACLU Foundation of Florida in 2013.
Trump's charity has been buffeted by controversy for years. The Washington Post recently reported that none of the foundation's recent gifts have come out of his personal wealth. Last week, the Wall Street Journal reported that veterans' groups are still waiting for millions in donations that Trump had pledged to them.
The Trump Foundation was also forced to admit error late last month after it was revealed the charity had donated $25,000 to a group supporting the 2014 re-election of Florida Attorney General Pam Bondi and then misreported the contribution on its tax filings. Tax-exempt charities are prohibited from supporting political candidates.
One Trump Foundation beneficiary, while not a partisan group in the traditional sense, is notoriously polarizing. In 2010, the Trump Foundation gave $10,000 to Jenny McCarthy's Generation Rescue, which promulgates the myth that vaccinating children puts them at risk of developing autism. Trump has repeatedly espoused "anti-vaxxer" views in his public remarks.
© Copyright IBTimes 2022. All rights reserved.
FOLLOW MORE IBT NEWS ON THE BELOW CHANNELS