Trump Foundation Says 2013 Donation To Florida Political Group Was A Mistake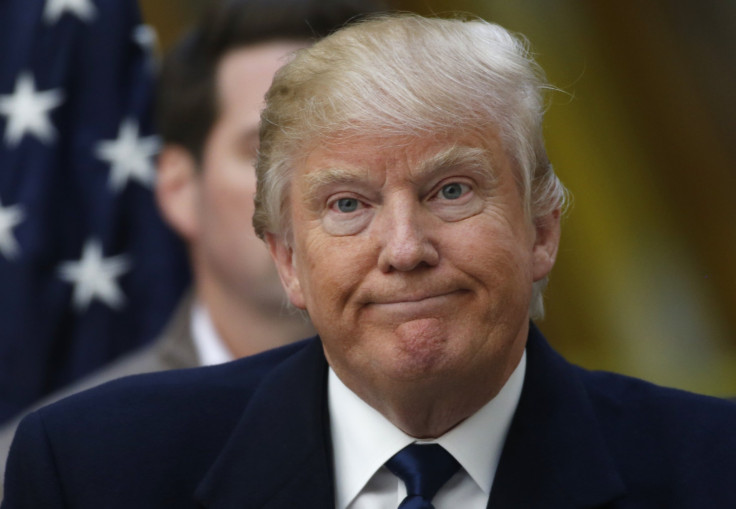 The Donald J. Trump Foundation acknowledged Tuesday that it made a $25,000 contribution to a political campaign group in 2013, despite the fact that federal law prohibits tax-exempt charities from engaging in electoral politics. The contribution was to And Justice For All, an organization supporting Florida Attorney General Pam Bondi.
And Justice For All received the charity's donation three days after Bondi said she was considering whether to investigate allegations that Trump University, Donald Trump's now-defunct online seminar business, had defrauded customers. Bondi wound up not launching a formal investigation.
The contribution was first noticed by a reporter for the Tampa Bay Times in October 2013, but the story came under renewed scrutiny this week when the ethics group Citizens for Responsibility and Ethics in Washington asked the IRS to investigate whether the Trump Foundation had broken the law.
The day after CREW announced it had filed its complaint, the foundation admitted it had made the donation. The foundation's treasurer, Allen Weisselberg, told the Washington Post he would "straighten it out" with the IRS.
According to Weisselberg, the Trump Foundation made the contribution to And Justice For All because the charity mistook it for an identically named legal aid nonprofit based in Utah. The Trump Foundation's 2013 tax returns report that the $25,000 went instead to a third group, an anti-abortion organization based in Kansas and called Justice For All, but that nonprofit told International Business Times it never received any donation. The Trump Foundation said the inclusion of the Kansas group on its tax filings was another innocent mistake.
CREW spokesman Jordan Libowitz appeared unimpressed with that explanation. Although the Trump Foundation says it only recently learned its donation had gone to a pro-Bondi group, Libowitz noted the Tampa Bay Times asked Trump himself about it before it broke the story. At the time, Trump declined to comment on the donation, but he did issue a statement calling Bondi "a fabulous representative of the people."
"The IRS needs to investigate," said Libowitz. "It's literally what they are there to do."
© Copyright IBTimes 2023. All rights reserved.