Hillary Clinton Brooklyn Speech: Can Women's Issues Help Rally Trump, Sanders Supporters In November?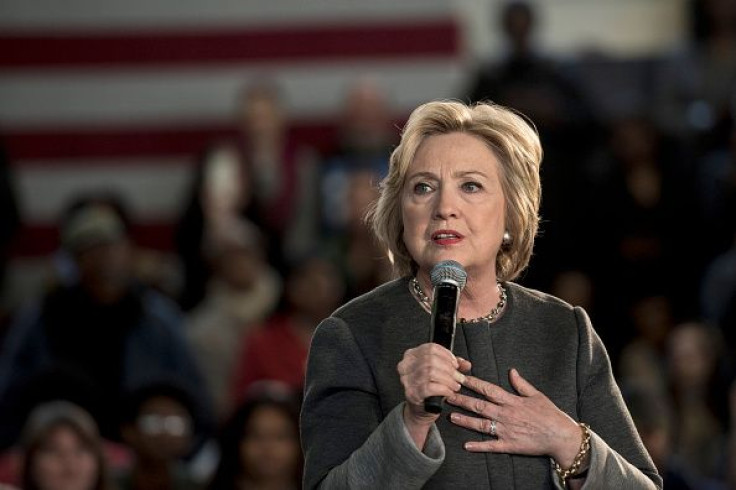 Beyoncé-inspired cheers of "Who run the world?" "Girls!" "Who run the world? Girls!" welcomed Hillary Clinton on Tuesday to a small college gymnasium in Brooklyn, New York, where the Democratic presidential front-runner spoke for about 30 minutes on core issues designed to appeal to women. She'll be counting on that demographic, and older African-American women in particular, to help her in the New York primary on April 19.
While Clinton has done well among women in the Democratic primaries, there are still two large groups of female voters she'll need to woo if she makes it to the general election in November: Bernie Sanders supporters who have become disillusioned with her during the primary season, and independents and moderate Republican women turned off by Donald Trump's divisive rhetoric. Women vote in higher numbers than men and are more reliable voters, underscoring why support from these demographics will be crucial to winning not only the Democratic nomination, but also the general election.
Attracting support from women who favor Sanders and those against Trump won't be easy, and in many ways the two groups have competing interests. But they do have one thing in common: Both want to hear something beyond Clinton's traditional talking points on "women's issues." To win them over, Clinton will likely need to broaden her message, voters and experts said, and convince women beyond her base that she cares about their issues — whether that's fracking, criminal justice reform or job creation.
"I'm particularly concerned about girls and women, being one myself," Clinton said Tuesday. "But more than that because we still have a long way to go before we can honestly say to our daughters, 'Yes you can be anything you want to be, including president of the United States.'"
Clinton's remarks followed a town hall discussion with African-American leaders and family members of black men killed in encounters with law enforcement officers. After being introduced by U.S. Rep. Yvette Clarke, D-N.Y., and the first lady of New York City, Chirlane McCray, Clinton delivered her female-focused stump speech, promising to fight for women on issues that include access to abortions and healthcare, guaranteed equal pay, paid-family leave and nominating a progressive justice to the Supreme Court.
"For women who identify more as second wave feminists, that kind of rhetoric, a warning about having a president who would be in a position to make an appointment to the Supreme Court who could overturn Roe v. Wade, that's a very traditional dog whistle," said Vanessa Beasley, an expert on political communication and director of American Studies at Vanderbilt University in Nashville, Tennessee. "I think in some ways that's a really traditional rhetorical space for her to stay in right now. It mobilizes women of a certain age and economic status. The trouble is that most of those women are already Hillary supporters."
During her talk, Clinton said she wanted to help small businesses owned by women and minorities succeed. She referenced her relationship with President Barack Obama, receiving loud applause when she said he had not received the credit he deserved for helping the country recover from the recession and criticized Republicans for blocking his Supreme Court nominee.
Lisa Diller, a 55-year-old Clinton supporter at the event, said she voted for Obama in 2008 but has been impressed by Clinton's experience and is now convinced the former secretary of state is the best choice for president in 2016. She said that while she likes Sanders' ideas, Clinton "is the one who can get it done" on women's issues.
"Women's issues and the Supreme Court are very important to me," Diller said. "Obama tried and he threw them a bone with his pick for the court. … But I can't wait for her to get in there."
While Clinton's long career and know-how have appealed to middle-aged and older voters, her time in Washington has made young people more likely to see her as dishonest or willing to change her position. A recent poll found that just 34 percent of New York Democrats ages 18-29 view Clinton as honest and trustworthy, while 89 percent said they view Sanders that way.
RCP Poll Average for Democratic Presidential Nomination | InsideGov
Clinton and Sanders have often sparred over their support on issues such as criminal justice reform and immigration, and the former first lady has recently come under fire from climate activists who accused her of taking donations from the oil and gas industry.
"I know many women who if you asked them they would say they're more concerned about fracking than they are about other issues," Beasley, the Vanderbilt professor, said. "So she needs to say 'I know I haven't been out front on these issues that are important to you.'"
Sanders has taken a more hardline stance against fracking than Clinton, and he has also hit her for backing policies in the 1990s when her husband was president that contributed to the so-called War on Drugs and mass incarceration. Despite these past positions, Clinton has a long history of support among the African-American community, and these votes have helped her win big in Southern primaries with large black populations. However, Sanders has made some headway among young African-Americans who are more concerned about police violence and social justice than Clinton's relationships with black members of Congress.
Bria Henry, a 17-year-old high school student from the Bushwick neighborhood of Brooklyn, said she came to Clinton's event at Medgar Evers College to learn more about the candidate's positions. An enthusiastic Sanders supporter, she feels the Vermont senator has done a better job of talking frankly about policing and mass incarceration.
"I like the fact that he's pro-black," she said of Sanders. "I don't really see [Clinton] supporting African-Americans. This event today was a good first impression, but I don't know."
Many other young African-Americans in the crowd also seemed undecided about Clinton. They excitedly clapped at Clinton's biggest applause lines and happily danced to the pop music playing in between speakers Tuesday afternoon, but several said they wanted to see more from Clinton before making up their minds.
"My whole family is for Hillary but I'm still kind of neutral. I'm not going to support someone just because she's a woman," said Lashawnda Merrick, a 22-year-old student at Medgar Evers. "It's good she talks about women, but when she talks I don't think she's as genuine as she was a few years back. I want to know what is she doing right now even as she's campaigning. What is she doing to help people?"
Merrick said she was leaning toward Sanders and feels he has appealed to young people in a way she hasn't seen Clinton do. Recently, there has been some concern that Sanders supporters might not feel motivated to vote for Clinton in November if she is the Democratic nominee, and Merrick said this is something she's been thinking about.
"That's a tricky question," she said about supporting Clinton in November. "If she's the nominee and not Bernie, then probably I'd support her because I'm not going to vote for Donald Trump. But I want to know what is she doing? I want to hear more before I vote for her."
Though Clinton has work to do to convince these younger voters to back her, much of her speech Tuesday seemed geared toward using Trump as a motivating factor. She blasted the Republican front-runner and Texas Sen. Ted Cruz as "dangerous" for their anti-Muslim and anti-immigrant rhetoric, and said she would try to unite the country.
"Too many voices out there, too many people are trying to divide Americans against Americans," Clinton said. "And the fellow that's from New York, I wish he would get out of one of his towers and actually walk the streets," she added, referring to Trump.
This tactic of hitting Trump could motivate women beyond the liberal bloc. The New York real estate magnate is extremely unpopular among Republican women, and some of those looking for an alternative should he become the GOP nominee could conceivably vote for Clinton.
"For moderate Republican women, particularly with people who identify with second wave feminism if not as feminists themselves, you have Hillary Clinton with her pragmatism and her record. That gives you a very clear idea of what you're gonna get compared with Trump's ability to deliver surprises and his erratic comments. Some of the implicit and explicit racism may be troubling to moderate Republicans and women in particular," Beasley said.
RCP Poll Average for Trump vs. Clinton - 2016 General Election | InsideGov
While those anti-Trump Republican women are unlikely to be swayed by Clinton's talk of abortion access and raising the minimum wage, they do care about job creation and national security, two issues where Clinton has a strong message.
"We in New York also know that national security, public safety, terrorism can't be an afterthought," Clinton said Tuesday. "We have to be prepared, we have to be ready, we have to do that in a way that's consistent with our values."
Still, her message to women so far has largely centered on traditionally female issues. With a substantial lead in the delegate count, Clinton could pivot more toward the general election as the primary season wraps up. But as Sanders continues to be competitive, she will need to find common issues such as job growth and equal pay that will allow her to appeal to both left- and right-wing women.
"There's a way for her to make arguments about women's labor, women not being paid as much as men," Beasley said. "If it's Trump or Cruz she's competing against, it's easier for her to have one message that says 'do you want them or do you want someone who understands women's experiences.'"
© Copyright IBTimes 2022. All rights reserved.
FOLLOW MORE IBT NEWS ON THE BELOW CHANNELS