Goldman Sachs Keeps Quiet About Deregulation, Despite How Much Money It Spends To Influence Policy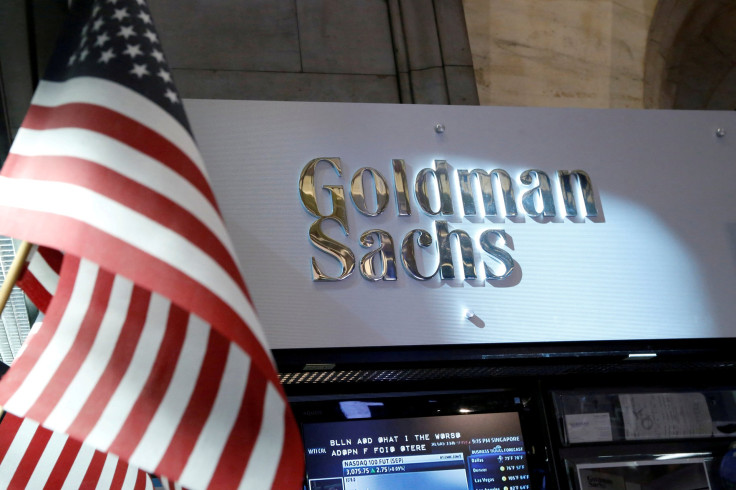 When asked on the bank's second-quarter earnings conference call about the future of financial deregulation, Goldman Sachs Chief Financial Officer Martin Chavez declined to answer. But money talks, of course — and the bank has spent more than $1 million on finance policy-related lobbying efforts on the federal level, has donated hundreds of thousands of dollars to members of House and Senate committees with bank policy authority and has five former employees in high-ranking positions in President Donald Trump's administration.
Several analysts on the Tuesday morning call cited a June report from the Treasury Department, which is headed by Steven Mnuchin, who left Goldman as chief information officer in 2002 after 17 years at the bank. The report recommended adjustments to leverage ratios, or ratios of debt to equity that banks are required to keep on hand in case of a crisis. Those with 10 percent leverage ratios would be permitted to sidestep the Volcker Rule, a Dodd-Frank Act measure separating commercial banking, such as consumers' checking and savings accounts, from proprietary trading. Treasury labeled the allowance a "regulatory off-ramp."
Read: What Do The Big Banks Think Of Washington? To Find Out, Just Listen To Them
The Brookings Institution warned, in its analysis of the Treasury report, that this "off-ramp" would give banks "incentives to increase their risk exposures since they are not penalized for higher risks… This proposal would over time lead to a much riskier, not more stable, financial system."
But when questioned about how the report's suggestions, including those involving leverage ratios and the Volcker Rule, might affect Goldman's future, Chavez demurred.
"I would say that… I don't think it would be useful to call out a particular rule," he said. Later, when asked again about those deregulatory measures, he declined once more to weigh in: "Again, I would say there is the Treasury proposal and there is discussion on how Volcker might evolve… I wouldn't make any specific comments on how Volcker might evolve."
At one point, referencing the report's dozens of recommendations, however, Chavez noted that "about two-thirds of them are activities that the regulators could undertake that don't require authorization" from the House and Senate, implying that agency leaders could move swiftly to implement the changes suggested by the Treasury Department.
Read: Former Goldman Sachs Exec Who Worked For Trump Aide Warns Of Another Financial Crisis
In addition to Mnuchin, Goldman has four other alums in the Trump Administration's upper ranks. Those officials are, for the most part, in positions of economic policy decision-making, meaning their work could easily have a direct impact on their former employer.
Former Goldman Chief Operating Officer and President Gary Cohn, for example, serves as Trump's chief economic adviser and director of the National Economic Council. James Donovan, Mnuchin's deputy, worked in investment management and advising at Goldman for close to 25 years. Former Goldman partner Dina Powell was named Senior Counselor to the President for Economic Initiatives in March. And, though he's better-known for heading the far-right website Breitbart News, Trump's Chief Strategist Stephen Bannon worked in mergers and acquisitions at the bank in the 1980s before moving on to a series of media upstarts.
Outside of the White House, Goldman has had a presence in the House and Senate as well. In the first three months of this year alone, both directly and through lobbying firms, the bank spent $1.26 million on federal lobbying related to policy issues that affect its bottom line, such as the 1956 Bank Holding Company Act, which defines Federal Reserve supervision of large financial institutions; trade policy; tax reform; the Dodd-Frank Act, which sought to rein in the behavior that led to the 2008 financial crisis, and its deregulatory replacement, the Financial CHOICE Act, among others, according to the Senate's lobbying database.
The bank donated around $266,000 to members of the Senate Committee on Banking, Housing and Urban Affairs and about $345,000 to the House Financial Services Committee during the 2016 election cycle, according to OpenSecrets data. (Its top individual recipient in 2016 was Hillary Clinton, with over $341,000 in donations.)
Those expenditures amounted to spare change when compared to Goldman's higher-than-expected second-quarter revenues, which totaled $7.89 billion for the three months ending June 30.
The CEO of Bank of America, which also released its above-expectations second-quarter earnings Tuesday (and also counted Clinton as its number-one donations recipient during the 2016 election cycle), was slightly more explicit about his hopes and expectations for the Trump administration's agenda during the bank's earnings call. Asked by an analyst if he found the Treasury report recommendations helpful, Brian Moynihan described a "lottery list" of expected regulatory actions.
"All of that would be helpful. There's a good amount of work that's gone in by all the industry groups, all the individual companies, and the administration to come up with a list of things..." he said. "There's no question, but in areas where things have gotten too far, you've got to bring them back a little bit and that lottery list is really there to provide it... [At] the end of [the] day, a careful revisiting of some of these things to ensure that we maintain the safety and soundness while getting good regulation is critical, and I think hopefully the ball is moving forward on that."
Like Goldman, Bank of America has been active on the lobbying front. The bank spent $800,000 this year on lobbying efforts at the federal level involving Dodd-Frank, the Financial CHOICE Act and financial bankruptcy law, among other issues, according to the Senate's lobbying database.
Bank of America gave nearly $300,000 to House Financial Services Committee members and more than $86,000 to Senate Banking, Housing and Urban Affairs Committee members, according to OpenSecrets data — a relatively small total compared to its $22.8 billion in revenue.
FOR FREE to continue reading
✔️ Unlock the full content of International Business Times UK for free
offer available for a limited time only
✔️ Easily manage your Newsletters subscriptions and save your favourite articles
✔️ No payment method required
Already have an account? Log in
© Copyright IBTimes 2023. All rights reserved.