Warren Demands Trump Aide Gary Cohn Recusal From White House Proposal That Could Benefit Goldman Sachs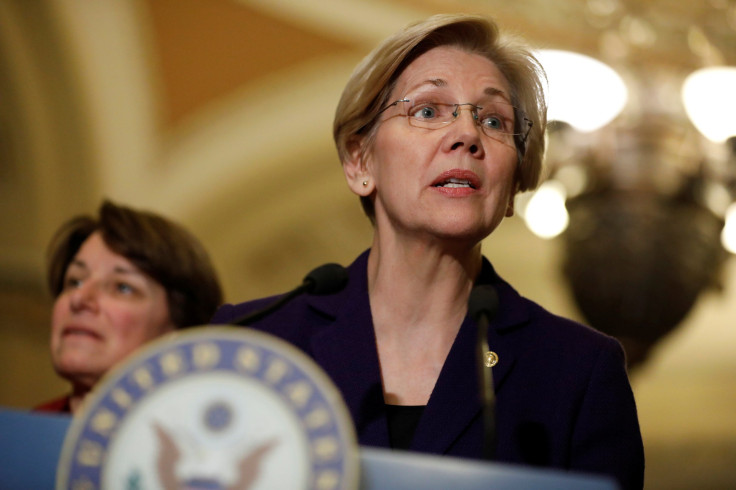 Sen. Elizabeth Warren on Friday demanded that President Donald Trump's top economic adviser recuse himself from working on the White House's infrastructure privatization initiative because the initiative could enrich his former Wall Street employer. Warren's criticism of the privatization initiative was echoed by Maryland Sen. Chris Van Hollen and Ohio Sen. Sherrod Brown.
The Democrats' comments followed an International Business Times report showing how Trump's aide, former Goldman Sachs president Gary Cohn, is spearheading a White House plan to privatize the kind of public assets that Goldman Sachs says it aims to buy up.
"Big banks like Goldman Sachs are salivating at the prospect of privatizing America's roads and bridges and taking a big cut for themselves," Warren said in a statement to IBT. "Gary Cohn must recuse himself – he promised to recuse himself from any matter directly related to Goldman, and it's clear that this issue could be worth a fortune to Goldman."
The White House did not respond to IBT's questions for this story or the earlier reporting on the potential conflicts of interest. Goldman Sachs did not respond to IBT's request for comment.
In February, the White House said Cohn would recuse himself from matters in which Goldman Sachs had a direct interest in. That followed Trump's executive order requiring White House employees to wait two years before working on matters related to their former employers. That executive order, however, included language allowing Trump to waive the rules.
Under past administrations, those waivers had been made public. The Trump administration, by contrast, has has refused to disclose who has received such waivers, leading to a stand-off between the White House and the Office of Government Ethics.
Van Hollen, a Maryland Democrat, slammed the secrecy surrounding the waivers.
"President Trump is not 'draining the swamp.' He is making it muckier and murkier," Van Hollen said in a statement to IBT. "The Trump Administration's plan to give members of his team secret waivers of the ethics pledge creates the potential for widespread abuse and violations of the public trust. Exhibit A is the fact that Gary Cohn is leading the effort to sell off public infrastructure to enrich private firms, including possibly his former employer, Goldman Sachs. Does Gary Cohn have a secret waiver that allows him to violate the clear purpose of the ethics pledge? The public deserves to know."
After the White House released the outline of its plan to sell off public assets in order to spur investment in U.S. infrastructure on Tuesday, an IBT review of recent SEC filings showed that Goldman Sachs is anticipating investing in public infrastructure, including "airports, toll roads and shipping ports." Cohn worked at the bank for 25 years before receiving a $285 million payout to leave the firm and join the Trump administration, a deal that prompted concern among ethics experts.
Brown, the senior Democrat on the powerful Senate Banking Committee, said the Cohn-led infrastructure plan represented an effort by the White House to enrich the financial industry.
"President Trump promised real investments in roads, bridges and American workers, not gimmicks and giveaways to Wall Street," he said in a statement to IBT. "Working families shouldn't be forced to pay new tolls and fees to line the pockets of Goldman Sachs and other Wall Street investors."
© Copyright IBTimes 2023. All rights reserved.