President Donald Trump Promised To Deport 6 Million Immigrants: Is Immigration Reform Dead?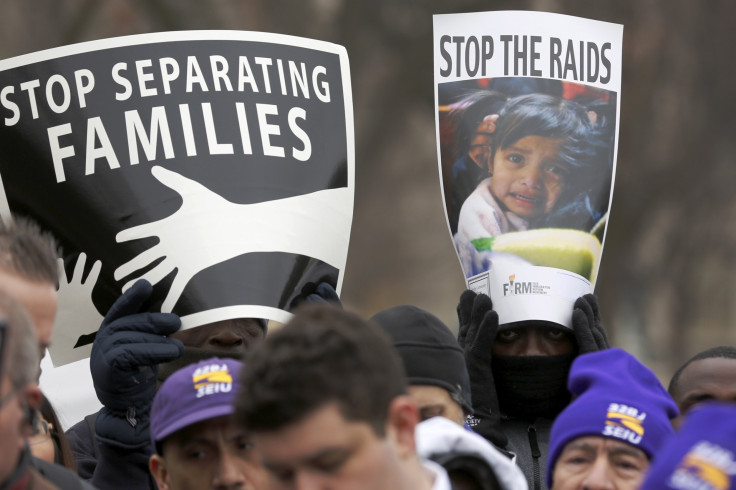 Donald Trump has long promised to build a "big beautiful wall" along the U.S. border with Mexico and deport millions of the nation's immigrants as soon as he's elected. So now that he will likely replace President Barack Obama, what will happen to people residing in the U.S. without legal citizenship?
Trump has promised to triple Immigrations and Customs Enforcement personnel, remove the estimated 690,000 undocumented residents who have committed crimes and expel immigrants overstaying their visas. An analysis by the Washington Post put the total number of deportations at somewhere between 5 million and 6.5 million of the 11 million undocumented immigrants in the United States. The cost of these policies, along with the construction of the proposed border wall, will be between $51.2 billion and $66.9 billion.
Trump's proposed immigration-related tasks also include plans to "immediately terminate President Obama's two illegal executive amnesties" and to ensure that "anyone who enters the U.S. illegally is subject to deportation," according to his campaign website.
By "Obama's two illegal executive amnesties," Trump's camp is likely referring to the outgoing president's 2012 and 2014 executive actions on immigration, which granted temporary deportation stays to some immigrants. Republican governors argued the proposals weren't not approved by Congress and were therefore not legal.
Deferred Action for Childhood Arrivals (DACA), a 2012 action delaying deportation for people brought to the U.S. before June 2007 and prior to their 16th birthdays, still stands. Its expansion, initiated in 2014, would have allowed people brought to the U.S. when they were younger than 16 and who have only been residing in the country since the start of 2010 to stay and work for another three years, up from two years. Deferred Action for Parents of Americans and Lawful Permanent Residents (DAPA), also enacted in 2014, would have delayed deportation for undocumented parents of American citizens. In a one-line, 4-4 split ruling, however, the Supreme Court upheld earlier this year an appeals court's decision to strike down the DACA expansion and DAPA. The blockage left more than 5 million people who would've been eligible for protection vulnerable to deportation, the New York Times reported.
So, in terms of slashing Obama Administration measures, that leaves the original version of DACA, for which 1.2 million people qualify, according to the New York Times. Executive actions—unlike executive orders, which fill holes in the absence of laws deemed necessary—are varied and more directed toward enforcement rather than legislation, but both can be discarded by an incoming president, according to Georgetown University Government Affairs Institute (GAI) Senior Fellow Susan Sullivan.
"When there's a change in party control at the White House, it's become de rigeur for the incoming president to dispense with a few Executive Orders issued by his predecessor at the first possible opportunity," Sullivan wrote in a GAI post comparing executive orders and actions.
© Copyright IBTimes 2023. All rights reserved.