President Francois Hollande Of France And His Strange Spanish Doppelganger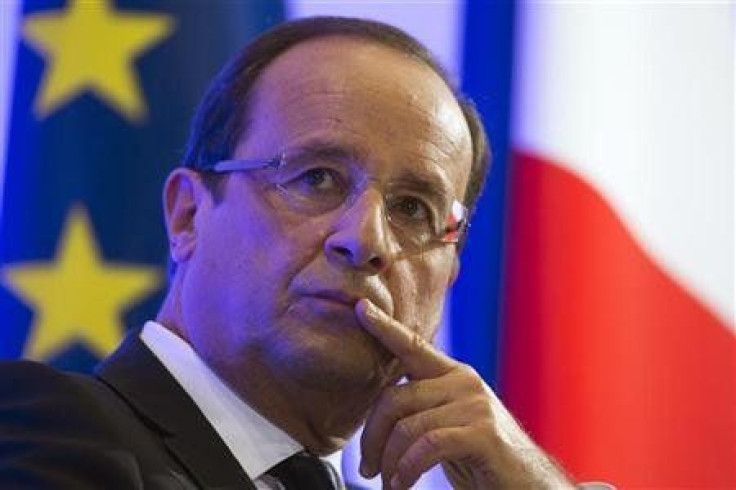 President Francois Hollande of France has many problems. The country is in recession, the National Front – a far-right party – has never been stronger, and he is the least popular president since the end of the Second World War -- the list could go on and on. But, what might make him smile is the discovery of his apparent doppelganger in Spain who happens to be … a priest with a lot of hair!
The photo was taken last Sunday by Alice Hamel. While she was watching Spanish television, she came across Javier Alonso, a Spanish priest from Madrid, and took a picture of the image on TV on her smartphone. She then sent it to a supporter of Union for a Popular Movement (UMP), the center-right opposition party, who retweeted it.
The resemblance is astounding: a rounded face, eyes of the same color (brown) and glasses. The only difference is the hair, which the priest has an abundance of, in contrast to the balding Hollande.
The photo did not make the French headlines until late this week, when it was discovered by an activist of Hollande's Socialist Party, -- and it was subsequently retweeted more than a thousand times by other social media users in France.
When asked by French newspaper Le Parisien if Hollande looks like him, the priest responded: "On the contrary, he is the one who looks like me!"
Alonso also told The Local newspaper that he was not at all flattered by the comparison. "Absolutely not," he declared. "Compare the hair."
On his Twitter account, Alonso, who is reportedly 48 years old (10 years younger than Hollande), describes himself as a "Catholic priest and journalist from Madrid" who is fond of jazz musician Branford Marsalis, novelist Don DeLillo, Russian opera star Anna Netrebko and Italian writer Claudio Magris.
© Copyright IBTimes 2023. All rights reserved.