Prince William's Apparent Lack Of Chivalry Toward Kate Angers Twitter [Video]
The Sussexes joined the Prince and Princess of Wales in the wake of Queen Elizabeth II's death and the highly anticipated, moving reunion managed to warm the hearts of royal detractors to some level. But in the last few moments of their public appearance, a seemingly dissociated connection between William and Kate subtly played out in front of the crowd, kicking up a storm on Twitter.
Once dubbed the "Fab Four" by the British press, William, Kate, Harry and Meghan were outside Windsor Castle greeting the public and looking at the hordes of messages and bouquets left in honor of their grandmother and Britain's longest reigning monarch, who died Thursday aged 96.
The reunion was made possible by the now Prince of Wales who invited Harry and Meghan to join him and the Princess of Wales on a royal walkabout. "The Prince of Wales thought it was an important show of unity at an incredibly difficult time for the family," a Kensington Palace spokesperson told the Times of London.
One might think that the future king received huge praise for pulling this off but the complete opposite transpired at the end of that appearance. A video of the group leaving in a car has gone viral across all social media platforms.
Prince William's apparent lack of chivalry toward his wife amid unfounded claims that he's cheating on her has spurred outrage.
Meanwhile, Prince Harry is seen escorting his wife, Meghan to the car, opening and closing the door for her. Prince William didn't extend the same courtesy to Princess Catherine and the two entered separately.
The heir apparent to the royal throne was criticized on social media, but it's to be noted that he briefly patted his wife's back with one hand and placed another on her arm before she moved toward the car, as is visible in the clip shared by Sky News.
The media has been reporting about William's alleged romance with Rose Hanbury, who is the Marchioness of Cholmondeley. Then there was the recent anonymous tip submitted on Deuxmoi which spoke of a certain royal's meandering ways because the "too old fashioned wife" wouldn't satisfy her husband's "love of pegging". People immediately jumped to a conclusion that the #PrinceOfPegging was Prince William.
And as in the past, William caught massive online heat after the recent incident.
"Can someone please beg #PrinceWilliam to be a gentleman to his wife sometimes, at least when in public. #PrinceHarry didnt think twice b4 opening #MeghanMarkle's door. William left poor Kate to fend for herself. N shes so use to tht (sic) ill treatment its sad." a tweet read.
"#PrinceHarry opened her door... #PrinceWilliam just left Catherine Maybe they shouldn't have the prince and princess of wales title," wrote another.
"Harry escorting Meghan to the car and opening the door for her. William ran to his side, leaving his wife to fend for herself. The difference between these two men is stark. Well done, Meghan," wrote a third.
Then there were some who showed grace to the grieving heir apparent. "I love that Princess Katherine can open her own car door, Prince William is grieving and it shows! While the Duchess Megan needs to wait for Harry to open hers. Huge difference in backbone ❤️🇬🇧 Princess Katherine"
"Why is Prince William being torn apart by the media? He is gentleman and care for his wife. Just because spineless Harry opened the door to Megan does not mean he is a good husband!"
"Royals are not allowed to show PDAs. Due to security, Prince William not allowed to open door for Princess Catherine. My guess is that the new Princess of Wales is very capable and not as high maintenance as her sister-in-law," read another tweet.
The Queen's funeral is scheduled for Sept. 19. The Sussexes will be staying in the United Kingdom until after the funeral. President Joe Biden has accepted the invitation to be present for the same.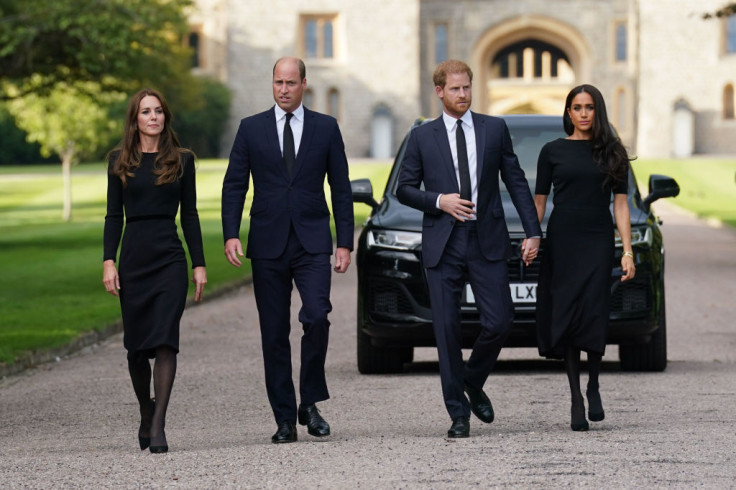 © Copyright IBTimes 2022. All rights reserved.
FOLLOW MORE IBT NEWS ON THE BELOW CHANNELS