Private Companies Growing Profits And Sales Faster Than Public Competitors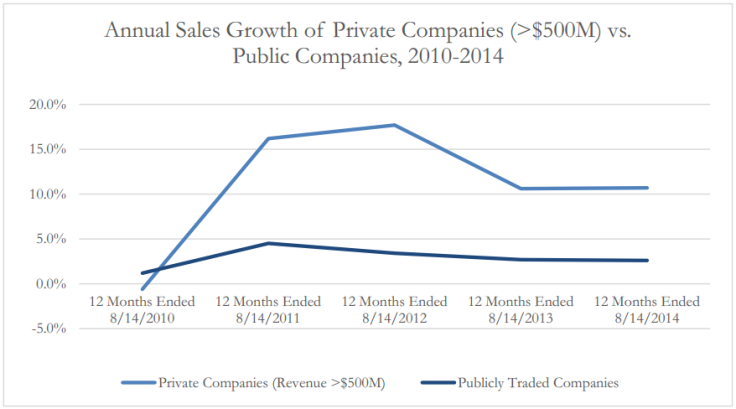 Large, privately held companies in the U.S. earn higher profit margins, grow sales faster, and invest significantly more than their publicly traded competitors -- and did so even during the financial crisis -- according to private-company data from Sageworks and a recent analysis for the National Bureau of Economic Research (NBER).
Nearly all of U.S. firms are privately held, so their investments are a pillar in the economy, but because private companies are rarely required to disclose their financial details, relatively little is known about how they invest and compare to public companies. But the data from Sageworks, a financial analysis company that focuses on performance of privately held companies, shows that private companies have grown sales at a much faster rate than public companies have since the recession.
In the past 12 months, private companies with annual revenue over $500 million have grown sales at an average of nearly 11 percent from the previous year, versus only 3 percent growth among public companies, according to data collected by Sageworks. Private companies also earned net profit margins of an average 8.6 percent compared to 7.5 percent at similar public companies, Sageworks said.
"There's a misconception that 'private' means 'small,'" Brian Hamilton, chairman of the privately held Sageworks, said in a statement. "In reality, private companies come in different shapes, sizes, varieties and revenue figures. A lot of them have chosen to remain private, despite many opportunities to do otherwise."
Using Sageworks' data from 2001 to 2011, researchers from New York University, Harvard and NBER found in a July 31 paper that private firms invest significantly more than publicly traded companies of similar size and industries. Private companies also invest in a way that's 3.5 times more responsive to changes in investment opportunities, especially in industries in which stock prices are most sensitive to earnings news, said the report's authors, John Asker from NYU's economics department and business school; Joan Farre-Mensa from Harvard's business school; and Alexander Ljungqvist from NYU and NBER.
"Being private allows you to cut through the noise, and focus on what matters," Hamilton said. "That is, growing your business."
© Copyright IBTimes 2023. All rights reserved.