Pro-Russian Rebels And Ukrainian Forces Clash More Than 120 Times As Fierce East Ukraine War Rumbles On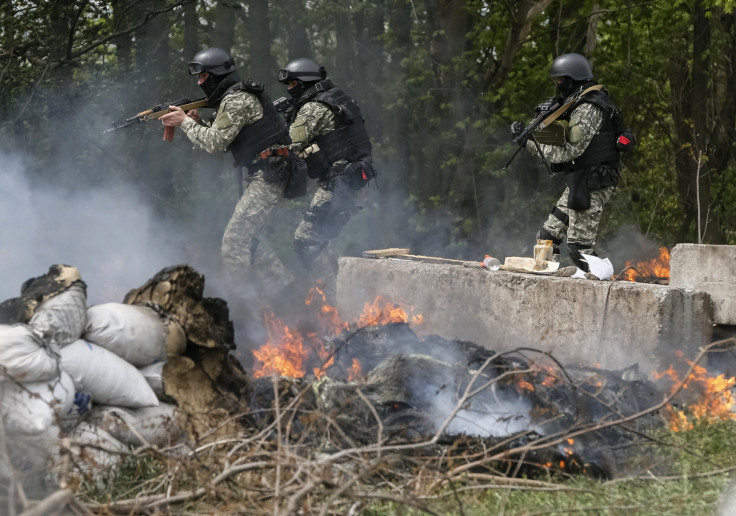 Russian-backed rebels attacked Ukrainian army positions and civilian areas more than 80 times on Monday night and in the early hours of Tuesday morning, according to the Facebook page of the Ukrainian anti-terrorist operation group ATO. The group, which considers rebels factions from Luhansk and Donetsk as terrorists, says that it witnessed the repeated use of heavy weaponry banned under February's Minsk II agreement, a further sign that little has changed since the so-called peace deal came into force earlier this year.
"The enemy fired 152mm and 122mm artillery systems 12 times, mortars 26 times, Grad multiple rocket launchers three times, and tank shells six times," said the ATO. "From 18:00 to midnight, the Russian terrorists carried out more than 30 attacks. From 21:30 to 01:00 local time on July 28, the militants fired 122mm artillery systems, mortars and small arms on the positions of the Ukrainian armed forces near the village of Stanytsia Luhanska." The report said fighting continued until 6:00 a.m. Kiev time on Tuesday morning.
Russian-backed rebels are not the only side apparently guilty of breaking the ceasefire agreement. The news agency of the Donetsk People's Republic also alleged on Tuesday that Ukrainian troops breached the ceasefire agreement, according to a report by the pro-Russian Tass news agency.
"The situation in the Donetsk People's Republic (DPR) remains complicated. The Ukrainian forces have intensified shellings over the last 24 hours and violated ceasefire regime 46 times," the agency quoted the DPR defense ministry as saying.
While the overall death toll of the east Ukraine war has slowed in recent months, partly due to more than a 1.4 million civilians fleeing the region as of July, and because Ukrainians troops are now better trained to deal with incoming artillery fire, fighting has continued relentlessly with dozens of attacks taking place each evening.
Both sources claim that the most recent fighting has taken place near to the cities and towns of Chermalyk, Luhanske, Pisky, Opytne, and the town of Maryinka inside the contested region of Donbas.
Meanwhile, a member of the Organization for Security and Co-Operation in Europe (OSCE), the group charged with overseeing the ceasefire, was injured on Monday when an explosion knocked the leader of the patrol to the ground. "He was struck by concrete debris caused by the impact and his helmet was pierced," said Monday's official OSCE report, which also noted that the team leader was taken to a hospital with mild concussion and a bruised right leg.
© Copyright IBTimes 2022. All rights reserved.
FOLLOW MORE IBT NEWS ON THE BELOW CHANNELS