Procter & Gamble (NYSE: PG) Expected To Report Lower Profits In Second Quarter Due To Foreign Exchange And Underperforming Beauty Products
Massive consumer products company Procter & Gamble Co. (NYSE: PG) is expected to report a 14.4 percent decrease in profit in its second quarter, October to December 2013, compared to the year-earlier period. Foreign currency markets and weaker-than-anticipated market growth in its Beauty and Grooming segments pulled down profit.
The Cincinnati, Ohio-based company, which reports second-quarter earnings on Friday at 7 a.m., is also expected to post net income of $3.48 billion, or $1.19 per share, compared to $1.39 per share a year earlier. Revenue is projected to rise 0.8 percent from the year-earlier period to $22.35 billion from $22.18 billion.
Though Procter & Gamble's core market is the U.S, nearly two-thirds of sales and slightly more than half of its profits come from outside the U.S.
Since mid-October, foreign exchange trends generally worsened for U.S.-based companies in the second quarter, with the dollar strengthening overall. Among 40 currencies tracked by Bernstein Research, 24 weakened in the period, while 12 strengthened versus the dollar. The Australian dollar (-6.8 percent), Brazilian real (-7.2 percent), Japanese yen (-5.8 percent), South African rand (-3.9 percent), Russian ruble (-1.3 percent) and Mexican peso (-0.5 percent) all weakened. The U.K. pound (2.9 percent), the euro (1.4 percent) and Chinese renminbi (0.5 percent) strengthened.
With more than $80 billion in annual sales, Procter & Gamble is the largest U.S.-based household products company. Its top brands include Pampers, Tide, Always, Pantene, Bounty, Dawn, Charmin, Downy, Iams, Crest, Oral-B, Olay, Duracell and Gillette.
The company divides its brands into five business segments: Fabric and Home Care (32 percent of fiscal 2013 sales), Beauty (23 percent), Baby Care and Family Care (20 percent), Health Care (15 percent) and Grooming (10 percent).
In the past five years and continuing this quarter, Procter & Gamble has lost market share in both Beauty and Grooming, two of the fastest growing consumer products globally, to Unilever and L'Oreal, according to Stifel. Sales growth for the Beauty segment, an area Procter & Gamble management sees as a key opportunity to drive improved sales and profitability, increased 3 percent in the June quarter, but slowed to 1 percent growth in the August quarter, according to Oppenheimer research. L'Oreal's beauty sales rose by more than 4 percent in the same period, and Unilever's comparable sales grew by nearly 6 percent. Within Procter & Gamble's beauty segment, deodorant, hair care and soap all decreased in sales in the second quarter compared to the first half of the year, though skin care and men's grooming improved.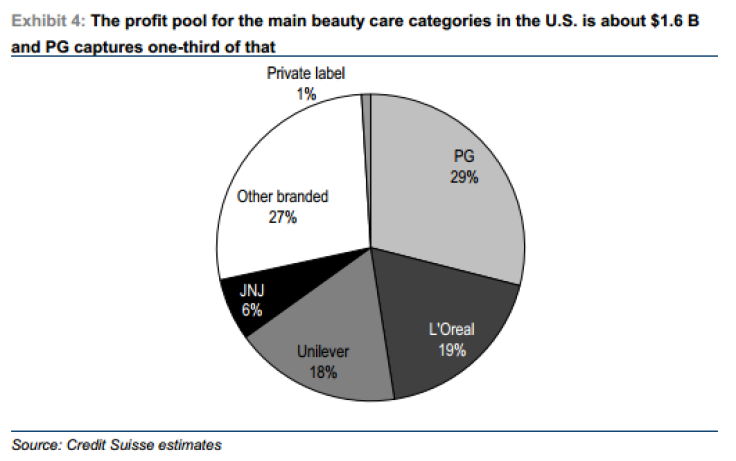 In response, Procter & Gamble has been planning new product initiatives to debut in the third quarter. The company's CEO A.G. Lafley said in September that the company is "focused on getting two things done: one, turning around Olay and getting it growing again in the critical core markets, and two, getting Pantene going in the U.S." Credit Suisse analysts said in a research note Thursday they expect Procter & Gamble to spend significant amounts on marketing and product launches in the next year.
In Fabric and Home Care, Tide Simply Clean & Fresh will launch the brand into the mid-priced laundry detergent market, a segment currently underpenetrated by Procter & Gamble. Bernstein Research estimates the new lower-priced detergent will have a slightly negative to modestly positive impact on the company's U.S. laundry detergent profit.
But Ali Dibadji, senior analyst at Bernstein Research, believes Procter & Gamble is in the midst of a turnaround. Last November, the company announced the retirement of several senior management team members, to be replaced by other Procter & Gamble employees.
"These changes to executives at the company are generally a positive sign that P&G is in the midst of organizational improvement," Dibadji said.
According to Procter & Gamble's 2013-in-review report, sales increased 3 percent and core earnings per share 5 percent over the year.
© Copyright IBTimes 2023. All rights reserved.