The Apple Watch Edition Experience: Trying On $27,000 Worth Of Apple Inc.'s Gold Watches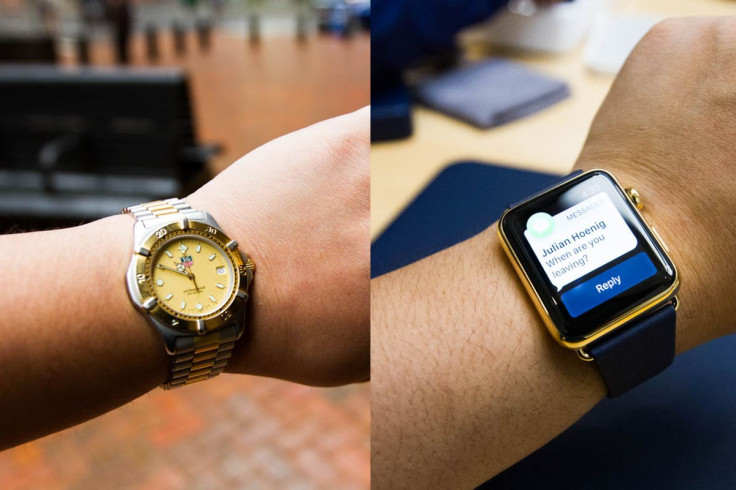 I may not have at least $10,000 to spend on an 18-karat gold Apple Watch Edition, but Apple didn't need to know that when I booked my appointment at its retail store in Manhattan's SoHo. Nor did they seem to care. There were no credit checks and no pompous staff -- just employees excited to show off the company's latest product, if for but a brief period of time.
Here's what happened when I signed up to try on a watch I can't afford:
Before heading to the Apple Store in SoHo, I took one more look at the watch that I have continued to wear for years -- a classic Tag Heuer handed down to me by my father.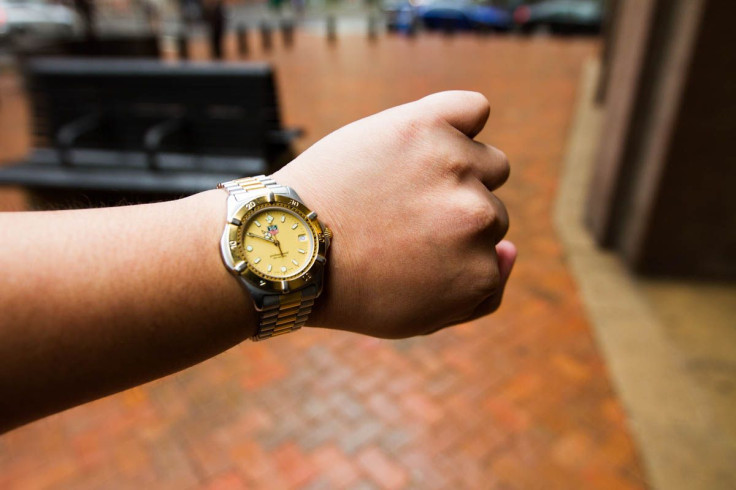 Unlike, say, an iPhone launch, there were no lines to be seen at Apple's retail stores in New York, largely due to the online preorder process. That made walking through the usually crowded Apple Store more bearable.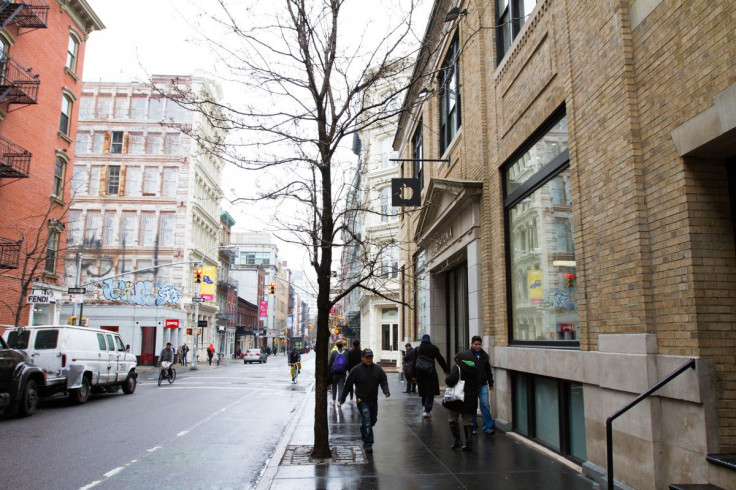 On entering the Apple Store in SoHo, you're greeted by multiple glass displays where dozens of iPhones used to sit. This employee was explaining the try-on process to a customer.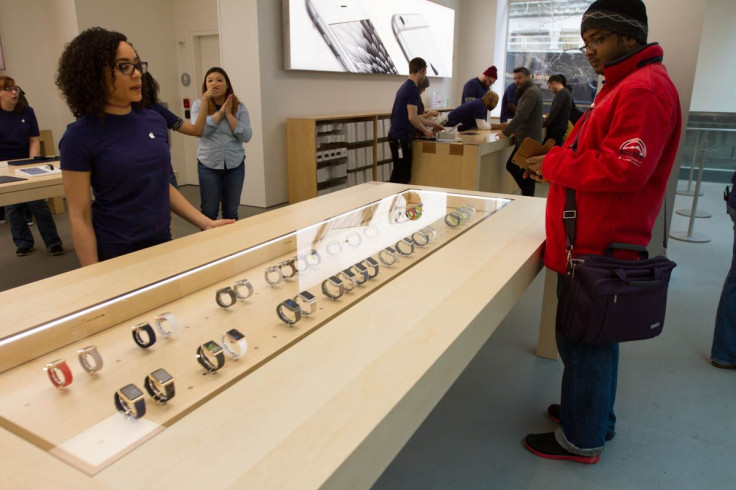 After I checked in with a staff member in the front, another employee led me to the try-on stations by mistake. If I was only looking at the Apple Watch Sport and the stainless steel Apple Watch, this would be where I would spend 15 minutes of my time.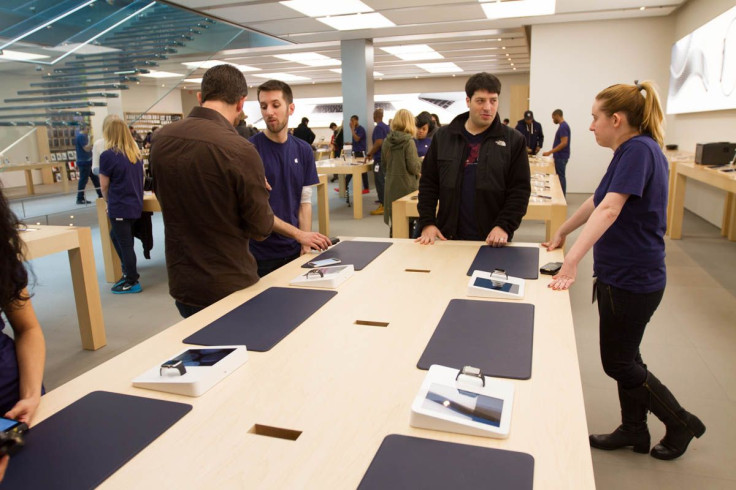 But no, I was here to try on the $17,000 gold Apple Watch Edition, folks. And for that, I was taken up a set of Plexiglas stairs to a private try-on room. I almost felt like a VIP for a minute, though there was no Champagne or red carpet in sight.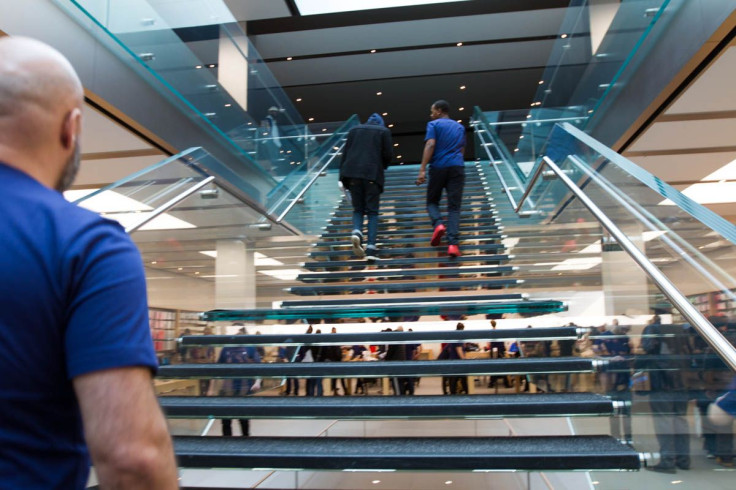 But first, I had to wait outside for a couple of minutes while they prepared the "briefing room" for my Apple Watch Edition appointment. It felt like I was being led to a Prohibition-era speakeasy.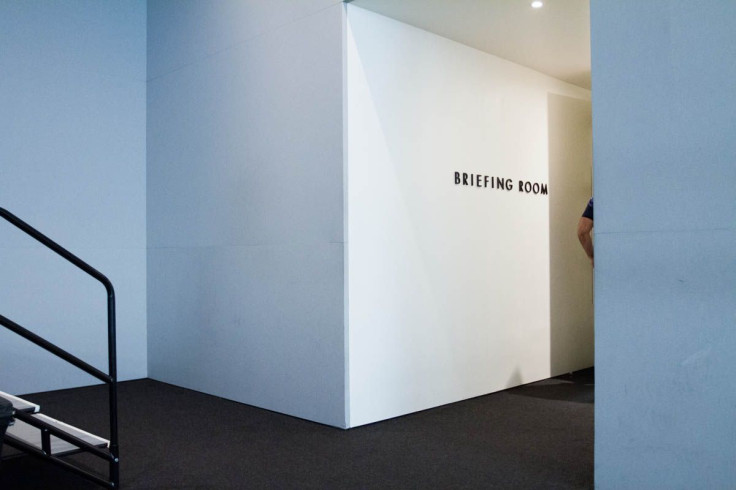 But when I was finally brought to the back room, it was just a simple conference room with a demo watch and try-on mat similar to stations set up outside. Pictured in the back was a case featuring various Apple Watches and Apple Watch Sport models. The gold Edition was nowhere in sight. Little did I know, they were being brought up to the room personally for me -- with a security guard escort.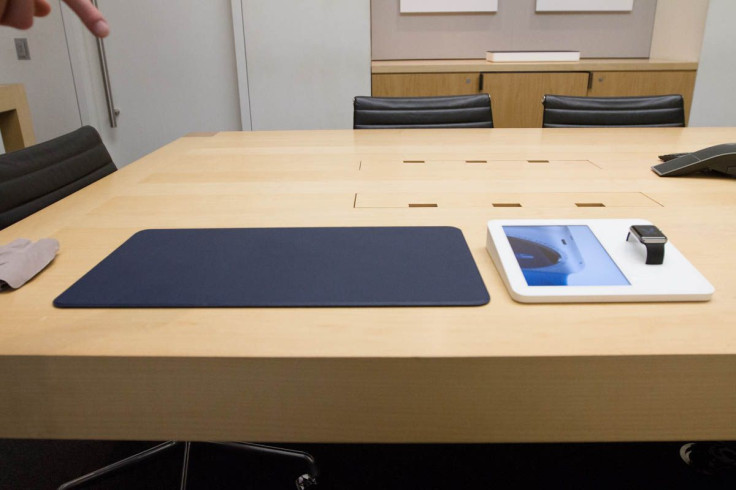 If you don't favorite one or two Edition watches on Apple's website, the content of these boxes can be a mystery. But since I picked out a couple before I made my reservation, the employee demonstrating the watches already knew which ones to bring in.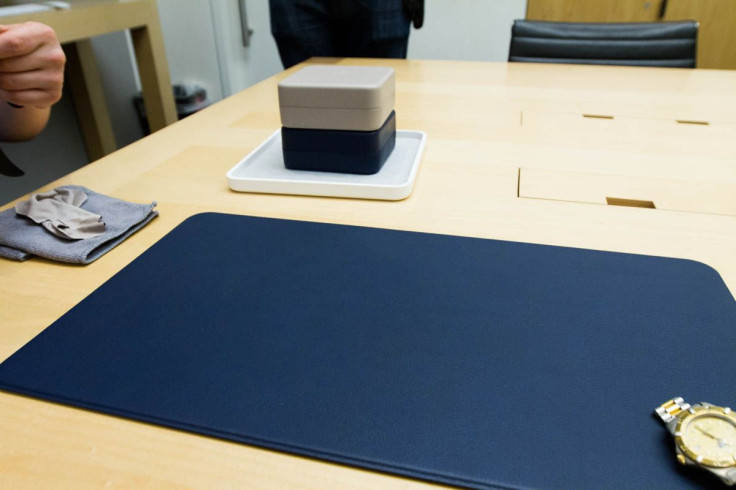 In my case it was the 42mm $15,000 yellow gold Apple Watch Edition, with a classic blue leather band and buckle, and the $12,000 42mm rose gold Edition, with white sport strap. That came out to $27,000 worth of Apple Watches that would soon occupy my wrist for the next 30 minutes.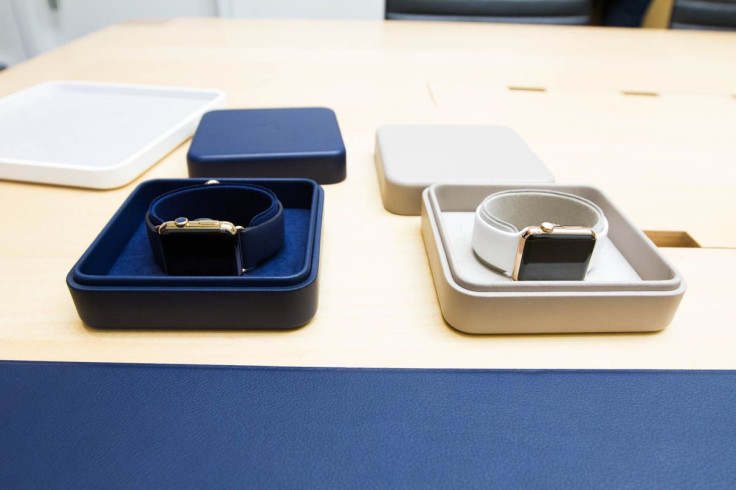 The Apple Watch Edition boxes also double as charging cradles, which can be powered by any Apple lightning cable.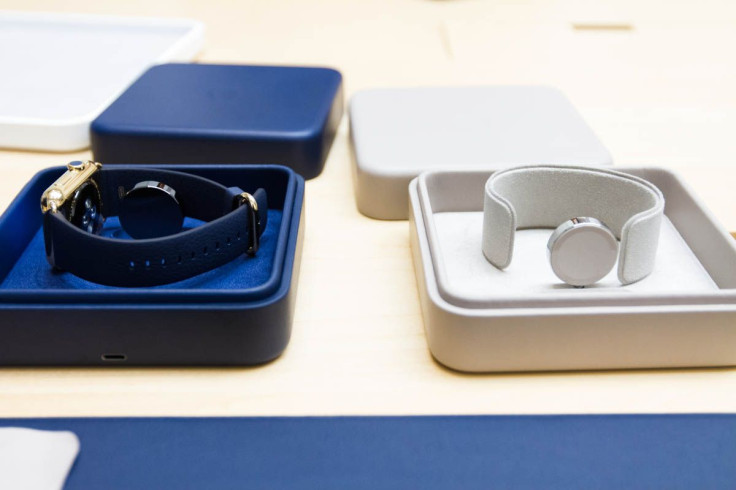 The 42mm Apple Watch Edition is actually much smaller than I originally thought. And compared with a traditional sports watch, it's not much different in size.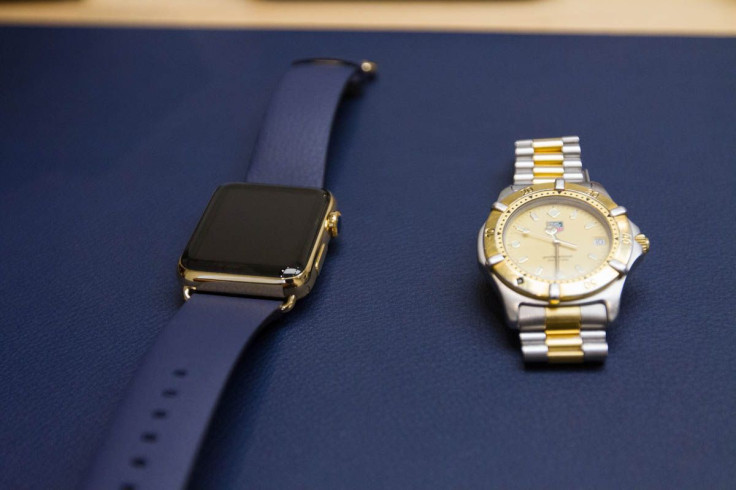 Despite the many years that I have worn a watch, I still needed a little help putting the Apple Watch Edition on for the first time. I eventually got the hang of it on my own, after a few tries.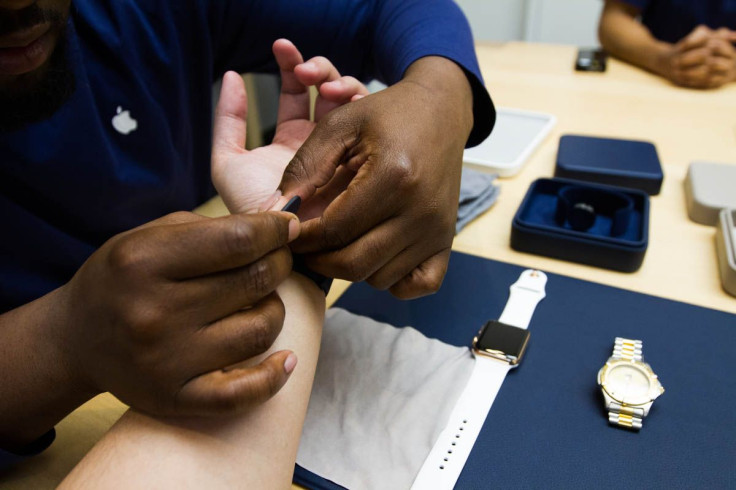 It has a surprising amount of heft to it compared with the aluminum Apple Watch Sport, which is significantly lighter. Despite the difference, it never feels too heavy.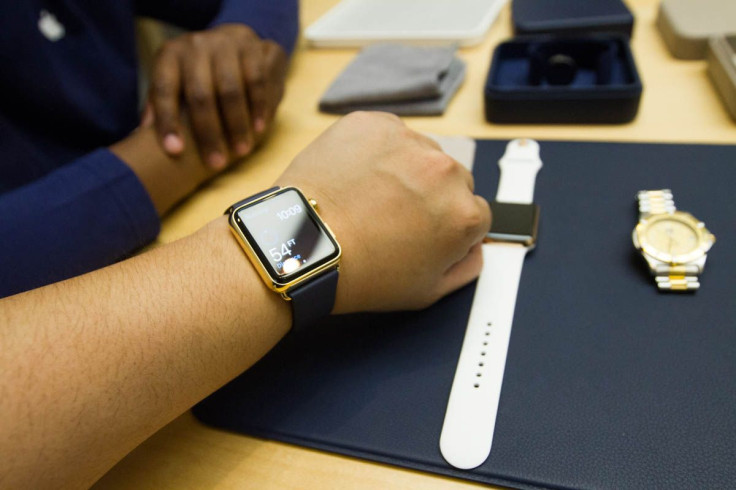 The $12,000 sport band was, surprisingly, the most comfortable and also very popular among customers trying on the Apple Watch, according to the employee showing me the watch. And it doesn't have the plastic or rubbery feel that normally comes with cheaper sports bands.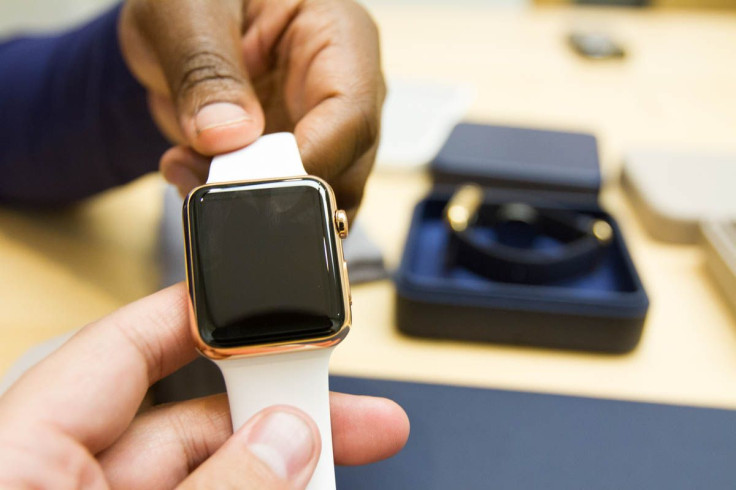 I was also able to try on the 38mm Apple Watch with Milanese loop band. But they had to temporarily box up one of the Edition models while it was out in the open.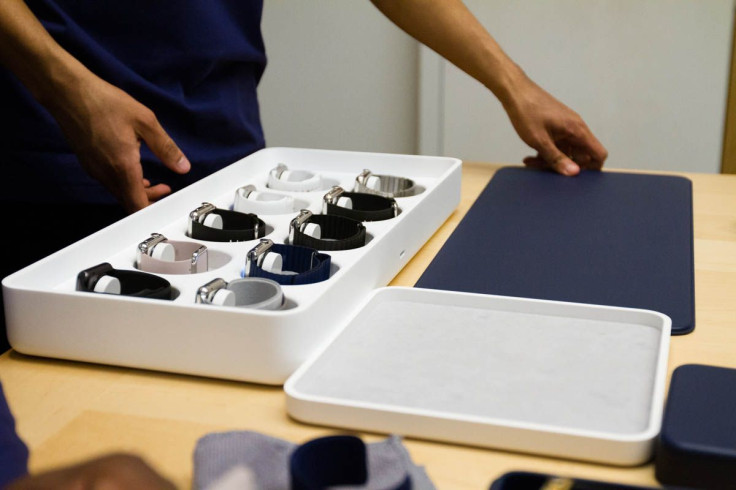 The Apple Watch is surprisingly comfortable if you wear it on your inner wrist, but wouldn't recommend wearing it that way during your morning commute.
I tried on the yellow gold Apple Watch Edition once more. Though I'm pretty sure the demo loop was subtly trying to tell me that time was up.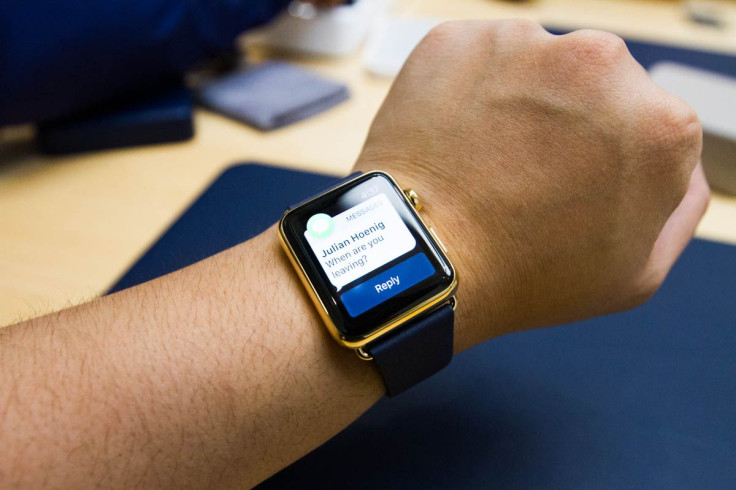 © Copyright IBTimes 2022. All rights reserved.
FOLLOW MORE IBT NEWS ON THE BELOW CHANNELS