The Best 'The Colbert Report' Moments: Looking Back At Nine Years Of Memorable Guests, Segments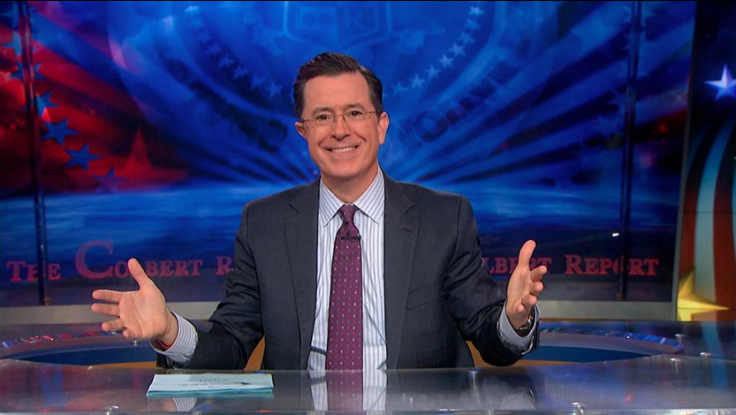 "The Colbert Report" airs its final episode Thursday. Stephen Colbert will hang up his satirical Republican character to take over for David Letterman on the "Late Show" in 2015. Ahead of the last episode of the long-running late-night political satire show, here are some of the most memorable moments from "The Colbert Report."
StePhest Colbchella '013 - Time To Dance
Daft Punk was supposed to be the surprise musical guest at StePhest Colbchella '013, but an exclusive deal with MTV led to the French duo's cancellation. Colbert made the most of the cancellation by ridiculing Viacom, the parent company of Comedy Central and MTV, and having a celebrity dance party to "Get Lucky."
President Barack Obama
When "The Colbert Report" first aired nine years ago, who would have expected to see a U.S. president on the show? President Barack Obama was not just a guest -- he owned the segment.
Jon Stewart
Stephen Colbert joined Comedy Central as a correspondent on "The Daily Show" in 1997 and spent six years with Jon Stewart before leaving to start "The Colbert Report." The Nov. 20, 2014, episode was the first time Stewart came on as a guest.
The Word - Truthiness
Since the very first show of "The Colbert Report," the segment discussing "truthiness" has epitomized the Colbert character.
Remembering Lorna Colbert
Colbert breaks character in a very different way in this emotional tribute to his mother.
Colbert and "The Lord of the Rings"
Colbert is a huge fan of "The Lord of the Rings," and his love of the fantasy series has been featured several times on the show. When fellow fan James Franco rose to the challenge of stumping Colbert on some J.R.R. Tolkien trivia, the actor failed in two attempts.
The Correspondents' Dinner
Perhaps Colbert's riskiest stunt ever came at the 2006 White House Correspondents' Dinner. Colbert stayed in character and satirized many in the room, including President George W. Bush, who did not realize they were the butt of a joke.
Stephen Colbert Cracks Up
It all starts with "Suq Madiq" and it all goes downhill from there. Colbert starts off strong then loses it at the absurd made-up names.
Late -Night Fight
During the writers strike of 2008, what else was there to do but fight? Conan O'Brien made appearances on "The Colbert Report" and "The Daily Show." Colbert, O'Brien and Stewart appeared on the show to argue over Mike Huckabee.
Better Know a District - Massachusetts' 4th - Barney Frank
Well, that was awkward. Many politicians interviewed by the host over the years surprisingly were not in on the joke, somehow didn't know Colbert was playing a character. Like this interview with the iconic politician, which gets pretty uncomfortable.
© Copyright IBTimes 2023. All rights reserved.