'The Colbert Report' Final Episodes: Guest Lineup Announced For Stephen Colbert's Last Week Of Shows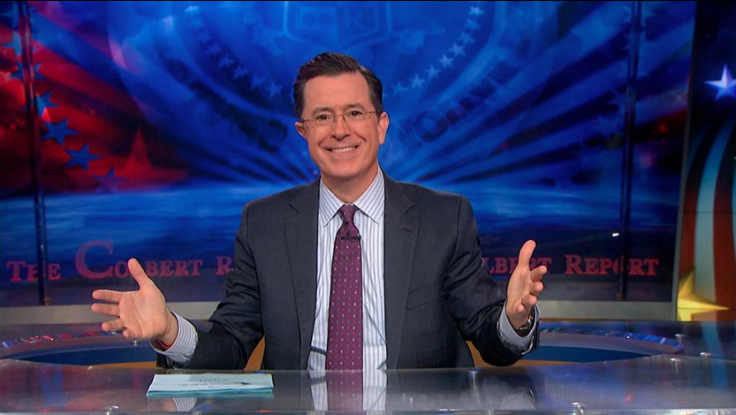 Fans of "The Colbert Report" do not have much time left. While David Letterman, whom "Colbert Report" host Stephen Colbert is replacing on CBS's "The Late Show," will not be stepping down until May 20, 2015, Colbert will end his time on Comedy Central this month. He will conclude his near decade-long run on thesatirical news show with a special goodbye week leading up to the last "Colbert Report" on Dec. 18.
Comedy Central has even announced the official guest lineup for Colbert's weeklong sendoff.
Here is what's in store for the final week of "The Colbert Report" on Comedy Central:
Monday, Dec. 15 – Actor Seth Rogen will be on the show to promote his new comedy "The Interview" with James Franco.
Tuesday, Dec. 16 – Rapper Kendrick Lamar will join Colbert to talk about his upcoming new album.
Wednesday, Dec. 17 – Author Phil Klay will be on the show promoting his book of short stories, "Redeployment," which won the author the National Book Award in November.
Thursday, Dec. 18 – Comedy Central is reporting "Grimmy," which many believe is a tongue-in-cheek reference to the Grim Reaper, will be bringing death to the show. Will the Grim Reaper actually make an appearance?
Colbert has been gearing up for his final sign-off on the show for a while now, but in recent days, he has brought out the big guns. On Monday's episode, which was taped in Washington D.C., President Barrack Obama was the comedian's guest. Not only did the President show up for his interview, but he also came on stage early to take over for Colbert and deliver a comedy segment, "The Word," in the host's place.
Watch President Obama's appearance on "The Colbert Report" below:
Fans will miss "The Colbert Report," especially with a wait of at least six months before the host will take over for Letterman on CBS. However, "The Nightly Show with Larry Wilmore," starring former "Daily Show" correspondent Larry Wilmore, will take Colbert's spot on Comedy Central starting Jan. 19 to help ease fans' pain.
What do you think of Stephen Colbert's final guests? Tweet your thoughts to @Ja9GarofaloTV.
© Copyright IBTimes 2023. All rights reserved.