Putin In Hungary: 2,000 People Protest In Budapest Ahead Of Russian Leader's Visit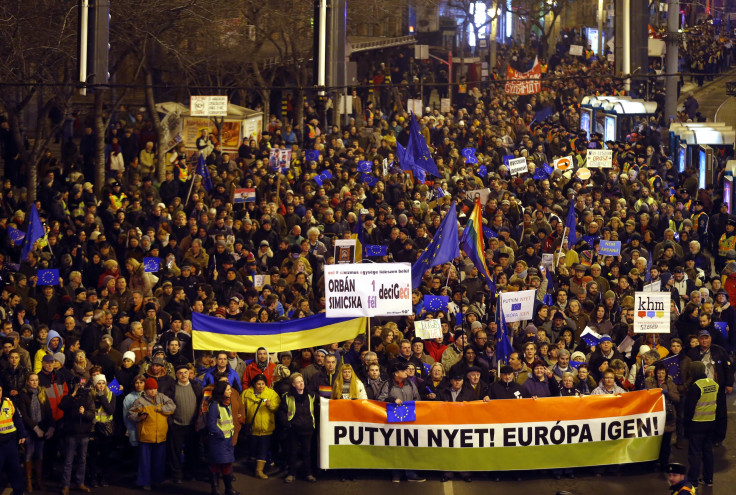 Thousands of Hungarian demonstrators protested against Russian President Vladimir Putin in Budapest on Monday, a day ahead of his visit to the capital city of Hungary. This is the first time that the Russian leader is visiting a European Union member state since the conflict between Kiev forces and pro-Russian rebels escalated in eastern Ukraine about a year ago.
Nearly 2,000 protesters took to the streets of Budapest and marched between the Eastern and Western stations, the city's two main train depots, Agence France-Presse (AFP) reported. The Hungarians reportedly want to remain rooted to the West, and not Russia, which grew increasingly isolated from other EU states due to Moscow's alleged involvement in the Ukrainian crisis.
"I lived most of my life under communist rule, I don't want this country to fall under Russian influence again," AFP quoted a protester, who was holding a banner saying: "Putin Nyet (No)! Europe Yes!" as saying.
One of the organizers of the protest also told AFP that Hungarian Prime Minister Viktor Orban is making a fool out of his countrymen by inviting Putin to sign secret deals while there is a war going on "next door in Ukraine."
While Kremlin said that Putin's Hungary visit was aimed at "a mutually beneficial partnership" in the field of natural gas, political analysts believe the trip is an effort by Putin to show that Russia still has an ally inside EU and NATO, despite Europe's supposedly united stance on Moscow.
"This trip is clearly more important for Putin than for Orban," Andras Racz, analyst at the Finnish Institute of International Affairs, told AFP. "Putin can demonstrate to other Western countries that he has an ally which is an EU and NATO member, that European unity is not that strong after all."
Although Hungary supported the EU sanctions on Russia, Orban had also talked about the negative impacts of the move. He had said earlier that Hungary cannot turn its back on its main energy supplier, adding that Moscow-based Gazprom -- the largest extractor of natural gas in the world -- has supplied the majority of Hungary's gas for the past two decades, Reuters reported.
"There is always a peculiar psychological tension in the relationship with Russia, but we need to overcome that and I also strive for that," Reuters quoted Orban as saying on public radio last week. "We need to serve our country's interests, and therefore seek orderly ties with the Russians as well."
© Copyright IBTimes 2023. All rights reserved.
FOLLOW MORE IBT NEWS ON THE BELOW CHANNELS