Putin Tested On Iran, Syria During Middle East Trip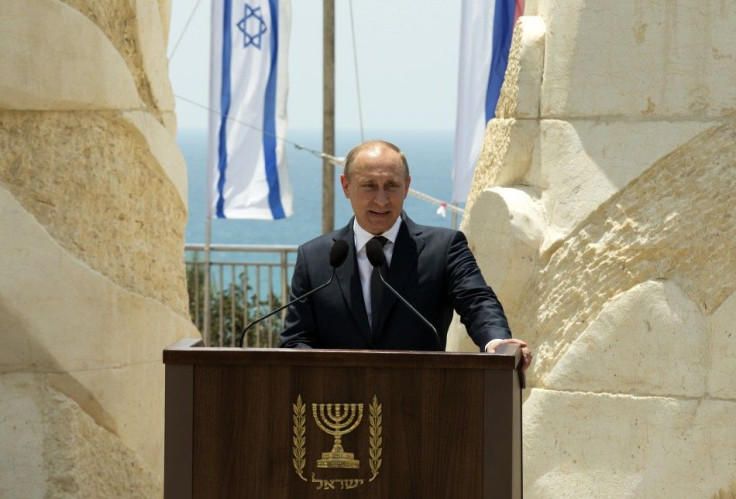 Russian President Vladimir Putin will talk about Iran and Syria during his first visit to the Middle East in seven years. Russia has been widely criticized for its friendly relations with both nations, but Putin is hoping to raise his status in the turbulent region.
"The head of state's busy trip to the Middle East stresses the region's significance in the system of our foreign policy priorities," presidential aide Yury Ushakov told RIA Novosti.
"It is called upon to contribute to further strengthening of Russia's positions in that part of the world.
One-sixth of Israel's population is of Russian descent.
Notably, Syria and Iran are both antagonistic toward Israel, Putin's first stop in the two-day trip. The Russian premier arrived on Monday and met with Israeli leaders including Prime Minister Benjamin Netanyahu, who is expected to ask Putin to back European Union sanctions against Iran's nuclear program.
Russia has a key role to play. We need to get Russia on board in supporting the efforts of the international group negotiating with Iran. Iran must not think it has an escape [hatch] with Russia, an Israeli official told The Guardian.
Russia is part of the negotiation team that has been trying to get Tehran to limit its uranium enrichment program over fears that Iran is developing a nuclear weapon. The talks have yet to accomplish any significant concessions, but Putin's government has been reluctant to agree to any further sanctions against Iran.
Russia aims to get the Iranian nuclear program under control through negotiations and diplomatic moves instead of using sanctions, Tatiana Nosenko of the Institute of Oriental Studies told the Voice of Russia.
With Syria, Moscow has yet to abandon President Bashar al-Assad, despite many other former allies doing so as the 16- month-long crisis there continues. While Russia says it wants the bloodshed in Syria to end, it has been accused of sending weapons to Assad's forces and takes the regime at its word that terrorists are responsible for massacring civilians.
I am certain that Russia, which smote fascism, will not allow similar threats -- not an Iranian threat and not Syrian bloodshed, Israeli President Shimon Peres said to Putin at the dedication of a statue in the city of Netanya commemorating the Soviet's defeat of Nazi Germany.
During his trip, Putin will also visit the Palestinian Authority and make a trip to Jordan, which Moscow hopes will help to devise an arrangement which could lead to solutions of problems that lie before these countries and the rest of the world.
© Copyright IBTimes 2023. All rights reserved.