Is Rachel Dolezal White Or Black? Africana Studies Colleague, NAACP Respond To Controversy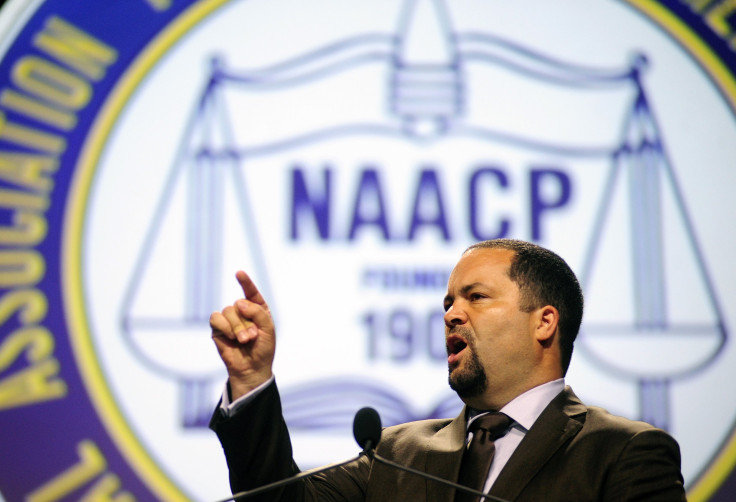 Rachel Dolezal did not address her ethnicity when she took a position as an adjunct instructor of Africana Studies in 2010. Her race was never questioned by faculty, said Scott Finnie, director of the Africana Studies Program at Eastern Washington University, in Cheney, Wash.
"It was assumed that she was black," Finnie said in a telephone interview Friday. "Her own ethnicity was not germane to her being adequately credentialed to teach the courses that we needed her to [teach]," he added.
Recent photos of Dolezal show the prominent civil rights activist with bronzed skin and popular African-American hairstyles. But a white couple claiming to be her biological parents provided the media with photos this week from Dolezal's youth, in which she appears to be Caucasian with blonde hair. The contrast raised questions about whether Dolezal, president of the Spokane, Wash., chapter of the National Association for the Advancement of Colored People (NAACP), falsely portrayed herself as mixed race and sparked a national discussion about what it means to be black and white.
Finnie said he was shocked to read reports that Dolezal was the daughter of two white parents, Lawrence and Ruthanne Dolezal, who provided the Washington Post with family photos, as well as her apparent birth certificate. Finnie said he was more interested in the motivation behind the reports.
"I believe what the parents are saying. I would look forward to a fuller story from Rachel's side as to how that's defined in her life," he said Friday. "Who was motivated to dig into this and why?"
Finnie said he had not been able to get in touch with Dolezal to discuss the matter. Dolezal, who the Spokane mayor recently appointed a police commissioner to oversee fairness and equity, did not return requests for comments or an interview on Friday. Local newspaper the Spokesman-Review contacted Dolezal about her race this week after allegations surfaced that she had reported fabricated hate crimes.
"That question is not as easy as it seems," Dolezal told the Spokane newspaper Thursday. "There's a lot of complexities ... and I don't know that everyone would understand that."
Lonnie Randolph Jr., president of the NAACP South Carolina State Conference, said the color of Dolezal's skin is irrelevant and critics should look to the history of the NAACP, which was formed by a group of mostly white liberals in 1909.
"I don't understand what it is that is so significant to talk about," Randolph said in a telephone interview Friday. "I could care less what she looks like as long as she does her job and does it well to protect the rights of all people. She could be purple."
Joe Dillard Jr., president of the Norfolk Branch NAACP in Virginia and the youngest chapter leader in the nation, said being black is not a requirement to lead an NAACP chapter. He said the civil rights organization embraces members of all ethnicities, but there are not many known NAACP branch presidents who are white.
"It is a rarity," Dillard said in a telephone interview Friday. "At the end of the day, you look at the track record of [Dolezal's] advocacy and it seems like she's been working."
Dillard said Dolezal's racial identity -- whether black or white -- is a personal issue that is separate from her position as president of Spokane NAACP. "What it is, it's a personal conflict inside of herself," he said. "It's an internal issue with her."
NAACP national headquarters released a statement on the controversy Friday, saying "NAACP Spokane Washington Branch President Rachel Dolezal is enduring a legal issue with her family, and we respect her privacy in this matter. The NAACP One's racial identity is not a qualifying criterion or disqualifying standard for NAACP leadership. The NAACP Alaska-Oregon-Washington State Conference stands behind Ms. Dolezal's advocacy record."
Dolezal's parents said Howard University "took her for a black woman" when their daughter applied to the school to study art with a collection of "excessively African-American portraiture." Dolezal received a full scholarship, her father told the Washington Post.
"You've got a white woman coming in that got a full-ride scholarship to the black Harvard," Lawrence Dolezal told the newspaper. "And ever since then, she's been involved in social justice advocacy for African-Americans. She assimilated into that culture so strongly that that's where she transferred her identity."
Legal battles have divided the family. Dolezal does not speak to her parents and adopted brothers Ezra and Zach because she alleged abuse and took custody of her 21-year-old adopted brother Izaiah, who is black. Dolezal lives in Spokane with Izaiah, who she claims is her son, the family told the Washington Post.
Dolezal has taught at Eastern Washington University since 2007. David Meany, spokesman for the university, would not comment on issues involving Dolezal's personal life but stressed she was hired in the Africana Studies Program in 2010 on a "quarter-by-quarter basis."
"This is a part-time position to address program needs. Dolezal is not a professor," Meany said in an email Friday.
Dolezal has taught a slew of subjects including a class entitled "The Black Woman's Struggle." Finnie said teachers are assigned classes quarterly and it's unclear whether she will continue to teach this topic. But Dolezal is academically equipped to teach such a class, he said.
Finnie described Dolezal as a professional, well-researched and passionate teacher who connected well with her students in Cheney. "She's very good at starting up a thought-provoking setting and atmosphere," he said. "I've been very happy with her approach."
FOR FREE to continue reading
✔️ Unlock the full content of International Business Times UK for free
offer available for a limited time only
✔️ Easily manage your Newsletters subscriptions and save your favourite articles
✔️ No payment method required
Already have an account? Log in
© Copyright IBTimes 2023. All rights reserved.