Ray Rice Cut By Ravens, Suspended By NFL After Elevator Fight Video Leaks To Public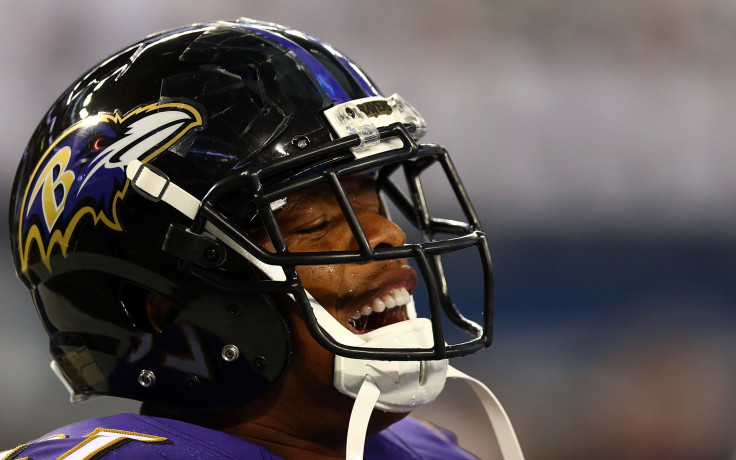 The Baltimore Ravens have terminated the contract of running back Ray Rice, the team announced Monday. The decision was made hours after new footage of the knockout blow that Rice delivered to his then-fiancée during a February fight in an Atlantic City elevator leaked to the public. In addition, National Football League Commissioner Roger Goodell announced that Rice would be indefinitely suspended from the league.
"The Ravens have terminated RB Ray Rice's contract this afternoon," the franchise wrote on its official Twitter account. The team has yet to release any additional statement on the matter, but Goodell based his decision on the new evidence provided by leaked elevator surveillance video, NFL spokesman Greg Aiello said.
The footage provided the first definitive evidence of what occurred between Rice and Janay Palmer during their altercation at Revel Hotel and Casino in Atlantic City, New Jersey. In the video, Rice knocks Palmer unconscious with a punch to the head, then drags her motionless body out of an elevator.
Despite requests to law enforcement, NFL officials were never given access to the elevator video before it suspended Rice, a source told ESPN's Chris Mortensen. "We requested from law enforcement any and all information about the incident, including the video from inside the elevator," the NFL said in a statement. "That video was not made available to us and no one in our office has seen it until today."
Goodell announced in July that Rice would be suspended without pay for two games and fined an additional game check for his role in the incident. However, outrage against the suspension -- deemed too light by critics who pointed to the comparatively harsh action taken by the league against players who engaged in on-field violence or drug use -- was so severe that the NFL opted in August to revamp its policy against domestic violence.
"My disciplinary decision led the public to question our sincerity, our commitment, and whether we understood the toll that domestic violence inflicts on so many families," Goodell said in a letter to team owners. "I take responsibility both for the decision and for ensuring that our actions in the future properly reflect our values. I didn't get it right. Simply put, we have to do better. And we will."
At the time of the incident, both Rice and Palmer were arrested and charged with domestic assault. Later, Rice pleaded not guilty to third-degree aggravated assault; he avoided trial by agreeing to participate in an intervention program.
Rice had three years remaining on his contract and was due to earn $4 million this season, ESPN reports. The Ravens will not have to pay Rice.
© Copyright IBTimes 2023. All rights reserved.