Record High Prices Of Onions In India, Which Soared More Than 278% In October, Limits RBI's Room For Rate Cuts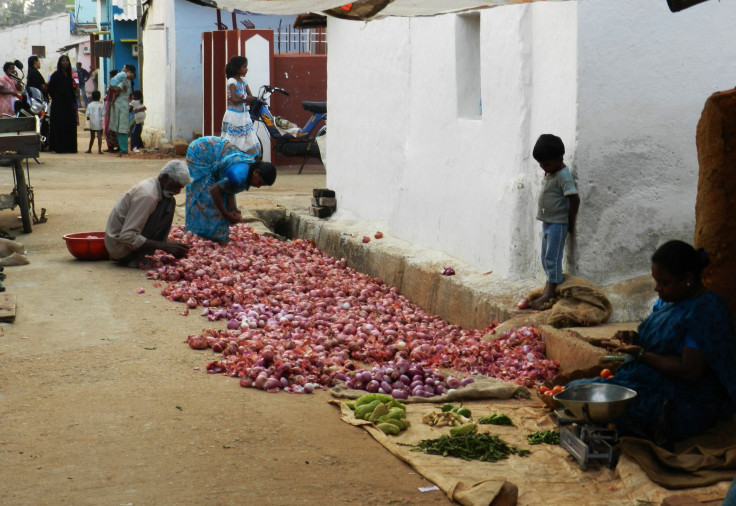 Skyrocketing prices of onion, rice and other food items are threatening to jeopardize Reserve Bank of India Governor Raghuram Rajan's efforts to curb stubborn inflation and revive an economy that is set to record its slowest pace of growth in a decade this year.
The wholesale price index of onions, a staple food and integral part of all cuisines across the Indian subcontinent, rocketed up more than 278 percent annually in October this year, while vegetable prices went up by 78.4 percent in the same period, data released by the Commerce and Industry Ministry last Thursday showed.
The central bank is struggling to balance the twin objectives of containing food inflation and boosting economic growth with monetary policy, as any efforts to ease liquidity to boost growth would further worsen inflation while measures to curb higher prices could potentially choke the economy's anemic progress.
Onion prices have been a serious political issue in the country having influenced the fate of governments in the past, and as the vegetable's price soars just months ahead of a national election, it could very well decide the fate of its ruling and opposition parties at the ballot counter. High onion prices reportedly cost the BJP government -- the current opposition party -- its chance to retain power in 1998.
India's high inflation -- the fastest among emerging markets -- ensured the central bank did not cut key interest rates at last policy meeting, and the RBI is unlikely to make any new cuts at its next policy meeting in December. The RBI, which has instead raised its benchmark rates twice in the last two months, has said that its decision at the next policy announcement will hinge on the agricultural output in this season.
"We do not see any scope for rate cuts," Leif Eskesen, chief economist for India at HSBC Holdings, told Bloomberg News. "Underlying inflation pressures are rising. The RBI has to maintain a hawkish stance and stand ready to tighten further, if needed."
The headline inflation index, measured by wholesale prices, rose 7 percent annually in October, compared with a 6.46 percent rise in the month before. And, food articles accounted for 47 percent of the increase in the index, as food prices jumped more than 18 percent in October, from the same period last year.
Onion prices touched 100 rupees ($1.61) a kilogram (2.2 lbs) during the festive season two months ago in several parts of the country, up from an average selling price of 15 rupees a kilogram recorded earlier in the year. Currently, the vegetable is reportedly retailing between 50 rupees to 80 rupees in several states.
Experts attribute the high cost of onions and foodgrains to low production and hoarding by sellers. Retail prices have refused to drop, despite a good monsoon and a subsequent increase in production levels this year. The moderation in wholesale market price were not passed on to consumers, triggering riots in several markets in the north and east of the country, reports said.
"The monsoon rains will ease some pressure off food prices but fundamental change is going to require agricultural transformation," Dharmakirti Joshi, chief economist at Crisil Ltd., the Indian unit of Standard & Poor's, told Bloomberg.
© Copyright IBTimes 2023. All rights reserved.
FOLLOW MORE IBT NEWS ON THE BELOW CHANNELS