Report That Best Buy's Founder Is Seeking Executive Team Exposes Company's Stock Volatility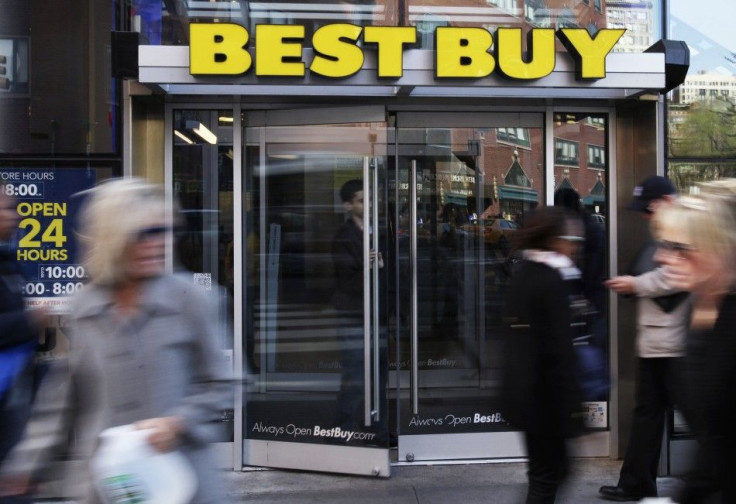 Is Best Buy Co. Inc. (NYSE: BBY) about to lose its stock exchange ticker symbol and become a private company?
Traders on Monday boosted the company's stock by as much as 17 percent in premarket on an early morning report it's moving toward a shareholder buyout. The stock ended the day with a 30-cent gain, to $18.06 a share, a 1.7 percent rise.
If Best Buy were to go private, anyone owning stock would have to be bought out at the share's market value. The money would come from a group of investors. It's these investors that the company's founder is reported to be searching for.
The volatility of the company's share price has a lot to do with recent developments, not just the general big problems the company is facing as more people shop online and shun big-box electronics retailers, or the issues with former CEO Brian Dunn's alleged personal misconduct.
This question of whether Best Buy will bow out of the New York Stock Exchange has been bouncing around ever since a Minneapolis StarTribune exclusive last month reported that Richard Schulze, founder and 20.1 percent shareholder, might be considering the move to privatize the company. The move would give him more control over steering the beleaguered company out of its straits, such as being free to pick key executive positions.
"There's no question in my mind that Schulze would like to take Best Buy private," BB&T Capital Markets analyst Anthony C. Chukumba told MarketWatch.
For their part, the players in this story are keeping mum, including Shultze, Best Buy and Credit Suisse Group, who has been cited as the bank Shultz is working with in his search for capital.
Schulze's challenge would be to find buyout partners to chip in the buyout costs, estimated to be as much as $11 billion, according to analysts that spoke to The Wall Street Journal.
Schulze stepped down in May following reports he was aware of a romance Dunn was having with a female employee but didn't report the relationship to the company's audit committee. Last week, Don Delves, the company's compensation consultant, quit after the board approved 100 bonus packages without linking them to performance.
The report by Bloomberg Businessweek on Monday morning claimed that Schulze is shopping for an executive team to run the privatized company. Their work would be cut out for them. The company recently shut 50 of its big stores and laid off thousands of employees. It's opening hundreds of smaller Best Buy Mobile outlets and seeking to return to China after a previous failure.
Last week, Greenlight Capital's David Einhorn announced that his hedge fund dumped 7.7 million shares in Best Buy stock after the cash-strapped company experienced "unexpected problems," including declining profits from the company's international business and the dismissal of Brian Dunn as CEO in April over personal misconduct.
"We worried that this could lead to additional business disruption so we exited with a loss," Einhorn said in his statement.
© Copyright IBTimes 2023. All rights reserved.
FOLLOW MORE IBT NEWS ON THE BELOW CHANNELS