Rick Santorum Defends Criticism Of The Pope, Says Science On Climate Change's Not Settled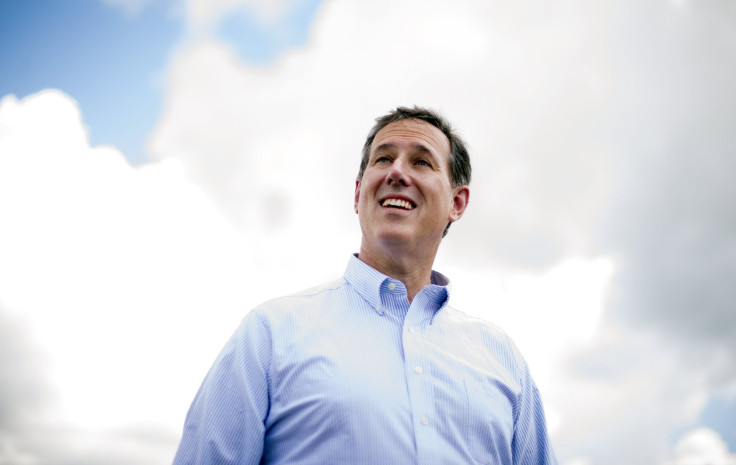 Former U.S. senator Rick Santorum, defending his earlier criticism of the Pope, on Sunday said that "there are more pressing problems" than climate change for the pontiff to address. Last week, the Republican presidential hopeful had urged Pope Francis to "leave science to the scientists" and instead focus on "theology and morality."
"The church has gotten it wrong a few times on science, and I think that we probably are better off leaving science to the scientists," Santorum had reportedly argued last week, referring to the Pope's comments on anthropogenic climate change and global warming. On Sunday, during an interview with Fox News, where he was asked about his comments, Santorum reportedly questioned the Pope's "moral authority" in talking about climate change.
"The pope can talk about whatever he wants to talk about," Santorum said. "I'm just saying, what should the pope use his moral authority for?"
Santorum's comments come just weeks before the Pope is expected to release an encyclical -- a letter addressed to bishops of the Roman Catholic Church -- on climate change. Pope Francis, since he took over leadership of the Catholic Church in 2013, has made the preservation and care of environment a hallmark of his papacy. He has, in the past, made comments indicating that he believes in anthropogenic climate change and emphasized the need to protect the "work of God" and preserve the environment.
"If he's not a scientist -- and in fact, he does have a degree in chemistry -- neither are you," Fox News host Chris Wallace argued. "So, I guess the question would be, if he shouldn't talk about it, should you?"
Santorum, however, insisted that as a politician he had to "make public policy with regard to the environmental policy," adding: "Politicians, whether we like it or not, people in government have to make decisions with respect to our policy that affect American workers.
"Any time you hear a scientist say the science is settled, that's political science, not real science, because no scientists in their right mind would say ever the science is settled," Santorum added. "This is what bothers me about this debate -- the idea that the science is settled."
© Copyright IBTimes 2023. All rights reserved.