RNC 'Bounce' Lifts Romney To 44%-42% Lead In Poll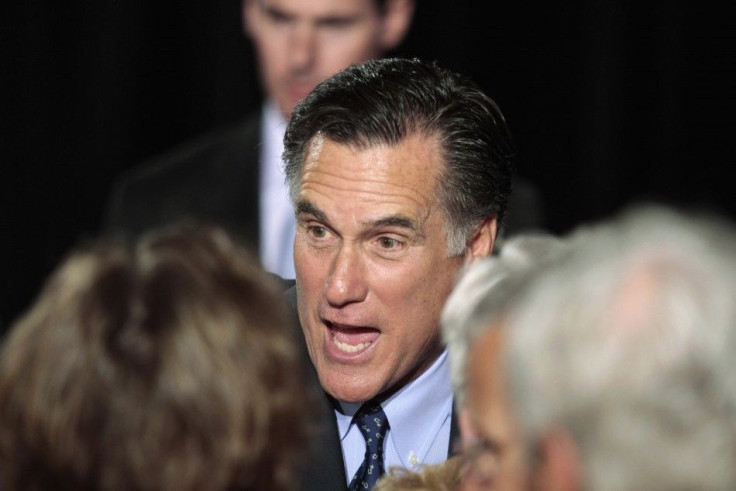 (Reuters) - Mitt Romney has moved into a narrow lead over President Barack Obama in a small bounce for him from the Republican National Convention, a Reuters/Ipsos poll found Thursday.
Romney entered the week four points behind Obama in the first installment of a Reuters/Ipsos rolling poll, with Obama leading 46 percent to 42 percent.
But the most recent daily rolling poll gave Romney a two-point lead of 44 percent to 42 percent among likely voters.
The former governor of Massachusetts has been in the spotlight at the convention in Tampa, and was to make his acceptance speech on Thursday night in the biggest test of his White House bid.
Ipsos pollster Julia Clark said the poll results were proof that Romney is getting a positive outcome from the three-day Republican gathering.
"I'd say the convention is going very well for him," she said.
So-called convention "bounces" are typically short-lived. With Obama to accept his party's nomination for a second term next week at the Democratic National Convention in Charlotte, N.C., the incumbent could quickly rebound.
But the poll was further evidence of an extremely close race between Romney and Obama as they seek to energize party activists and appeal to undecided voters in battleground states who could determine the outcome of the election on November 6.
The Reuters/Ipsos poll also found signs that Romney's likability rating is slowly improving among voters, two days after his wife, Ann, talked up her husband's personal attributes and declared, "This man will not fail."
While he still trails Obama by almost 20 points on likability, Romney is now at 30 percent for "likable," up from 26 percent on Monday.
And 32 percent reported Romney is a "good person," up from 29 percent on Monday. Obama still leads by 10 points in this category.
Clark said the improvement in polling on his personality traits is important because of how far he lags behind Obama in these areas.
"Any ground that he can gain on this is very critical," she said.
Romney, 65, is basing his campaign for defeating Obama on promises to improve the U.S. economy and reduce its 8.3 percent unemployment rate.
This continues to be Romney's strongest argument, as 76 percent of those polled said the U.S. economy is on the wrong track.
Voters remain split on Romney's vice presidential running mate, Paul Ryan, who delivered a stinging rebuke of Obama during a prime-time convention speech on Wednesday night.
The survey found 47 percent of registered voters had a favorable view of Ryan, compared to 53 percent unfavorable.
For the survey, a sample of 1,481 American registered voters was interviewed online. The precision of the Reuters/Ipsos online polls is measured using a credibility interval. In this case, the poll has a credibility interval of plus or minus 2.9 percentage points for all respondents.
© Copyright Thomson Reuters 2023. All rights reserved.