Ronald McDonald Makeover: McDonald's Unveils Sleeker, Selfie-Taking Brand Ambassador [BEFORE AND AFTER PHOTOS]
McDonald's Corp. (NYSE:MCD) has given its brand ambassador Ronald McDonald his first makeover in nearly 10 years, though his new duds are not nearly as high-fashion as Jeremy Scott's Fall 2014 collection for Moschino, which is rife with the golden arches logo.
Gone are Ronald's wild hair and red jumpsuit, replaced by a sleeker, more utilitarian aesthetic marked by coiffed hair and zippers galore. The new Ronald is also high-tech, joining the conversation on Twitter with hashtag #RonaldMcDonald and pledging to take tons of "selfies."
"Selfies …here I come! It's a big world and now, wherever I go and whatever I do ... I'm ready to show how fun can make great things happen," Ronald McDonald said in a statement.
Ronald McDonald's new garb is an ensemble of "yellow cargo pants and a vest, accompanied by a red-and-white-striped rugby shirt." He will keep his original red boots, but he'll also have a costume change "reserved for special occasions." For those special moments, Ronald will wear a "whimsical new red blazer with the golden arches on the front pocket and his well-recognized signature on the back, and a special bow tie to complete the look."
The new wardrobe was designed by Tony Award-winning theatrical designer Ann Hould-Ward.
The new-and-improved ambassador for the fast-food giant was revealed on Wednesday along with a new Ronald McDonald mission slogan: "Fun makes great things happen."
"Ronald brings to life the fun of our brand by connecting with customers around the world, whether he's promoting literacy or spreading cheer at a Ronald McDonald House," McDonald's Senior Vice President Dean Barrett said. "Customers today want to engage with brands in different ways, and Ronald will continue to evolve to be modern and relevant."
The company said the revised Ronald McDonald will appear on promotional materials and ads later this year. During an earnings report Tuesday, McDonald's said U.S. restaurant sales fell 1.7 percent during the first quarter and it posted a lower quarterly profit.
USA Today reported the move to change Ronald's appearance has been in the works for two years and was not a response to the recent Taco Bell ads that mock McDonald's breakfast and its brand ambassador.
Ronald McDonald was introduced in 1963 in a local TV ad in Washington, D.C. Two years later, he appeared on national TV during the Macy's Thanksgiving Day Parade. He became the fast-food chain spokesman in 1966. This is his first makeover since 2005.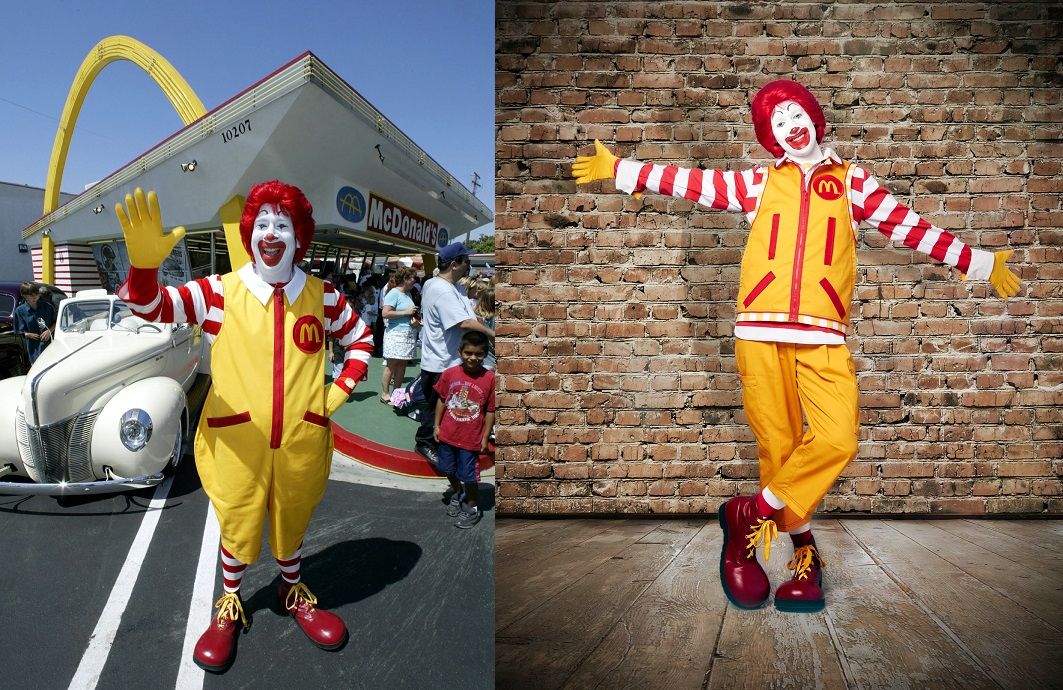 © Copyright IBTimes 2023. All rights reserved.