Russia In Afghanistan: Putin May Be Supplying Taliban, US General Says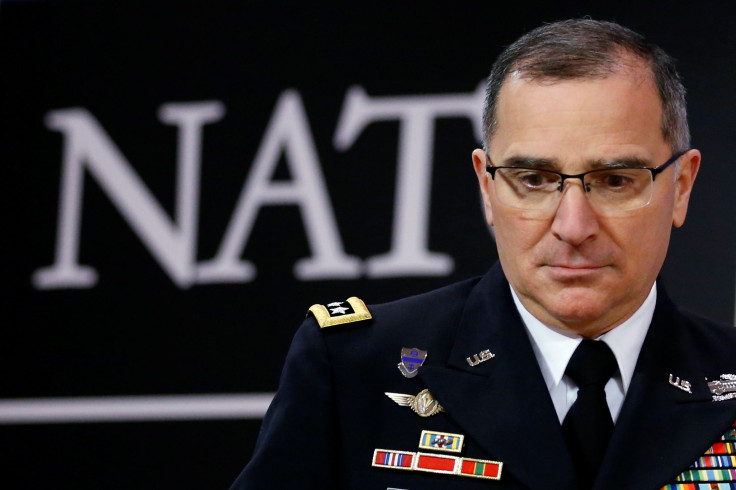 For nearly a decade during the Cold War, Russian troops battled U.S.-backed militants in Afghanistan. Now, as the "new Cold War" deepens amid Russian aggression and allegations that Moscow tampered with the last U.S. election, a top U.S. general has said the Cold War dynamic that played out in Afghanistan may be reversed: the Russians could be supplying Taliban militants against occupying U.S. forces.
"I've seen the influence of Russia of late — increased influence in terms of association and perhaps even supply to the Taliban," Army General Curtis Scaparrotti told a Senate Armed Services Committee hearing on Thursday. Scaparrotti, who is also NATO's Supreme Allied Commander for Europe, did not give details or specifics on the type of supplies Russia was providing to the Taliban, or the scope of Russia's influence, Reuters said.
Read: Did Putin Help Trump Win? A Timeline Of Barack Obama's Relationship With Russia And The 'New Cold War'
Russia, which fought its own bloody war in Afghanistan from 1979 to 1988, denied the allegations.
"These fabrications are designed, as we have repeatedly underlined, to justify the failure of the US military and politicians in the Afghan campaign," said Zamir Kabulov, head of the Russian ministry's department overseeing the Kremlin's special envoy to Afghanistan. "There is no other explanation."
Scaparrotti's testimony to the Senate panel came as the Taliban was retaking territory from Afghan government forces. The group captured the strategically important Sangin district in the southern province of Helmand on Thursday, local officials told the New York Times, while a U.S. military spokesman said reports of the district's fall were inaccurate.
"They repositioned the district center," Capt. William K. Salvin said. "This move to a new district center has been planned for some time."
The U.S.-backed Afghan government was controlling 57 percent of Afghanistan's 407 districts, according to a report from the U.S. military released at the end of January. Last month, Gen. John Nicholson, the top U.S. commander in Afghanistan, told the U.S. Senate the Taliban increased its territorial holdings by 15 percent in 2016, and called for thousands of more NATO military trainers to help improve Afghan security forces. Nicholson also told the Senate the fight against the Taliban was a "stalemate."
© Copyright IBTimes 2023. All rights reserved.
FOLLOW MORE IBT NEWS ON THE BELOW CHANNELS