Russia Blames Turkey For Supplying ISIS With Weapons, Chemical Supplies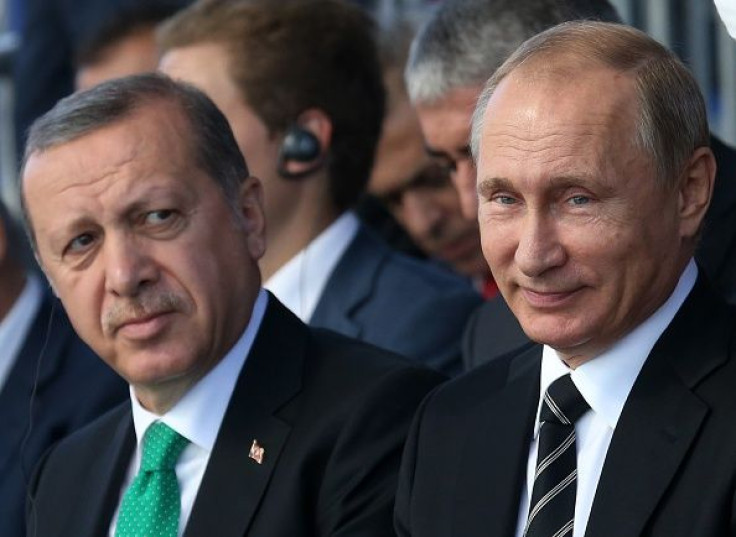 Russia accused Turkey of supplying weapons and equipment to the Islamic State group in the latest sign of deteriorating relations between the once friendly nations. Moscow accused three Turkish nongovernmental organizations of funneling weapons to the terrorist group also known as ISIS or ISIL.
"The main supplier of weapons and military equipment to ISIL fighters is Turkey, which is doing so through nongovernmental organizations," wrote Russian Ambassador Vitaly Churkin, in a letter to the U.N. Security Council that was made public Friday.
The Kremlin said Turkey has allowed $1.9 million worth of both explosives and chemicals to be smuggled across its border with Syria, the Associated Press reported. Churkin alleged Turkey's National Intelligence Organization allowed the weapons transfers to be made by the Besar Foundation, the Iyilikder Foundation and the Foundation for Human Rights and Freedoms, Agence France-Presse reported. The letter also named two companies, Tevhid Bilisim Merkezi and Trend Limited Sirketi, alleging they were providing materials to groups in Syria.
"Total supplies to terrorists through Turkey were as follows in 2015: 2,500 tons of ammonium nitrate [worth approximately $788,700]; 456 tons of potassium nitrate [$468,700]; 75 tons of aluminium powder [$496,500]; sodium nitrate [$19,400]; glycerine [$102,500]; and nitric acid [$34,000]," Churkin said in the letter, Russian news agency Tass reported.
The Russian attack against Turkey is just the latest in increasingly confrontational comments and comes as Turkish President Recep Tayyip Erdoğan visits the U.S. for the nuclear summit in Washington. Relations between Ankara and Moscow have deteriorated since Russia began airstrikes in Syria at the end of September. Turkey shot down a Russian plane it claimed violated its sovereign airspace in November leading the Kremlin to lobby for economic sanctions against Turkey, targeting the country's tourism and agriculture industries.
Russia's airstrikes in Syria have helped to prop up longtime ally Syrian President Bashar Assad. Turkey has supported opponents of the Assad regime as it deals with the fallout of the 5-year-old Syrian war. Turkey is hosting more than 2.7 million Syrian refugees, according to data from the U.N. refugee agency.
© Copyright IBTimes 2023. All rights reserved.
FOLLOW MORE IBT NEWS ON THE BELOW CHANNELS